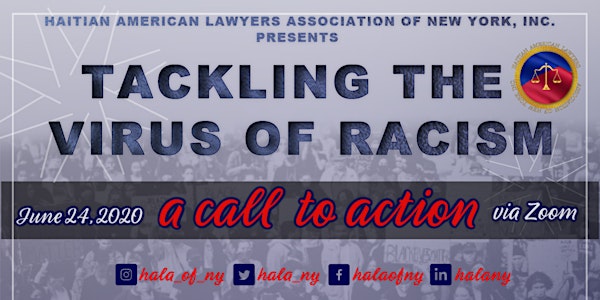 HALANY Tackling the Virus of Racism: Call to Action
Tackling the Virus of Racism: A Call to Action
About this event
In the wake of the pandemic and killings of George Floyd and Rayshard Brooks, HALANY presents "Tackling the Virus of Racism: A Call to Action."
Join HALANY for a panel discussion led by, moderator, Ritha Pierre. Our featured panelists will each share their personal perspective on police brutality, activism in the wake of COVID-19 and community relationships with law enforcement.
All are welcome to attend.
Our featured panelists include:
Moderator - Ritha Pierre: Labor Counsel and Director of Human Resources at Highgate, Former Assistant District Attorney at the Office of Kings County District Attorney, CEO of FREEda Women NYC, and host of Radio Show "According to RP"
Prof. Kirk Burkhalter: Professor of Law at New York Law School, Former NYPD Detective of 20 years and Legal Analyst for the Law & Crime Network.
Kimberly Gay: Assistant District Attorney at the Office of the Bronx District Attorney.
Alain V. Massena: Criminal Defense Attorney, Massena Law, P.C.
Assistant Chief Kim Y. Royster: Executive Officer of the NYPD Community Affairs Bureau
Assemblywoman Latrice Walker: NYS Assembly District 55
Join us in taking steps to eliminate police brutality and dismantle systemic racism, register today.
You must RSVP to receive the Zoom link. Zoom link will be sent via email prior to the meeting, and made available to ticket holders through Eventbrite's Online Event Page.
We invite all lawyers, law students, and supporters of HALA-NY to become a member or renew your membership today at: https://www.halany.org/Join
Keep up with the HALA-NY community on Instagram: @hala_of_ny
For more HALANY: https://linktr.ee/halany