Hail to the Team
When and where
Location
CrossFit Queens 2550 31st Street Queens, NY 11102
Description
The "Hail to the..." Series returns with Hail to the Team!
This partner competition will feature 25 mens and 25 womens teams of 2, in the Scaled and RX categories.
There will be 3 workouts plus a Final workout for the top teams.
Workouts programmed by @Zeus_Boulder aka
David Charbonneau
, Sko-Train
Joe Rosko
. and
Kareem
The Dream Elbasty.
**WORKOUTS ARE BELOW**
EVENT 1: Clean and Jerk Ladder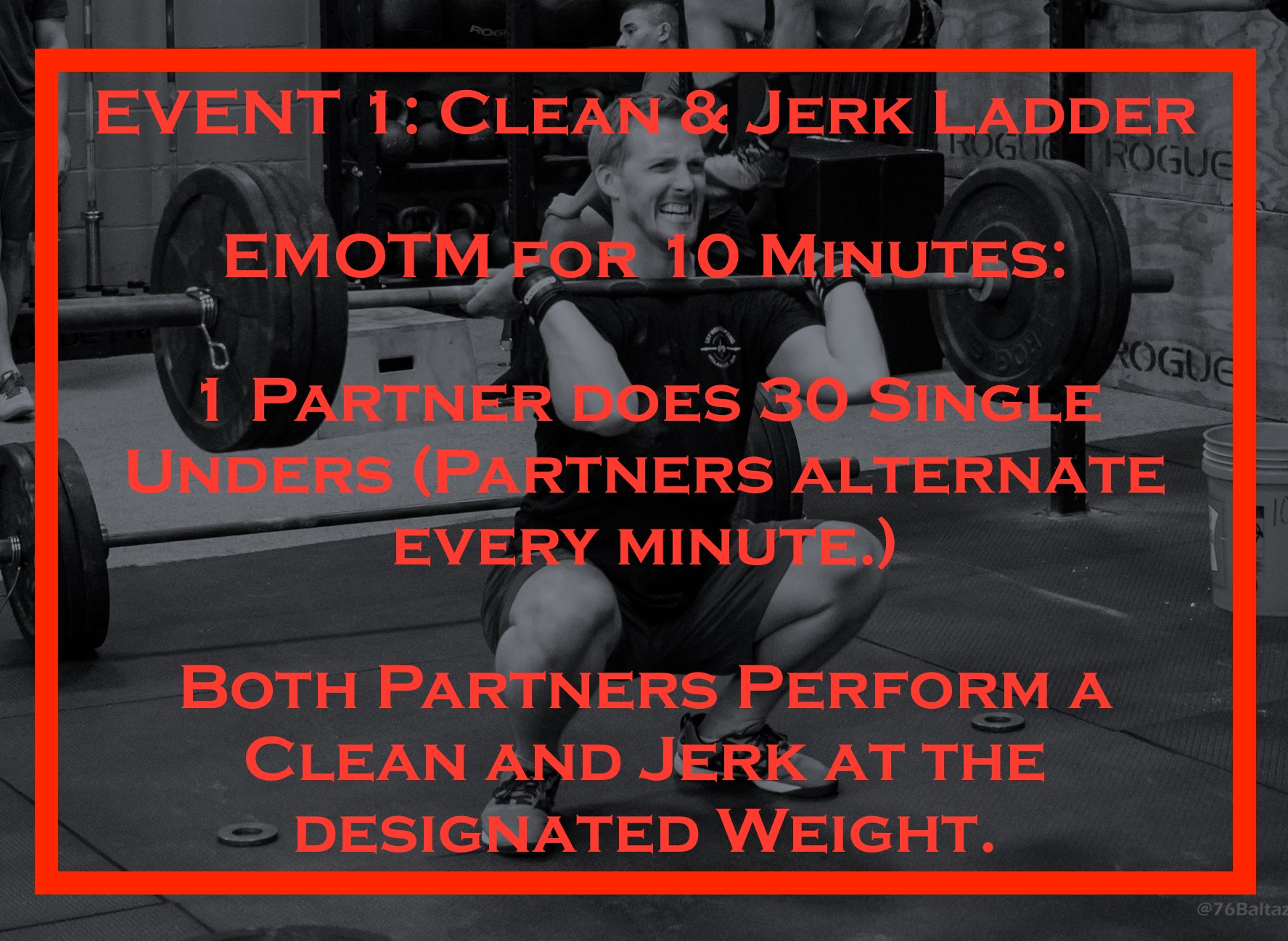 EMOTM for 10 Minutes:
1 Partner does 30 Jump Rope revolutions (This partner alternates every minute)
Both Partners Perform a Clean and Jerk at the designated Weight for that minute.
*Score is total weight lifted by the Team.
*An athlete may continue on the ladder after a teammate fails, but they must continue alternating who does the Jump Rope revolutions
Make RX Weights: 135, 165, 185, 205, 225, 235, 245, 255, 265, 275
Female RX Weights: 85, 95, 105, 115, 125, 135, 145, 155, 165, 175
Male Scaled Weights: 95, 105, 115, 125, 135, 145, 155, 165, 175, 185
Female Scaled Weights: 65, 75, 85, 95, 100, 105, 110, 115, 120, 125
EVENT 2: Sprint Relay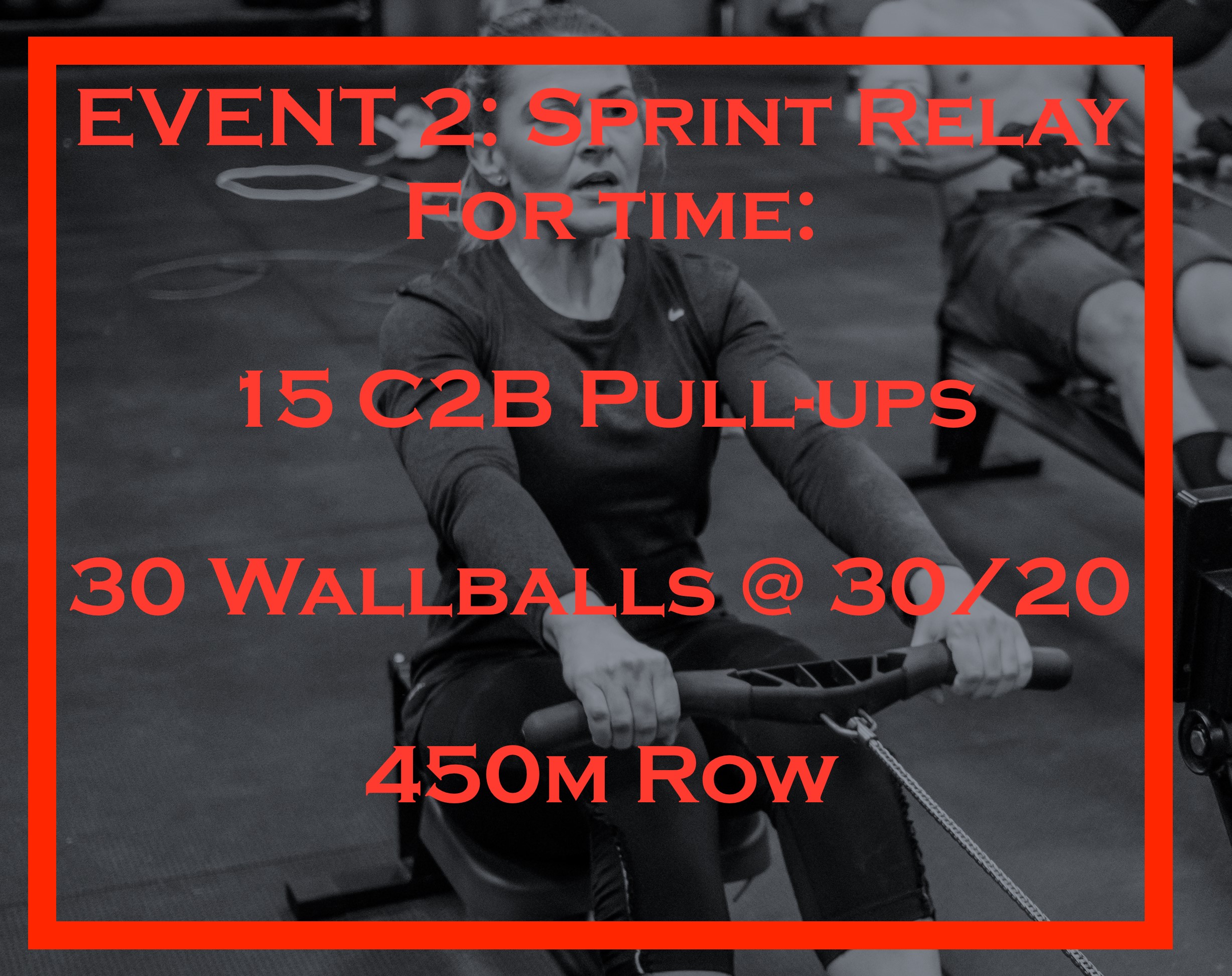 RX:
For time:
15 C2B Pull-ups
30 Wallballs @ 30/20
450m Row
Scaled:
For time:
15 Jumping C2B Pull-ups
30 Wallballs @ 20/14
450m Row
*Partner A performs entire workout, and then tags Partner B into to do the same. Score is total time
*12 Minute Cap
EVENT 3: Chipper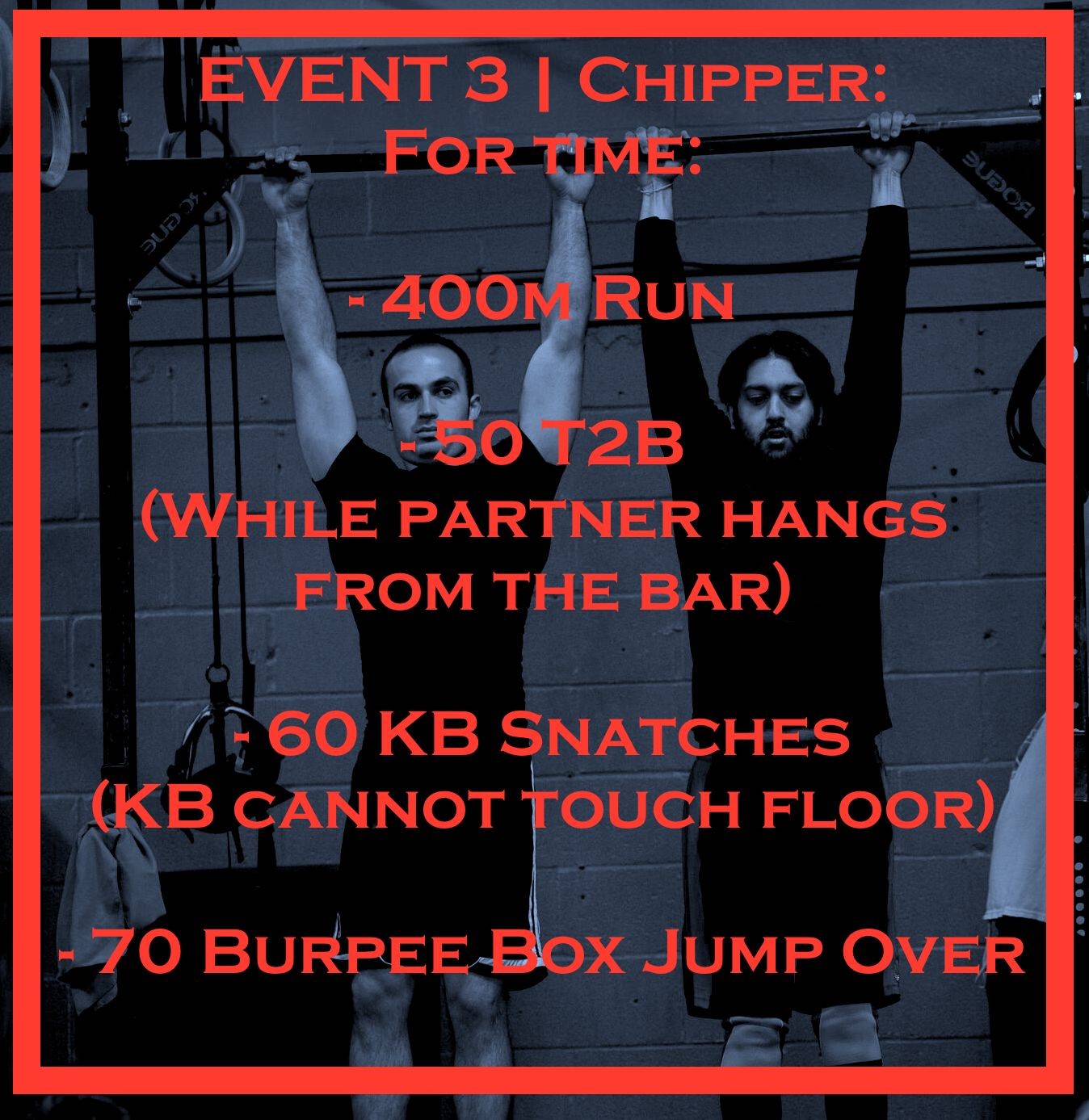 RX:
For time:
400m Run
50 T2B (While partner hangs from the bar)
60 KB Snatches (KB cannot touch floor)
70 Burpee Box Jump Overs @ 24/20
Scaled:
For time:
400m Run
50 Ball Pass Sit-ups
60 KB Swings (KB cannot touch floor)
70 Burpee Box Jump Overs or Step-up Overs
*Both Partners perform the run together
*All other work is shared by the athletes, one athlete working at a time
*Partner must be hanging from bar for T2B to be performed
*If KB touches ground, a penalty to run to Starbucks must be performed by both athletes
*If a KB is dropped from above the waist, then that it is no rep, and the pair must perform the penalty run
*12 Minute Cap