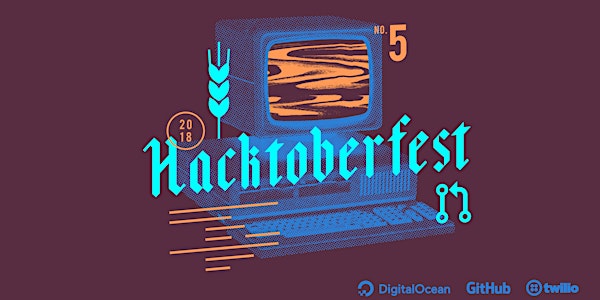 Hacktoberfest Open Hack Day Sarajevo
When and where
Location
HUB387 Maglajska 1 71000 Sarajevo Bosnia and Herzegovina
Description
Šta je Hacktoberfest?
Hacktoberfest – partneri: GitHub, DigitalOcean, Twilio – je mjesec dana dugo slavlje Open Source softvera. Želimo da ohrabrimo našu zajednicu da se uključe u aktivno doprinošenje Open Source projekata koje koriste i vole!
Nijedna kontribucija nije mala. Popravke bugova i pisanje dokumentacije su sve validni načini učešća. Ova godina obilježava petu zaredom kako se održava Hacktoberfest.
Za vise informacija pročitajte članak.
Pravila i Nagrade
Za učešće prijavite se na Hacktoberfest site-u. Ukoliko napravite pet pull request-a između 1. i 31. oktobra dobit ćete besplatnu majicu. (Pull request-i ne trebaju biti merge-irani, samo otvoreni.)
Hrana i Piće
Sponzori ove godine su Ministry of Programming, Mistral i HUB387 koji su nam obezbijedili prostor, pravu hranu ali i "snacks and drinks" za cijeli dan!
Napomena: Imamo još otvorenih mjesta za sponzore.
Šta je Sarajevo Hacktoberfest Open Hack Day?
Drugi sarajevski Hacktoberfest je događaj koji će spojiti našu open source zajednicu na zanimljiv i inovativan način. Ovo online slavlje će se prenijeti i na offline druženje. Nadamo se da ćete doći u što većem broju!
Agenda
Voditelj programa ove godine će biti Adnan Rahić, poznati karaoke pjevač u usponu. Svi se nadamo da nećemo imati priliku da to čujemo uživo. Dežurni fotograf je naš omiljeni Adnan Kičin zvani "mutni". Ako ste ozbiljni što se tiče GDPR, nemojte doći jer će Bookvar ekipa snimati event da imate za buduću referencu. Bujrum!
Početak u 12:00

12:00-12:10: Dobrodošli
Uvodni govor organizatora.
Zahvala sponzorima.

12:10-12:20: Šta je Hacktoberfest?
Zašto se održava?
Pozadina događaja.
DigitalOcean, GitHub i Twilio.
Zašto smo se mi odlučili da podržimo inicijativu?
10 min pauza
12:30-13:00: Workshop – How to contribute to Open Source?
Govornik: Sakib Hadžiavdić – Open Source lover & Developer @OliveBH
Šta je open source?
Zašto open source?
Zašto biti contributor?
13:05-13:35: Workshop – Webpack: Zero to Hero
Govornik: Sulejman Čatibušić Gigi – Head of Education @Mistral
Nauči koristiti najpopularniji Open Source JavaScript bundler na svijetu!
13:40-14:10: Workshop – Docker + Git: a match made in heaven
Govornik: Zijad Purković – DevOps Engineer @Minitry of Programming
Zašto su Git i Docker postali najpopularniji Open Source developer alati na svijetu? Zijad će nam objasniti i pokazati kako ih koristiti!
50 min ručak
15:00-15:30: Fireside Chat – Why is Open Source software important?
Panel: Sulejman Čatibušić Gigi, Zijad Purković, Sakib Hadžiavdić
15:40-16:10: Workshop – TDD - How to move to a test first mindest
Govornik: Fahrudin Halilović – Software Developer @OCCRP
Zanima vas kako pisati bolji kod sa TDD (Test Driven Development)? Fahrudin će nam objasniti osnove testiranja ali i prednosti TDD pristupa.
16:15: Završne riječi

Cijeli dan: Hack time – slobodno vrijeme za kodiranje
Organizatori:

Adnan Rahić - Developer Advocate, teacher, mentor and loudmouth
Adnan Kičin - Developer and generally funny guy
Adnan Karšić - Developer and cryptocurrency millionaire in the making
Sponzori:
Edukacijski Sponzor:
Community Sponzor: