Event Information
Location
EF Auditorium
30 Selnaustrasse
8001 Zürich
Switzerland
Hacking HR Forum Zurich (Fall 2019)
About this event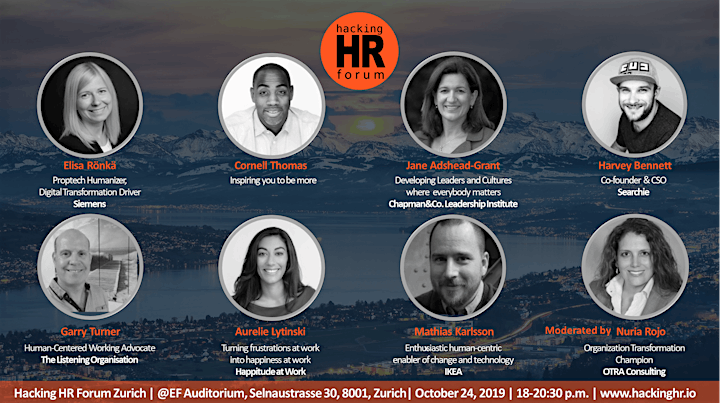 Speakers
Hacking HR Zurich will be celebrating 1 year anniversary with its Hacking HR Forum in Zurich. This will be the third Hacking HR Forum 2019. We have prepared a line-up of speakers bringing thought provoking topics merging Future of Work, HR and technology, with examples and ideas to create amazing workplaces where everybody matters.
On 24th October, igniting all the minds and hearts, we will have:
Elisa Rönkä, proptech humanizer, digital transformation driver, UX enthusiast at Siemens. The business perspective with the unusual human tweak
"Empathy: the crucial skill for the future"
Elisa is a Business Development Innovation Manager at Siemens. She leads the go-to-market of human-centric workplace solutions and with a diverse background in finance, design thinking and development functions, Elisa aims to add value to all stakeholders within the building lifecycle by promoting emerging digital technologies. As a frequent speaker addressing the importance of smart buildings and its value to business and society, Elisa passionately contributes to the transformation of the building industry into a digitally enabled and experience-focused one
Jane Adshead-Grant, developing leaders and cultures where everybody matters at Chapman & Co. Leadership Institute. The coaching perspective from one of the most amazing current cultures in the world.
"The privilege of leadership – focus on your 'span of care'"
Jane's purpose is to support individuals, teams and organisations develop a people-centric culture focusing on purpose, people and performance. She is a master coach with the ICF and leadership facilitator. Jane is sole licensed practitioner, UK & Europe with the BW Leadership Institute working with organisations keen to develop cultures of Truly Human Leadership. Jane has over 30 years' experience within people focused roles within financial & professional services and is author of Are you listening, or just waiting to speak?
Aurelie Litynski, Chief Happiness Officer , workshop facilitator, speaker, founder Happitude at Work. Aurelie is on a mission: turning frustrations at work into happiness at work. The local entrepreneur perspective on the consulting side
"Being Happy at Work: a hype or a true need?"
Aurelie is on a mission! She aspires to increase the awareness on happiness at work in companies and help leaders and employees being successful by creating more work-related happiness in their teams. Aurelie learnt about the topic of "happiness at work" from experts worldwide, became a Chief Happiness Officer in 2017 and created an approach, which tackles crucial topics such as behavior, communication, empathy and trust within companies.
Since 2019, she is as well a certified partner of Woohoo Inc, one of the world's leading experts on happiness at work.
Harvey Bennett, Co-founder & CSO – Chief Strategy Office at Searchie -World Economic Forum Top Startup. The disruptive technological entrepreneur view.
"How a machine can identify your personality more accurately than your spouse"
Garry Turner, Human-centered working advocate at The Listening Organization. The perspective from the personal and team human transformation
"Slowing down to speed up"
Garry Turner has over 20 years of international sales and product management experience is deeply passionate about rehumanising the workplace and uses a mix of these skills to live his personal purpose of creating & facilitating the safe spaces that support unleashing people's innate brilliance.
Mathias Karlsson, enthusiastic enabler of change and technology with the human aspect as first priority at IKEA. The perspective from people, culture and the enabling technology
"Intelligent Process Automation as creative enabler for co-workers"
Mathias has 20+ years of experienced as a change specialist with organizations in transition due to growing businesses, changing solutions and processes or for higher efficiency. This involves IT-solutions and process implementations as well as human change management.
He has work for more than 20 organizations, both commercial like TeliaSonera, IKEA and Ericsson, and public like RAF and NATO.
Since 2011 he is working for IKEA and since some time as People and Culture Delivery Manager at IKEA in Switzerland.
Cornell Thomas, professional conversationalist, the power of purpose and its impact in individuals, teams, organizations and society
"It's not about the X's and O's, what losing taught me about winning"
Cornell Thomas is a global speaker, multiple title author, corporate trainer, and social entrepreneur. After a career ending injury derailed his dream of playing professional basketball, Cornell discovered that he'd have to get some pain to find his true purpose. He now travels all over the world sharing his amazing story, and impacting others
Nuria Rojo, organization transformation champion, Hacking HR partner Zurich, will moderate the session
Agenda
17:30 – 18:00 Welcoming participants and networking18:00 – 19:30 Intro to event and speakers. and keynotes with 6 speakers, with a slot of 8 minutes each18:10 – 19:30 7 Keynotes 8-10 minutes each19:30 – 20:25 Q&A focused in getting all the questions from the participants to the speakers
20:25 – 20:30 Closing20:30 - 22:00 Time for networking and further questions to speakers, with Apero RicheIf you have problems paying with Paypal please contact Nuria Rojo @ nuriarojoruiz@gmail.com
Looking forward to having you there
Thanks to our Host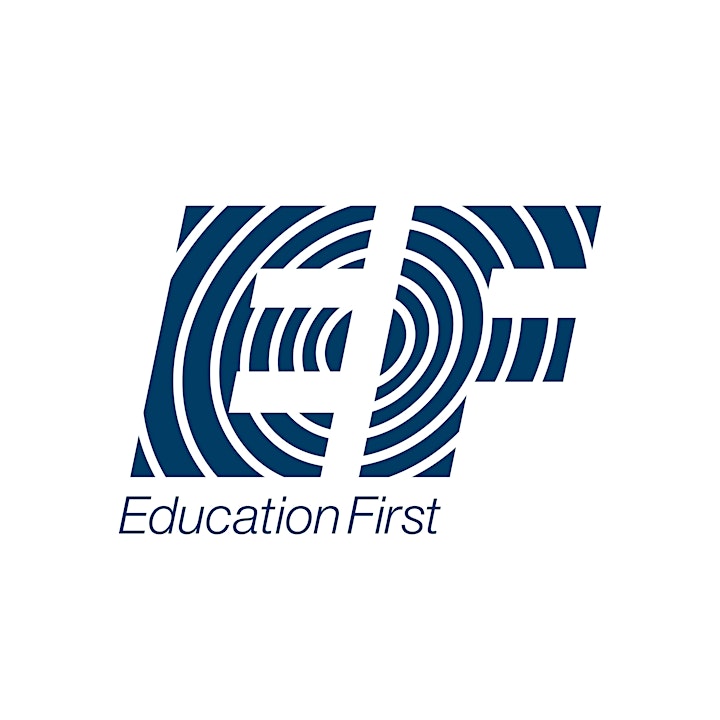 Date and time
Location
EF Auditorium
30 Selnaustrasse
8001 Zürich
Switzerland