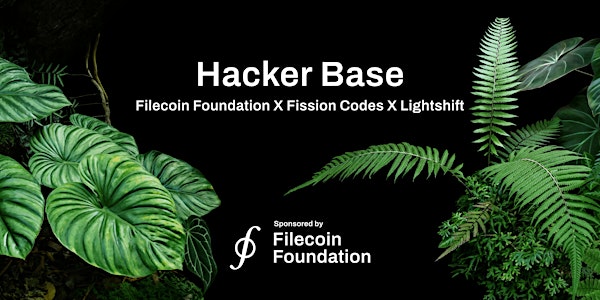 Hacker Base | Filecoin Foundation x Fission x Lightshift
Welcome to the Hacker Base, a co-working space! Please register here if you would like to use this space for work or attending some talks.
When and where
Location
Garagem Lisboa Jardim 9 de Abril 1200-736 Lisboa Portugal
About this event
We've got the perfect home base for your stay in Lisbon. Visit our co-working space to catch a lightning talk or participate in workshops with developers and the web3 community.
Please register on this site to use the space when not in use for private events. You are more than welcome to join other events at the Hacker Base, but need to register individually to those events. See below the full list of events happening at the Hacker Base or visit FIL Lisbon website to see the full schedule of events during Oct. 25 - Nov. 4.
The Hacker Base is open daily from 9AM to 6PM, starting on Oct. 25.
Events open for anyone that registers on the current site:
Oct. 26 | 4PM - 5PM: Decentralize All The Things! An FFDW View of Decentralization Beyond Filecoin. A talk by Danny O'Brien | About
Nov. 1 | 10AM - 12PM: Private Data on Filecoin
Nov. 2 | 10AM - 12PM: Technical Workshop: Building Interoperable Gig Marketplaces with TalentLayer | About
Private events with separate registration link:
Oct. 25 | 1PM - 6PM: Open Metaverse meetup with MONA Galleries
Oct. 26 | 10AM - 12PM: FIL Accounts Working Group
Oct. 27 | 3PM - 6PM: Web 3.0 chess meetup
Oct. 28 | 10AM - 12PM: UCAN Build Apps with IPFS
Oct. 28 | 1PM - 5PM: DeFi Meetup in Lisbon "The Winners of the Winter"
Oct. 29 | 11AM - 6PM: FVM Open Hack Day
Oct. 30 | 1PM - 3PM: Creators in Web3 - Meetup @ Lisbon
Oct. 30 | 4PPM - 5:30PM: A Helping Paw To The Metaverse
Nov. 2 | 2PM - 5PM: Orbit Ambassador Meetup (invite only)
Nov. 3 | 6PM - 9PM: FIL x NEAR Happy Hour
By registering and attending to the Hacker Base, you agree to Filecoin Foundation's Code of Conduct and Privacy Policy.