Description
Attend the 2016 Hackaday Superconference!
The Hackaday SuperConference is a gathering of hardware hackers, builders, engineers and enthusiasts. It's halfway between an industry conference and a "Bring-a-Hack" get-together...but extended into a 2-day event.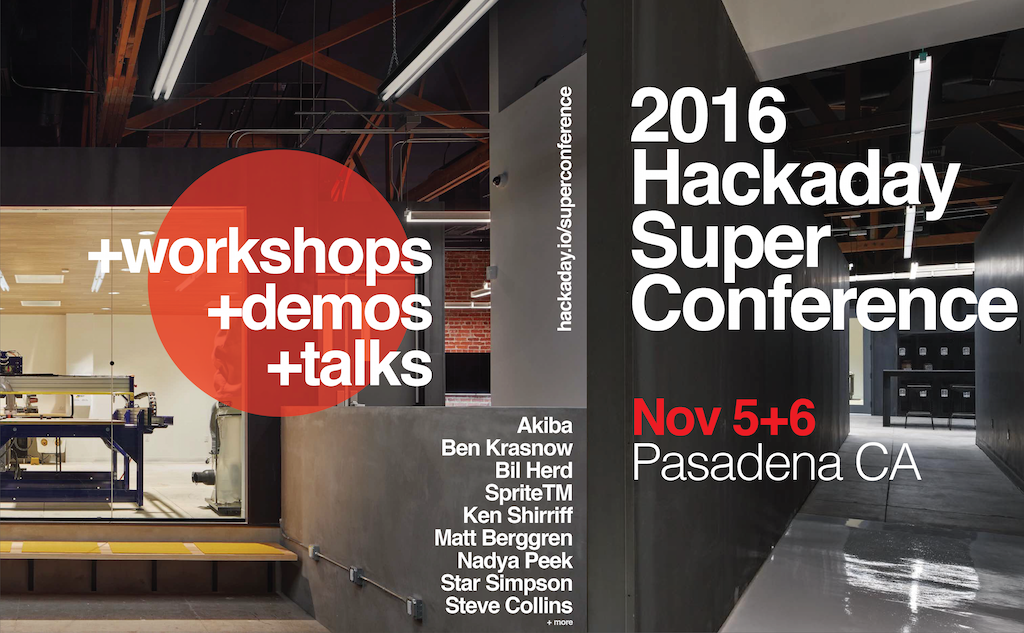 SuperCon 2016 will take place November 5th and 6th (2016) in Pasadena, CA. Talks and workshops will cover hardware, engineering, creativity in technical design, product design, prototyping (and more) and will be set against a backdrop of a new creative space, the Supplyframe DesignLab as well as the amazing Los Angeles College of Music venue, right next door!
Similar to last year, we will be announcing the winners of the 2016 Hackaday Prize! The prize took on a new format this year and we cannot wait to see the grand prize winners. This will take place on Saturday, prior to the SuperCon evening program.
Throughout the SuperCon we will provide food (breakfast/lunch/snacks) and beverages, included in the price of the ticket.

Why should you consider attending the SuperConference this year?
More great talks - Last year provided 23 in-depth and engaging presentations from the Hackaday community. This year will be different: even more talks!

The DesignLab - Already full of cutting edge tools, we will be using these to support hands-on workshops building real hardware.

"A Hacker Village" - No more standing around a drab hotel. We recognize the "LobbyCon" is often the best part of a conference and are optimizing for that.

Meet Top Performers - These individuals from technology companies in and around LA (SpaceX, iRobot, JPL, Art Center, CalTech) are already part of the Hackaday community. Those who are not presenting will be attending, and you can meet them!

Meet Hackaday - Not only will our editors and contributors be in attendance, the Hackaday Community will be in attendance. This is a great time to put a face to a name. Or a face to a project you've been following.

What should you expect from the location?
The DesignLab will be the primary focus/location of the conference.

Next door is the Los Angeles College of Music; a beautiful, cozy space for talks.


November weather in LA will still be beautiful as the rest of the country cools off.


The Metro Gold Line is a block away from the venue and makes the conference accessible, even if you're staying with friends farther away from Pasadena.


Old Town Pasadena is a great place to walk to all kinds of food and entertainment.
To learn more, visit hackaday.io/superconference