Description
Update: Conference Postponed Due to Public Health Concerns

We're sad to announce that the 2020 Hackaday Belgrade conference will not take place on May 9th as planned. Due to the ongoing spread of the coronovirus, we feel it is unwise to put so many fantastic people at risk. We are still committed to hosting our biennial European conference in Belgrade this year. We will announce a new date as soon as the danger has passed and we can rebook the venue. Until then, thank you for your understanding and keep on hacking!
We are incredibly excited to announce the return of Hackaday Belgrade, a one day conference on Saturday, 9th May in Belgrade, Serbia.
Join us to experience talks and workshops exploring the most unique, cutting-edge, and world-changing topics revolving around hardware creation. You'll hear talks, see demos, and take workshops on topics ranging from learning new tools or techniques to fabrication adventures, from code-wrangling that firmware project to your giant LED design project, and everything in between.

The demos, badge hacking, food and drink, DJ sets, and a warm and welcoming village of great people make this an event you don't want to miss.
This will sell out, get your ticket now!
Present at Hackaday Belgrade:
You can hack your way into the conference by submitting a talk proposal. Accepted speakers receive free admission and everyone who submits a quality talk proposal will be given 50% off the general admission price.
Conference Events:
This is the third Hackaday Belgrade. We hosted the first Hackaday Belgrade in 2016 to an enthusiastic, sold-out hall and the second in 2018. We are very excited to be doing it again in 2020, here's what we have in the works:
Talks and Workshops will cover hardware, engineering, creativity in technical design, product design, prototyping, etc. run from 10am until 9pm.

Badge Hacking goes all day and will be extended into the wee hours of the morning. Every attendee of Hackaday Belgrade will receive one of these amazing custom electronic badges. The badge demo presentations will take place at 11 pm.

There's More:
We're keeping the costs low to offset your travel costs. Belgrade is gorgeous in May, and getting there from other parts of Europe is very affordable. The cost of the admission includes the cost of the badge, as well as excellent food and drink during the conference and a party late into the night.
Voja Antonic, who does amazing work with PCBs and badge designs, is the creator of this year's badge.
Many of the Hackaday crew will be on hand and we're likely to have a less-formal meetup on Friday evening. Check out the Hackaday | Belgrade planning page to discuss this and learn more about the conference as it comes together.
Belgrade will be the hardware center of the Universe this May. See you in Belgrade!
URL: https://hackaday.io/belgrade
LOCATION: Dom omladine Beograda, Makedonska 22 // Belgrade // Serbia // Europe
Conference visual design by Aleksandar Bradic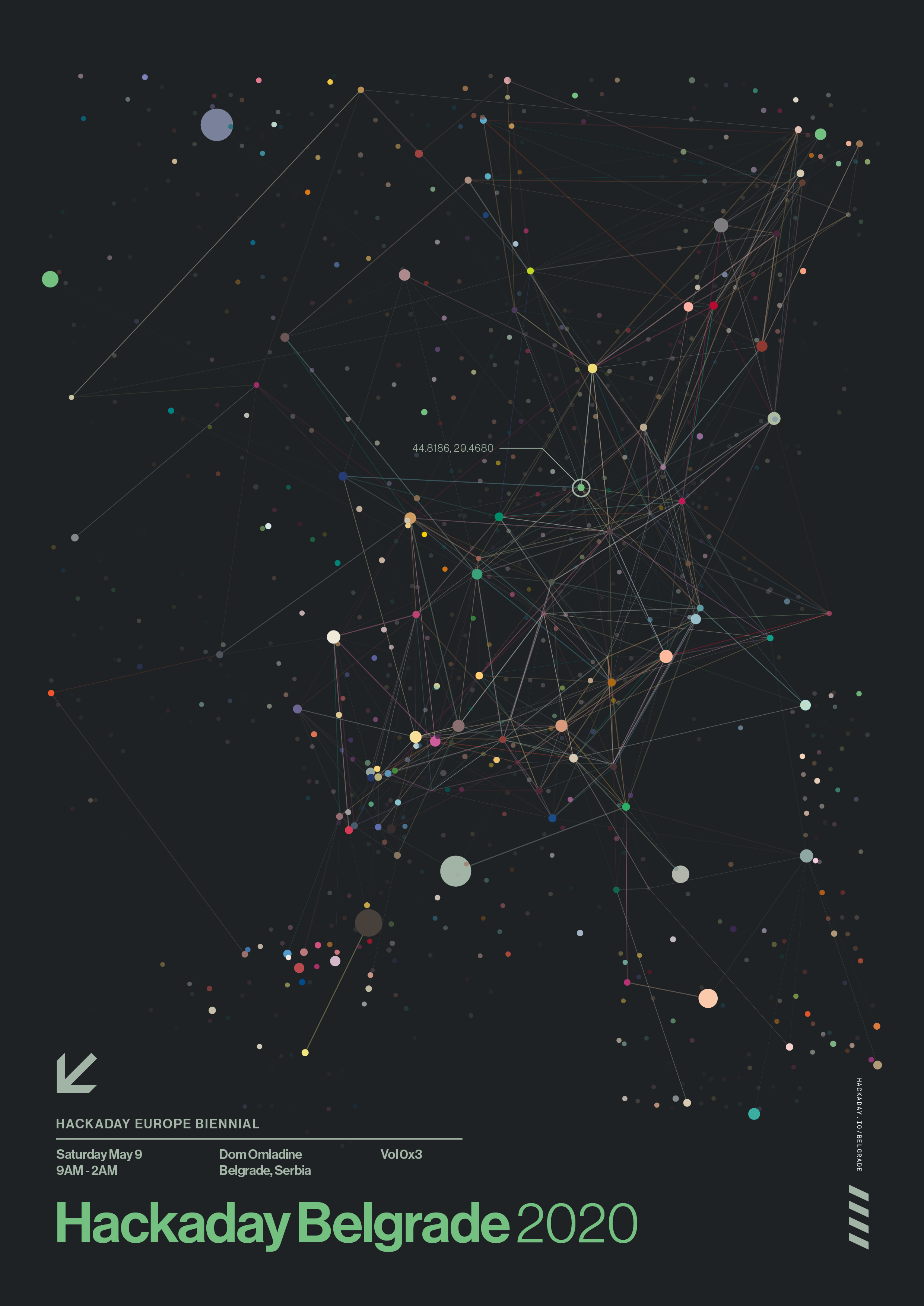 FAQs
Purchasing Tickets:
Tickets may be purchased with or without a PayPal Account. If you do not have a PayPal account or would like to checkout with a Debit or Credit Card, simply follow the prompt to the PayPal checkout and select the Pay with Debit or Credit Card option. This option will allow you to checkout as a guest and no account will be needed.
Tickets for Students & Children:
All ages are welcomed at Hackaday Belgrade

Tickets are free for babies

Children under the age of 13 must be accompanied by an adult

Children tickets are 50% regular-priced General Admission

Student tickets are 50% regular-priced General Admission
Parking (Paid):
Car Park Politika (Address: Makedonska br. 29)

Garage Pionirski Park (Address: Dragoslava Jovanovića 2)

Garage Obilićev Venac ( Address: Obilićev venac 14 – 16, Access point to the garage is off the Maršala Birjuzova Street)
Travel & Lodging:

Train Stations: Serbian Railways - The closest train stations to the Dom Omladine are the Vukov Monument Train Station (2.3km), and the Belgrade Centre Railway Station (3.5km)

Bus: Belgrade Bus Station (BAS) - The closest bus station to the Dom Omladine is the Main Bus Station Belgrade Address: Železnička 4 (1.3km)

Lodging: There are several hotels to choose from since the venue is in the center of the city.
Flights: The closest airport is the Belgrade Nikola Tesla Airport (BEG) is located approximately 18km from the Dom Omladine.
Workshops:
Workshop tickets will be available in early April
Additional Questions:
If you have any additional questions or need more information please email: superconference@hackaday.io
Organizer of Hackaday | Belgrade 2020