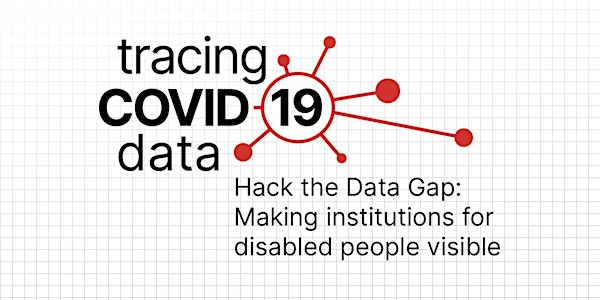 Hack the Data Gap: Making institutionsfor disabled people visible
We need data on institutions for disabled people! Come "Hack the Data Gap" and make institutions for disabled adults visible
About this event
Here's what we know …
Despite ongoing provincial, municipal and national calls to action, there is no database of congregate institutions for disabled people. This makes it difficult to trace COVID's impacts on these vulnerable populations and to accurately prioritize vaccine distribution amidst the phased roll-out. Currently (03/01/2021), federal and provincial COVID-19 vaccine roll outs have yet to include disabled people.
In the UK—where this data is disaggregated—we know disabled people make up 60% of all COVID deaths, and that disabled people with developmental disabilities are four to six times more likely to die from COVID-19. Canada needs data on where disabled people are living to prioritize them in our vaccination program.
"...the lack of data is a major hurdle when making decisions, so a nationwide census needs to be undertaken to determine how many people with disabilities live in institutions or semi-institutions in Canada." - Jonathan Marchand, Président, Coop ASSIST
We need your help to learn more about congregate institutions for disabled people.
On Sunday March 7th, 13:00–16:00, join the Canadian Open Data Society (CODS), GO Open Data (GOOD), and Open North together as part of the Tracing COVID-19 Data Project to "Hack the Data Gap" and make institutions for disabled adults visible.
If you enjoy hunting for information online and know your way around a spreadsheet, we need you. Orientation and instructions will be provided (though you'll have to provide your own coffee and donuts). Join us this Sunday via Zoom to Hack this Data Gap… and together let's shed light on this issue!
A Zoom link will be sent to the email used for registration the day of the event.
This #DataGapHack is supported by:

GO Open Data Association (GOOD) is a grassroots driven non-profit. Our mission is to support the Open Government and Open Data principles for sustainable community well-being.
Our approach is to focus on knowledge sharing, open dialogue and collaboration and delivering programs such as webinars, GOOD annual conference, an open information clearinghouse, networking, mentoring and advocacy.

Canadian Open Data Society / Communauté canadienne des données ouvertes is a national membership-driven non-profit organization. We are stewards of the Canadian Open Data Summit, and active year-round with events, awareness campaigns, and advocacy.
At heart, CODS is a movement of passionate people on a mission: to raise awareness of Open Data and advocate for its use in all sectors, for the benefit of all Canadians.
Open Data is woven into our lives already via weather forecasts, electoral results analyses, crime reports, charitable activities, and transit schedules embedded into online mapping applications. But a universe of actionable insights remains to be discovered, in fields as diverse as genealogy, scientific observations, public records, and program impact measurements. Publications, usage, and insights from Open Data have serious untapped potential to transform the world. Open Data offers promising pathways to social, economic and civic development.

Founded in 2011, Open North is a Montréal-based non-profit organization with roots in civic technology development. Today, its interdisciplinary team works with a wide variety of innovative public administrations and community stakeholders in key areas of data and technology management and governance. Our applied research, capacity building, and advisory services are driven by our values of transparency, autonomy, and responsibility. Our mission is to empower communities to reinvent how they use and manage data and technology.