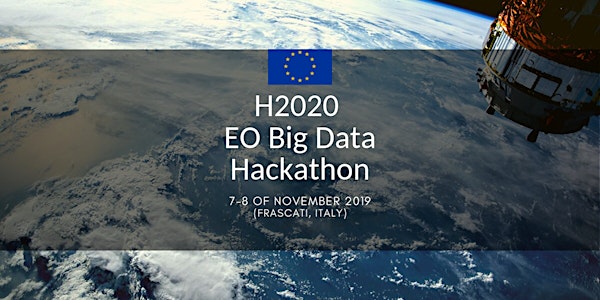 H2020 EO Big Data Hackathon
H2020 EO Big Data Hackathon
When and where
Location
Villa Rufinella Via del Tuscolo km 1.500 00044 Frascati Italy
About this event
The H2020 EO Big Data Hackathon is a joint event organised by five EU-funded H2020 projects that are developing cutting-edge software tools to process large amounts of earth observation data.
In this Hackathon you will see in action the so-called BETTER Data Pipelines, the CANDELA platform, the EOPEN platform, the OpenEO API and PerceptiveSentinel's EO-LEARN Python library.
The developers and prospective users of the five projects will work together to try the tools, test requirements and explore interactions.
Place of Event: Hotel Villa Tuscolana Via del Tuscolo km 1.500, 00044 Frascati (Rome), Italy
Date: 7-8 November 2019
Agenda: The hackathon will run for one day and a half. It is expected to start at 9:00 on the 7th and finishing around 14:00 on Friday 8th. Detailed agenda is being defined. The event is open and free but registration is required.
HOTEL BOOKING INFORMATION FOR ALL PARTICIPANTS
Bellow it is included the booking information for all participants, please read carefully the attached "HOTEL BOOKING FORM" taking into account that special rates are guaranteed for the participants till the 9th of October 2019.
Rooms booking must be done directly with the Hotel following the instructions of the aforementioned booking form.
Venue: HOTEL VILLA TUSCOLANA (Frascati, Italy)
Hotel Contact: commerciale@villatuscolana.com
This event is organised by the following EU-funded H2020 projects:
Additional Links:
Below it is attached the privacy and data protection policy for the event.
Please read this Privacy Policy as it includes important information regarding your Personal Data and other information.