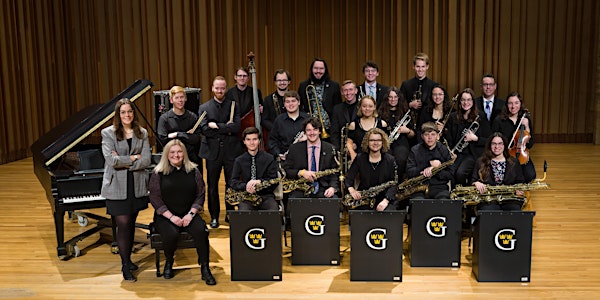 Gustavus Jazz Ensemble
Newly remodeled classic nightclub featuring raised ceilings, luxury booths, tiered seating, and state-of-the-art sound and lights.
When and where
Location
Crooners MainStage 6161 Hwy 65 NE Minneapolis, MN 55432
About this event
The Gustavus Jazz Ensemble is the premier concert jazz ensemble at Gustavus Adolphus College. Formerly known as the Gustavus Jazz Lab Band and Gustavus Stage Band, the Gustavus Jazz Ensemble was founded in 1970 by Dr. Mark Lammers. The ensemble is comprised of students majoring in a diverse array of academic disciplines. The ensemble, affectionately known as GJazz, prides itself on its multifaceted repertoire of classic big band works and cutting-edge arrangements by today's leading jazz composers. GJazz often features faculty soloists and renowned guest artists from throughout the United States. Recent guests have included GRAMMY-nominated violinist Sara Caswell and pianist Reggie Thomas.
The ensemble has performed regionally at the Minnesota Music Educators Association Mid-Winter Clinic, onstage at A Prairie Home Companion, and participated at the Elmhurst, Notre Dame, and Eau Claire Jazz Festivals (Big Band category winner at Eau Claire in 2015), in addition to touring extensively throughout the United States. The Gustavus Jazz Ensemble tours internationally once every four years with the Gustavus Symphony Orchestra, allowing the two groups to combine to form a studio orchestra. This unique collaboration previously took the ensembles to Singapore and Malaysia in 2020 and Greece and Greece and Macedonia in 2016. GJazz is under the direction of Dr. Dave Stamps.