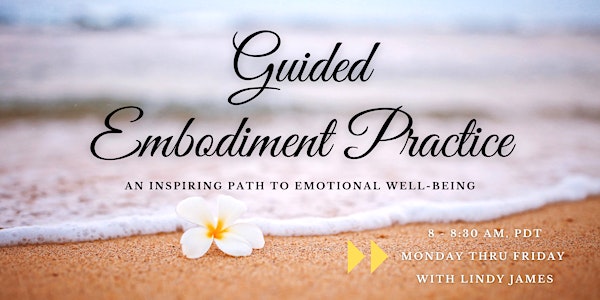 Guided Embodiment Practice
An inspiring path to emotional well-being. A beautiful way to center.
Refund Policy
Contact the organizer to request a refund.
Eventbrite's fee is nonrefundable.
About this event
Monday thru Friday, start the day with intention, with breath, with embodiment.
Only $25 per month, and no one turned away for lack of funds.
Can't make it live? Daily recordings of the practice are made available.
Click on the video below for a sample of Lindy's Guided Embodiment Practice.
About Guided Embodiment Practice
A gentle guided practice that brings you to a state of embodiment. We become more aware of how we sit, of the feel of our body, of being in the present moment. We practice influencing our own energy...calling it up and through the body...connecting with a part of our mind that's more creative and more insightful.
Through embodiment practices and a brief 5 minute meditation, we can witness and look at our life with simple noticing. From this connected space, we set an intention that will serve us this day, to support our path, to support our life's longing.
It's powerful to call in change from a place of embodiment.
Why it Makes a Difference
In my experience, most of our troubles begin with not having mastery over our minds. It is the mind with its beliefs and habitual patterns that takes us away from clarity, inspiration and direction. But the mind is trainable, and embodiment practice is highly effective training.
Remember that the unconscious does not know the difference between a truth and a lie. So it's important to practice stepping out of habitual patterns of negative thinking. Speaking negativity over and over again can bring on a very strong belief. Conversely, the brain's mechanism can work toward the positive when we consciously choose what to call into our lives.
How we think and how we feel can set the trend for how our lives unfold. Let us consciously choose the path that our soul is walking.
Investment:
$25 for the entire month. No one turned away for lack of funds.
Register:
Here at Eventbrite - *includes non-refundable processing fees.
If you need an alternative to Eventbrite due to technical difficulties, you can send money directly to me via PayPal. Please include your name and the month you are paying for.
PayPal: https://www.paypal.com/paypalme/lindyjames
Can't make it live?
Daily recordings of the practice are made available.
Not sure?
We will send you 5 days of guided embodiment recordings for FREE to give you the opportunity to see if this practice is right for you!
Please contact me to request your free week of audios. I'm also available for any questions or curiosities you may have: lindy@lindyjames.com
I would Love to see you join,
Lindy dakini James
Testimonials
"I felt a connection to my inner world. Since the outer world tends to scream more loudly, the whisper of the inner world gets hidden." Jody P.
"Lindy's Embodiment Meditation is an exquisite way to start the day. Keeps my Tantric practices vibrant with breath and settles my mind with silence. Peaceful, energizing and grounding." Evalena Rose - Lovejourneytantra.com
"Lindy's magical morning words have helped me through many days. My need for grounding is essential. I feel more aligned in my body and present to be of service to my patients and myself." Pam Stalzer
"Connection is key. This is what Lindy's meditation is for me. Connecting with heart, root chakras, earth, source, energy awareness, my energy, divine energy, love and peace. Lindy's meditation is an offering, a doorway to the remembrance of the truth of who we are. I have been with her from the beginning. I thought I would join this meditation for a couple of months just to get me started in a daily practice. Well, two years later, I am still dialing in : ))" Blue Sky
"This is so wonderful and you are so lovely to listen to. In Gratitude" Laura Starbird