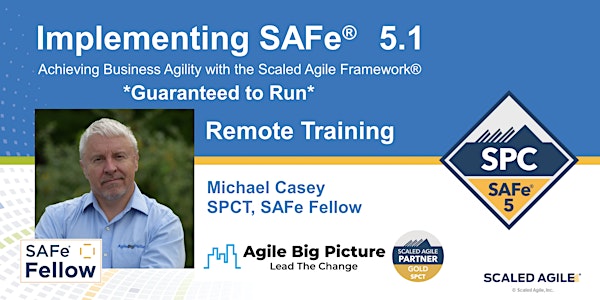 **GUARANTEED TO RUN**Implementing SAFe® with SPC Cert - Mar 20-24 REMOTE
With only 40 SAFe® Fellows globally, we offer the opportunity to learn from one of the rarest and most knowledgeable experts in the industry
Refund Policy
Contact the organizer to request a refund.
About this event
4 days 7 hours

Mobile eTicket
In this training, lead by a SAFe Fellow, attendees will have the opportunity to benefit from the expertise of a recognized thoughtleader in SAFe with a 30+ years of experience in software and systems development.
Course Description
Implementing SAFe
Achieving business agility with the Scaled Agile Framework®
With SAFe® 5 Program Consultant certification
Summary
During this five-day REMOTE course, attendees will learn how to lead a Lean-Agile transformation by using the practices and principles of the Scaled Agile Framework (SAFe) and the seven core competencies of the Lean Enterprise.
Attendees will practice how to coach programs, launch Agile Release Trains, create a DevOps culture to build a Continuous Delivery Pipeline, and empower a Lean Portfolio.
The first half of the course—Leading SAFe®—provide the basis to teach SAFe to leaders. The final portion focuses exclusively on what it takes to successfully implement SAFe in the enterprise. Becoming a change agent and a Certified SAFe® 5 Program Consultant (SPC) enables attendees to coach and guide the enterprise toward success in a disruptive marketplace and empowers them to implement a Lean-Agile SAFe transformation.
What Students are Saying
"I had the pleasure of taking the Implementing SAFe® course from Agile Big Picture . These guys were great! I really enjoyed learning from their vast experience with SAFe® to become a SAFe Program Consultant. The class was remote which does pose challenges, but they have a process that makes the course run smoothly and efficiently. This helps move the class along without having to deal with "technical issues" allowing the students to focus on the content without disruption. I recommend taking the SPC course with Agile Big Picture to everyone."
- Peter Minearo - Technology Unlimited Group - San Diego CA
Who Will Benefit?
Professional services consultants
Internal change agents, Lean-Agile Center for Excellence (LACE) participants, Agile Working Groups
Business and technology executives, leaders, managers, and directors
Portfolio managers and fiduciaries, Project/Program Management Office (PMO) personnel
Development, QA, and IT managers
Program and project managers
Product and product line managers
Process leads and lifecycle governance personnel
Enterprise, System, and Solution Architects
Topics Covered
Leading SAFe®
Thriving in the digital age with business agility
Becoming a Lean-Agile leader
Establishing Team and Technical Agility
Building solutions with Agile Product Delivery
Exploring Lean Portfolio Management
Leading the change
Implementing SAFe®
Reaching the tipping point
Designing the implementation
Launching an Agile Release Train
Coaching ART Execution
Extending to the portfolio
Accelerating to business agility
Becoming an SPC
What you'll learn
To perform the role of a SAFe® Program Consultant (SPC), you should be able to:
Lead a Lean-Agile Enterprise transformation
Implement SAFe
Implement Lean Portfolio Management
Perform Value Stream identification
Launch and coach Agile Release Trains
Coordinate multiple Agile Release Trains with a Solution Train
Use the seven core competencies to achieve business agility
Train managers and executives in Leading SAFe®
Continue your learning journey and become enabled to train other roles in a SAFe Enterprise
Prerequisites
All stakeholders in a Lean-Agile transformation are welcome to attend the course, regardless of experience. However, the following prerequisites are highly recommended for those who intend to take the SAFe® 5 Program Consultant certification exam and practiced as a SAFe® 5 Program Consultant (SPC):
More than 5 years of experience in software development, testing, business analysis, product, or project management
More than 3 years of experience in Agile
One or more relevant Agile certifications
What You Get
Class registration includes:
Attendee digital workbook
Preparation and eligibility to take the SAFe® 5 Program Consultant (SPC) exam
One-year membership to the SAFe Community Platform
Course certificate of completion
Attendees must attend all days of the course to be eligible to take the exam.
Eligibility to train others in SAFe
As a SAFe® 5 Program Consultant (SPC), What you get you can continue the learning journey by achieving validation to license and teach SAFe courses.
For additional information visit https://www.scaledagile.com/becoming-an-spc/
Meet Your Principal Instructor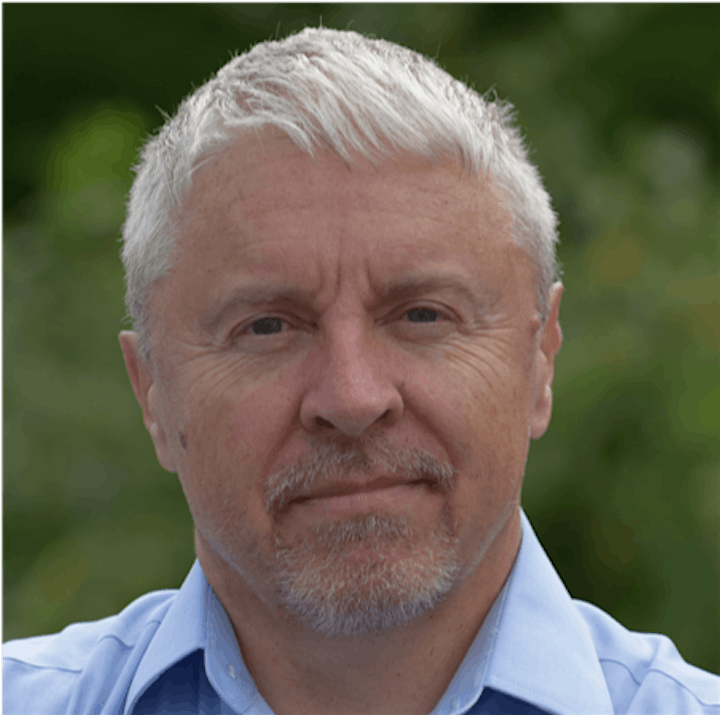 Michael Casey has more than 30 years' experience in software and systems development. He has held developer, architect and executive roles. Michael actively works in promoting, delivering training in and implementing the Scaled Agile framework. In 2016 he founded the training and consulting organization, Agile Big Picture, that focuses solely on the Scaled Agile Framework.
Michael is a SAFe Fellow, SPCT and active participant in the SAFe community. He is currently part of a team building a Leadership Development Program with/for Scaled Agile Inc.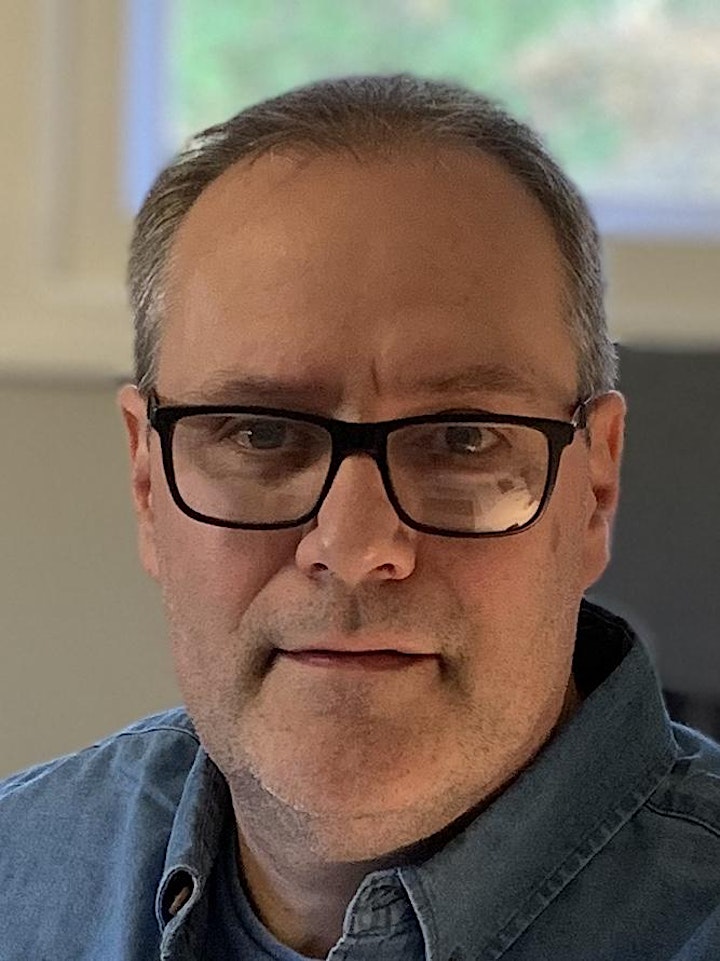 Alex Rohrs is a problem solver and recognized leader with a deep passion for Agile and SAFe and helping individuals, teams and organizations achieve better results by identifying the right market problems to solve and implementing smarter, more efficient ways, of working to get product to market faster. He has a background in Program and Product Management and spent over 15 years in the educational technology field helping to deliver curriculum based solutions to both the k-12 and higher Ed markets.
He is expert in managing cross-functional teams from conception through product launch, including implementation and management of processes designed to identify value, streamline efficiency, improve quality and bring products to market quickly and efficiently. Alex has led Agile transformations at multiple organizations and successfully implemented SAFe at Scholastic, leading 3 Agile Release Trains through 14 PI's resulting in the release of industry leading Reading and Math intervention programs for the K-12 market.
Alex is an SPC, approved Co-Trainer and active participant in the SAFe community
Annual Renewal
Certifications expire one year from the date of certification is earned.
• Renewal fee: $895/year
Professional Development Units (PDUs) and Scrum Education Units (SEUs)
• You may be eligible to apply for 30 PDUs toward your continuing education requirements with the Project Management Institute (PMI) for PMP, PgMP, and PMI-ACP certifications
• You may be eligible to apply for SEUs under Category C, toward earning or renewing your CSP through the Scrum Alliance
Agile Big Picture Cancellation Policy
Attendee cancellations greater than two weeks before start of course are eligible for a refund (subject to a $250 processing charge). Should you need to cancel between 8-14 days before start of course, you may chose to transfer your seat to a course of equal or lesser value (or pay the difference in course cost). No refund or course transfers are offered within 7 days of course start, however you may transfer your seat to another person at any time up to start of course.