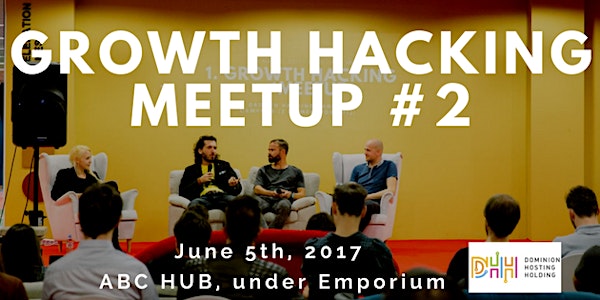 Growth Hacking Slovenia Meetup #2: Growth is not a single hack
When and where
Location
ABC HUB LJUBLJANA 3 Letališka cesta under Emporium, BTC 1000 Ljubljana Slovenia
Description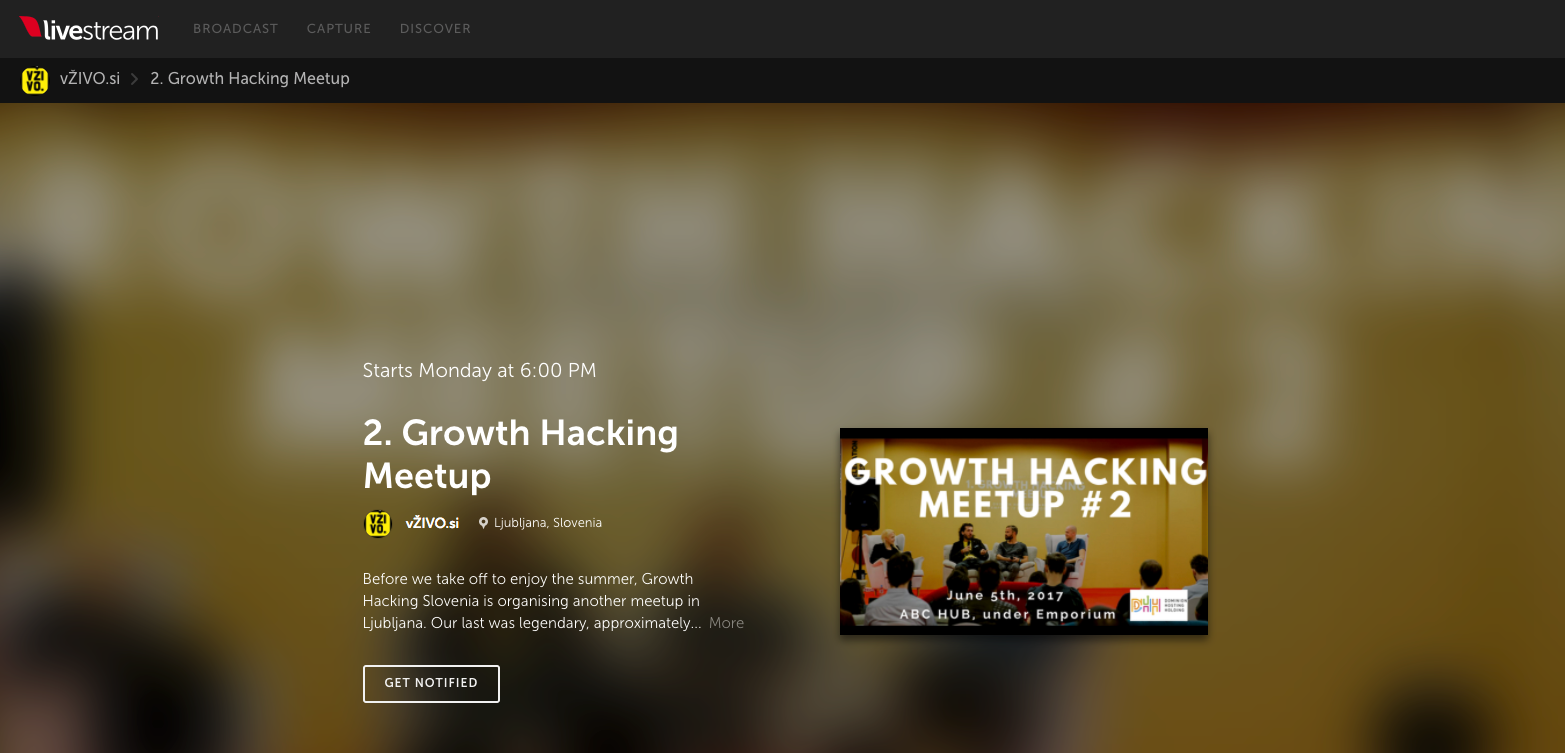 Join the Livestream sponsored by VŽIVO: https://livestream.com/zivo/2GrowthHackingMeetup
---
Update: Tickets were sold out in less than a day

Join the waiting list in Growth hacking Slovenia Facebook group. You can still get yours.
---
Before we take off to enjoy the summer, Growth Hacking Slovenia is organising another meetup in Ljubljana. Our last was legendary, approximately 100 people attended and the responses were overwhelming. Let's rock again.
Growth is not a single hack. It is a continuous process of experimentation driven by truly understanding your customers, building MVPs, measuring its traction and iterating based on these learnings. Nobody gets it right the first time. If you are wondering how to:
Launch a new product or a service to your target market?

Leverage your existing marketing efforts with growth marketing without significantly increasing your budget?

How to start introducing growth hacking to your company?
Wonder no more. Leading experts in UX, growth marketing and analytics will share their secret recipes how to build growth machines. The meetup will consist of two parts, Expert Panel and Campfire.
---
Expert Panel: Know how to grow
Discover what you need to do before you start implementing growth hacking. The only sustainable growth technique is to know exactly who your users are, how they interact with your product and how to meet their expectation. Speakers at the panel will help you understand how to get your growth engine started.
Maša Crnkovič is one of the most well-known UX and Analytics experts in Slovenia. She is the head of User Experience and Analytics at Futura marketing agency. Maša has a unique perspective how to build user-centric UX and analytics stack, which has helped companies such as GoOpti, NLB, Solvera Lynx and Telekom in the past.
Heidi Pungartnik Heidi rocks design and business. She is an internationally accomplished entrepreneur, speaker, and author. Her book Design for Founders has been featured in Forbes, The Next Web, Sitepoint and other reputable publications. Heidi has also successfully launched 3 products at Product Hunt.
Teo Radetić is the expert for Marketing and Analytics at infinCUBE. After graduating from Oxford in Experimental Psychology, Teo revamped the customer research and segmentation process for GoOpti. Now he leads marketing and analytics for the engineering company infinCUBE in which they provide cutting-edge tech and data solutions for international clients.
The panel is going to be moderated by one of the most prominent growth hacking speakers in Slovenia, Simon Belak, CTO at GoOpti.
---
2 growth power talks
Simone Righini Growth hacker at Tophost. Simone is an SEO wiz from Italy who works as a marketing executive for several companies. How well do you know SEO and understand how it can boost your business growth? Simone will join us to explain the core concepts of SEO for companies who would like to grow exponentially. We cannot wait for that!
Matic Užmah whose team is building Support Hero the ultimate tool to capture, manage and meet (or exceed) customers' expectations will share his growth success story. Matic runs his company from Paris, so we are especially excited to have him in Ljubljana.
So much goodness!!!
Join us to know how to grow!
Apply now, last time tickets ran out too soon.
---
Sponsors
This event is brought to you by a fabulous team of Growth Hacking Slovenia members and sponsors who know how to grow.
Dominion Hosting Holding SpA (DHH) aims to unite the leading hosting providers in the Alps-Adriatic area. The DHH group empowers small businesses to build an outstanding online presence within their budget and easily choose their favorite local hosting, contributing to sustainable development of their country's digital economies. DHH believes that the region has a remarkable growth potential and therefore empowers individuals and companies to build, grow and scale their online businesses.
ABC HUB is a temple of creative energy and idea growth. Learn, socialize, and even have fun—suddenly work becomes enjoyable and surprisingly addictive! A community of idea generators, creators, and makers: ABC Hub! If you wish to kickstart your business, be surrounded with like-minded individuals and spend time in a beautifully decorated place, this is it!
Support hero Get fewer support tickets create happier customers: 67% of app users prefer self-help support over contacting your support staff. The ideal companion to your current helpdesk, intercom included. Connect your existing knowledge base to support hero and start gathering helpful insights in a matter of minutes.
Media sponsor: Netokracija

Event streaming is sponsored by VŽIVO.