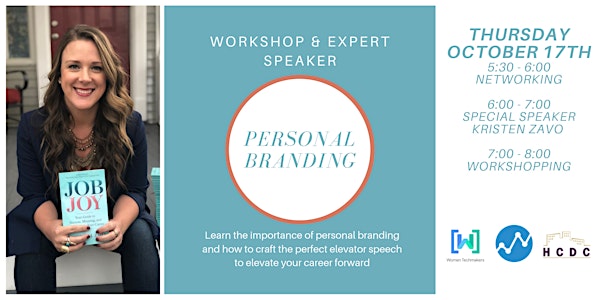 Growing your Personal Branding: Workshop and Expert Speaker
When and where
Location
HCDC 1776 Mentor Ave. Suite 100, room 160 Cincinnati, Ohio 45212
Description
A perfect elevator pitch is one the best tools you can have in your toolbox. It is a way to convey your value to the person at the other side of the conversation. It is also a way to control your narrative and take your career in the direction that you are passionate about. But, where do you start? What are the do's and don'ts? How do you use it?
This event is here to help you answer these questions and walk away with a clearly defined elevator speech, that has been practiced and perfected with your peers
Agenda:
5:30 - 6:00 pm: Networking
6:00 - 7:00 pm: Expert Speaker, Kristen Zavo
7:00 - 8:00 pm: Workshop
About the expert:
Kristen Zavo is a Career Coach and the International Best Selling Author of Job Joy: Your Guide to Success, Meaning, and Happiness in Your Career.

Over the course of her career, she has spent nearly two decades in traditional corporate jobs (including time in investment banking, consulting and industry), working for some of the top Fortune 500 companies such as Lehman Brothers, NBC and Luxottica.


Through her work as an executive coach, international speaker, workshop facilitator and as the author of Job Joy, she has formally and informally helped thousands of clients, colleagues and friends find job satisfaction – whether they chose to stay put, find a new job or completely change careers.

Her work has been featured in The Wall Street Journal, Huffington Post, Business News Daily, The Ladders, and more – as well as on podcasts and stages covering career, success and finding life's purpose.

Kristen earned her MBA in Finance and BS in Marketing and Psychology, and is also a Certified Dragontree Life Coach and Certified Dragontree Illuminator.
No judgement zone:
This event is a safe place to come and learn and grow in your careers. We welcome people from all backgrounds, races, gender identity, sexual preference, religions, job titles, and industries.