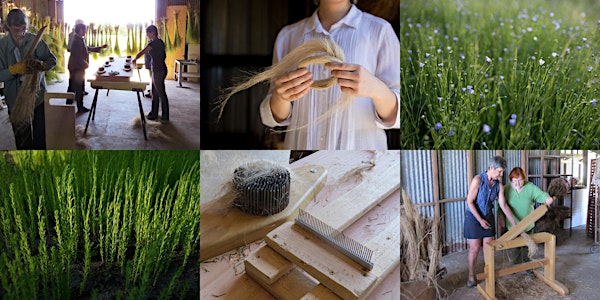 Growing & Processing Flax with Sandy & Durl of Chico Flax
Learn about planting, harvesting and preparing flax to make linen
Date and time
Saturday, May 6 · 10am - 4pm PDT
Location
Fibershed Learning Center 14000 Point Reyes - Petaluma Road Point Reyes Station, CA 94956
Refund Policy
Refunds up to 7 days before event
Eventbrite's fee is nonrefundable.
About this event
Join us for a fun and informative in-person, hands-on workshop on flax. Topics and demonstrations will include:
Planting flax seed—broadcasting techniques versus row planting
Harvesting flax—the right time to harvest for just fiber or fiber plus seed
Bundling flax—preparing the harvested flax for retting
Retting—both dew retting and wet retting explained. We will discuss using a small tank or low-volume sprinklers, and show examples of ready-retted flax.
The hands-on portion of the workshop will include:
Processing retted flax—learn how use a traditional brake, scutch/paddle, and a series of hackles
Creating a strick—a decorative bundle of fiber ready to be converted into sliver for spinning
Students will come home with some seeds for planting in their garden, flax straw ready for processing, handouts on how to make equipment, and more!
The class is limited to 15 students, and will take place at the beautiful Fibershed Learning Center on Black Mountain Ranch near Point Reyes Station. The class will be both outdoors and in the garage classroom, which has plenty of ventilation and wooden folding chairs.
Participants should bring any personal snacks, lunch and beverages.
_ _ _ _ _ _ _ _ _ _
Fibershed Scholarship Program for Tuition Scholarships & Transportation/Childcare Stipends
Fibershed is offering two scholarships to most workshops; one scholarship if it's a small class. In addition to scholarships for tuition, we are offering a limited number of stipends for transportation and/or childcare. If you would not otherwise be able to attend, and would like to be considered as a scholarship and/or stipend recipient, please answer a few brief questions on this Google Form. Responses will be reviewed by Learning Center staff and kept strictly confidential.
_ _ _ _ _ _ _ _ _ _
BONUS: The Clothing Swap Closet is now open during workshops and events at the Fibershed Learning Center!
Visit the Clothing Swap Closet when you attend a workshop or event at the Learning Center and exchange your natural fiber garments and accessories. Your clothing contributions must be clean and in good condition. Each contribution entities you to choose one item of comparable value.
You may arrive up to 30 minutes early for the workshop you are attending, and/or depart up to an hour after the workshop ends, to allow time to browse and try on items in the closet, and make your trade!
_ _ _ _ _ _ _ _ _ _
Sandy Fisher and Durl Van Alstyne have created a social enterprise known as Chico Flax, practicing regenerative agriculture with the help of The Center for Regenerative Agriculture and the School of Engineering at CSU, Chico, and other community members. They expanded their operation in 2018 to a 3.75 acre farm. Twelve years prior, Sandy and other community members worked at various small gardens to grow and process flax into linen. Today they processes their own flax into a variety of yarns, creating blends of their linen with local wool and cotton. Last year Sandy participated in the prestigious Smithsonian Craft Show in Washington DC in April, showing her handwoven shawls and scarves using Chico Flax yarns.
Above: Durl Van Alstyne and Sandy Fisher, photo by Paige Green
Collage at top of page: top row, courtesy of Chico Flax (1), by Paige Green (2); bottom row, by Paige Green (1), courtesy of Chico Flax (2)
About the organizer
Fibershed is a non-profit educational and research organization that develops regenerative textile systems that are based on carbon farming, regional manufacturing, and public education. We envision the emergence of an international system of regional textile communities that enliven connection and ownership of 'soil-to-soil' textile processes. These diverse textile cultures are designed to build soil carbon stocks on the working landscapes on which they depend, while directly enhancing the strength of regional economies. Both fiber and food systems now face a drastically changing climate, and must utilize the best of time-honored knowledge and available science for their long-term ability to thrive.