Location
Hatch Memorial Shell
47 David G Mugar Way
Boston, MA 02108
The Esplanade Association presents GroundBeat: the Esplanade's free riverfront music series -- produced by AfroDesiaCity at the Hatch Shell
About this event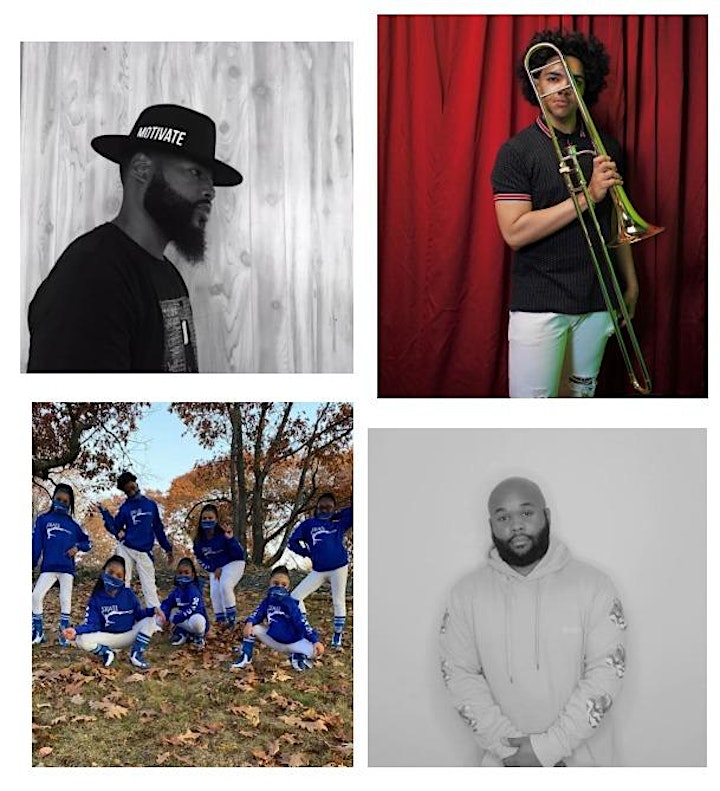 The Esplanade Association presents the second concert of our GroundBeat: the Esplanade's free riverfront music series -- produced by AfroDesiaCity at the Hatch Shell. AfroDesiaCity will celebrate Juneteenth's commemoration of African American freedom and emphasize education and achievement. All events in the series will feature food trucks, games, and new seating!
SCHEDULE:
DJ MOTIVATEMERREN (pre-show set) : 6-6:30
ACT I Marcus Campbell : 6:30-6:45
ACT II Stajez Dance Company : 6:45-7:00
DJ MOTIVATEMERREN SET : 7:00-7:15
ACT III LEVI & Good Vibes Only : 7:15-8:00
LINE DANCES ON THE LAWN : 8:00-8:15 (featuring the DJ the dance troupe and the band) Line dance songs: Wobble, Cupid shuffle, Jerusalem.
CLOSING REMARKS: 8:15-8:30
FEATURING:
MARCUS CAMPBELL @CusCampbell
Marcus "Cus" Campbell or (better known as) "CusCampbell" is a trombonist originally from Boston, Massachusetts, who has already made a significant impact online as a versatile and highly skilled trombonist, producer, artist, and composer. Gus Campbell began making hip-hop cover videos primarily for his Instagram during his freshman year at Berklee College of Music, and it was an immediate success. In only a few years, CusCampbell has received praise online from artists such as Big Sean, Russ, Joyner Lucas, All Time Low, Mike Stud, Marc E Bassy, Arizona Zervas, and many more.
LEVI & UNIQUE SOUND (Ensemble) @levijonesings
LEVI is a Washington DC native vocalist, musician, and producer. He began his musical journey in the church playing drums behind his father and mother. He went on to study classical voice at Duke Ellington School of the Arts. He moved to Boston in 2011 to study contemporary writing and production at Berklee College of Music. Levi fell in love with songwriting, and begin to expand his creativity to other instruments such as piano and bass guitar. Levi joined the local R&B band Unique Sound. Together they opened for artists like Avant, and Mario, and produced music for other local artists. Levi has still kept in touch with his Gospel roots; writing and producing music for local Gospel artists as well. In 2016, he Toured Europe singing with the Harlem Gospel Choir. Levi's soulful tone is a blend of the traditional Gospel music from his childhood, a classical technique from his education, and rich Neo-soul and R&B culture from his hometown. A variety of musical experiences, molded together with modern production and style.
MOTIVATE MERREN @MotivateMerren | Music Curator, a creative Visionary who expresses his ideas through music & events.
Stajez Cultural Arts Center @stajez
Stajez empowers students of all levels of ages, levels of ability, and ethnic backgrounds to be confident, disciplined, and respectful members of their communities through the use of the arts. Stajez is dedicated to engaging, inspiring, empowering, and encouraging young people to strive for and achieve academic and artistic excellence while building a stronger relationship with God and servicing their community.
AFRODESIACITY
AfroDesiaCity is a regional event and consulting company based in Boston, Massachusetts, for over the past 10 years, which specializes in live entertainment and special networking, and other value-added community events. We partner directly with emerging artists and professionals of diverse backgrounds to elevate your voice and support organizations in producing soulful events and creative and professional opportunities. Serving Boston's greater metropolitan area, and the East Coast region, we offer various artists management, event production, and community and cultural activation.
https://www.afrodesiacity.com/
ABOUT GROUNDBEAT: As part of GroundBeat, the Esplanade's FREE Riverfront Music Series, we will feature 3 concerts from May to September, the Esplanade Association will partner with a different local nonprofit to showcase a diverse set of performers and musical styles in an effort to promote local live arts and to attract audiences of all backgrounds to the park. Learn more at Esplanade.org/GroundBeat