G.R.I.T - Gaining Resilience through Instruction and Teaching
A virtual conference with keynotes and breakout sessions for educators and parents!
About this event
The Nebraska Association for the Gifted annouces our annual conference, virtually! We bring you two national presenters, Chrsitine Fonseca best known for her books on Emotional Instensity, 101 Success Secrets for Gifted kids and so many more! Her sessions will focus on educators and parents as they help their gifted kids navigate their own intensities. We also are proud to bring you Dr. Emily Mofield who will close our day with a keynote aimed at rigor, resilience and our roles as educators and parents helping our gifted kids navigate and succeed. We will also have local presenteres in break out sessions as well! All sessions will be recorded and attendees will have acces for 60 days to the videos if you cannot make it to the live vitual event! We know how important this conference is to all of us, however we felt it best to do one more virtual event in light of the sub shortage scross the state. We hope to be back to live events very soon!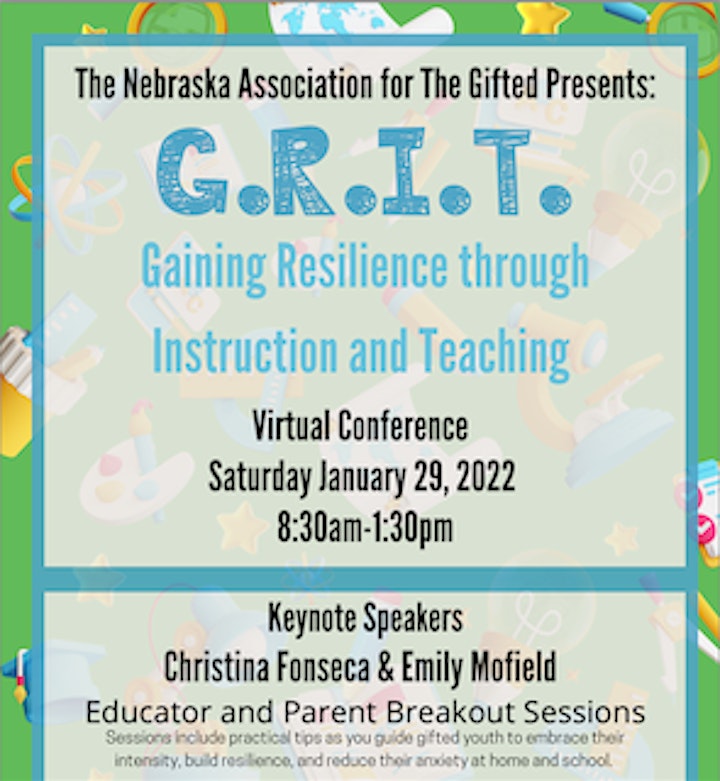 Date and time
Location
Refund policy
Organizer of G.R.I.T - Gaining Resilience through Instruction and Teaching
The Nebraska Association for the Gifted (NAG) began in 1956 as a group of concerned parents, teachers, and administrators known as The Governor's Committee for the Academically Talented.
Formed as an association in 1957, the group has continually strived to increase awareness of parents, teachers, teacher-trainers, and the general public to provide appropriate developmental experiences for students of high ability.
The association has continually worked with the Nebraska Department of Education, and state legislature. NAG has helped frame Rule 3 regulations governing the identification of high ability learners, lobbied to win support for Public Law 1229, providing funding for programs for gifted learners and has worked closely with the state department's Director of High Ability Learner Education