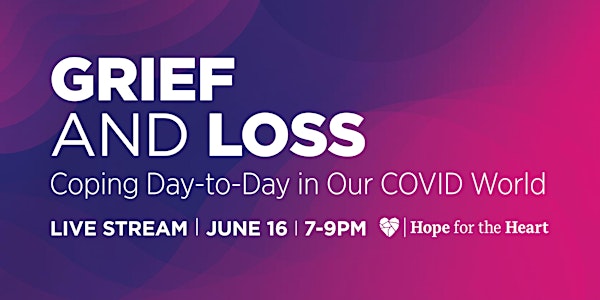 GRIEF AND LOSS: Coping Day-to-Day in Our COVID World
Online Event - June Hunt, M.A. and Dr. Eric Scalise discuss how to cope with loss during this 2-hour Live Streamed symposium.
When and where
Location
The Hope Center 2001 West Plano Parkway Plano, TX 75075
Refund Policy
Contact the organizer to request a refund.
Eventbrite's fee is nonrefundable.
About this event
Join Hope For The Heart Founder, June Hunt and Dr. Eric Scalise online Wednesday, June 16 from 7:00-9:00 p.m. (CST) for a live-streaming and timely discussion on Grief & Loss: Coping Day-to-Day in Our COVID World.
This event was previously schedule for May 26, rescheduled to June 16.
Those who register will receive our Grief Video Course for free ($29 value).
We all encounter grief in our broken world: the death of a loved one, sudden job loss, children leaving home, retirement, suicide, trauma, divorce, natural disasters and more. These experiences leave us feeling empty, disoriented, and asking questions. Faith is often tested in the crucible of life, and while grief is universal, each person's response is unique and individual.
Grief can be difficult to handle, and the ongoing pandemic has only intensified the painful realities many have experienced. COVID-19 has produced waves of grief all over the world as people have lost loved ones, jobs, financial security, and even a sense of "normal" life and wellbeing.
June Hunt and Dr. Eric Scalise will discuss:
Making sense of sorrow, the grieving process, and the effects of grief
Common misconceptions and the stages of grief
What can complicate the grieving process
How to help others who are grieving
Biblical insights, stories, and solutions related to grief and loss
Practical steps and healthy guidelines for coping with loss
Q&A – we'll have time to answer your questions**
This will be a helpful, live-streaming event for anyone who:
Has experienced loss – to find hope and make sense of grief
Is struggling with the realities and losses related to the pandemic – to find peace and gain perspective
Wants to help others who are grieving – to find practical steps and resources for effective caregiving
Wants to gain biblical insight on grief and loss – to better understand God's promises and plan in our grief
Now – perhaps more than ever – we need each other, and people need to stay connected, find support, practice proper self-care, and learn how to best care for others who are dealing with loss. Thankfully, God does not leave us alone in our grief. He cares. He comforts. He guides us toward peace and hope.
"But you, God, see the trouble of the afflicted; you consider their grief and take it in hand."(Psalm 10:14)
Date: Wednesday, June 16, 2021
Time: 7:00-9:00 p.m. (CST)
Location: Online Only (a Link will be sent to your email)
Cost: $19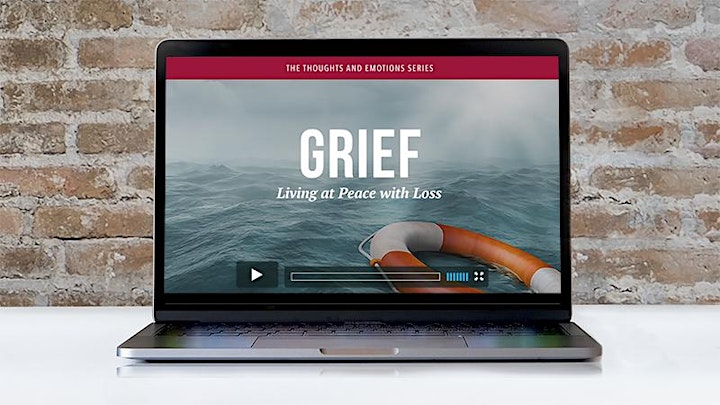 *Upon registration, you will receive a coupon code in your email to get our Video Course on Grief for FREE. This video course provides biblical insights and practical guidance on how to make sense of grief, process your emotions, and help others move through the stages of grief with peace and hope.
**You'll have the opportunity to submit questions - as we get closer to the event date - through a separate web page. June Hunt and Dr. Scalise will only be addressing questions submitted to this web page prior to the live stream. No "real time" Q&A will take place, so send your questions beforehand.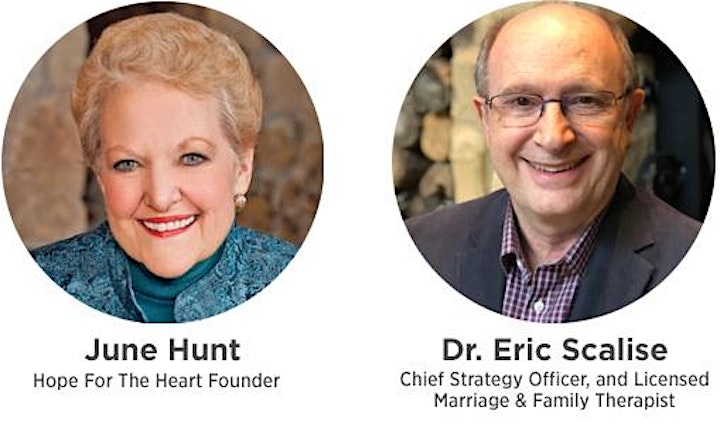 About our Presenters
June Hunt, M.A., is an author, counselor, speaker and Founder of Hope For The Heart, a worldwide biblical caregiving, coaching, and counseling ministry. Her lifework has yielded landmark contributions in the fields of Christian counseling and Christian radio broadcasting as the host of the award winning radio program, Hope In The Night. Hope for the Heart's biblical resources, including the 100-topic Keys for Living Library and Lifeline to Hope Lay Caregiving Video Courses provide biblical hope and practical help for everyday challenges.
Eric Scalise, Ph.D., is a Licensed Professional Counselor and Licensed Marriage & Family Therapist with 40 years of clinical, professional, and ministry experience. Dr. Scalise, Hope For The Heart's Senior Vice President and Chief Strategy Officer, is a published author and national/international speaker who frequently works with organizations, clinicians, ministry leaders, and churches globally. He is also the Course Developer and Lead Trainer of Lifeline to Hope, the lay caregiving video training courses from Hope For The Heart.
What others are saying about
Hope for the Heart
"I can't tell you how much Hope for the Heart has impacted my life. Thank you for helping people move forward to emotional health and a deeper walk with Jesus." –Bev
"I thank God for all of your in-depth teachings of every topic and for your faithful service to the body of Christ and hurting people everywhere." –Debra
"Thank you for helping us understand our problems and walking through them with God's Word." –David
"What a blessing to be connected with Hope for the Heart when everything around me seems to be falling apart and I found myself in a very dark, isolated place in my life. Hope for the Heart made me realize how much I am loved by God." –Shelby
"Thank you very much for the work you do and for the heart you have to help all people know the love and wonderful transforming power of Jesus Christ." –Rose