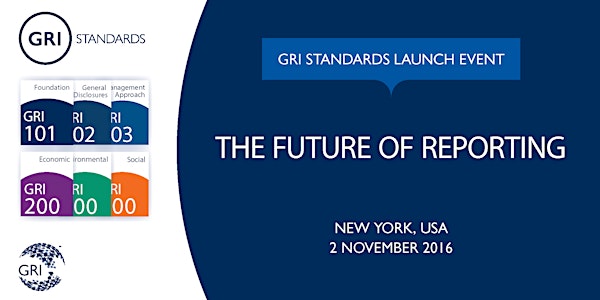 GRI Standards Launch Event New York
When and where
Location
Bloomberg LP 120 Park Avenue 22MPR & PFR New York, NY 10017
Description
Explore the new GRI Standards with the experts
GRI invites you to join this event in New York, with event host Bloomberg LP and sponsor General Motors to celebrate the launch of the GRI Global Sustainability Standards (GRI Standards).
Whether you're just starting out reporting for the first time, or you're a seasoned reporter, this event is designed to give you an interactive,detailed overview of the very latest development in sustainability reporting.
You'll be guided through the benefits of the new GRI Standards, gaining an excellent oversight on the changes from the G4 Guidelines. You'll also have ample opportunity to ask questions to the experts who have been instrumental in developing the Standards, and to network with fellow peers, exchanging knowledge with those striving to be at the forefront of developments in the reporting landscape.


Agenda
11:00am - 11:30am Registration, coffee & tea
11:30am - 11:35am Welcome, Eric Hespenheide, Interim Chief Executive, GRI
11:35am - 11:40am Presentation by Lee Ballin, Head of Sustainable Business Programs,
Bloomberg LP
11:40am - 11:50am Presentation by David Tulauskas, Director of Sustainability,
General Motors
11:50am - 12:40pm Introduction to the GRI Standards, Eric Hespenheide
Presentation of the GRI Standards, Bastian Buck,
Director Reporting Standards, GRI
12:40pm - 12:55pm Q&A with the audience, Bastian Buck & Eric Hespenheide
12:55pm - 01:00pm Wrap up and closure, Eric Hespenheide
01:00pm - 02:00pm Networking Lunch
Registration
Registration is completely free of charge, however as we have limited space we encourage early registration to secure your place. Registration is limited to 2 places per organization (3 places for GRI GOLD Community members).
By registering for this event you accept the terms and conditions as listed here.
Event Host & Partner
GRI would like to thank the host of this event

and the Event partner

for their support.
The full overview of GRI Standards Launch Events is available here (list will be updated on a regular basis).
Click here for information on GRI's Certified Training Program.