Outdoor Twilight Concert Series presented by SD Jazz Ventures and Alexandria Real Estate
About this event
San Diego Jazz Ventures has created a new series of live jazz events in collaboration with Alexandria Real Estate, celebrating the creativity and innovation of Jazz and of San Diego's Life Sciences and technology communities. Located at the beautiful campus of The Alexandria at Torrey Pines on the Torrey Pines Mesa, these events feature intimate performances by some of the world's leading jazz artists.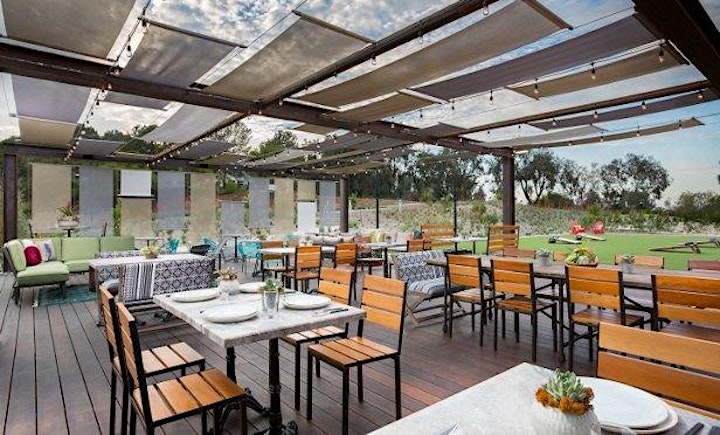 Gretchen Parlato
Among the top jazz vocalists of her generation, featured on over 85 albums, and four as a leader, Gretchen Parlato received a Grammy Award nomination for Best Jazz Vocal Album, and a coveted 4.5 star review from DownBeat, for Live in NYC (2013). The Lost and Found (2011) received more than 30 national and international awards, including the DownBeat Jazz Critics Poll No. 1 Vocal Album of 2011, and iTunes Vocal Jazz Album of the Year. Her sophomore release, In A Dream (2009), was hailed by Billboard as "the most alluring jazz vocal album of 2009." It all began with her self-titled debut, Gretchen Parlato, recorded shortly after winning the 2004 Thelonious Monk International Award for Jazz Vocals.
Parlato's latest project, Flor, is a gorgeous synthesis of original material, American popular music, European classical music, and Brazilian standards. With Flor, Parlato debuts her quartet of the same name, featuring guitarist Marcel Camargo (Michael Bublé, Herb Alpert), originally from São Paulo, and Léo Costa (Sergio Mendes, Bébel Gilberto), a native of Rio de Janeiro, who adds a broader palette with his distinctive percussion-drum hybrid. Perhaps the most unique and defining new texture for the ensemble comes from the role of bass taken on by cellist Artyom Manukyan (Melody Gardot, Kamasi Washington), from Yerevan, Armenia. Together, they exquisitely compliment the intensity and delicacies of Parlato's signature voice.
Gretchen Parlato is "…a singer-arranger of consummate control and slow-burning intensity... who lives at the crossroads of sensuous and spiritual" (DownBeat).
ON-SALE DATE + TIME: July 6 at10am PST
Tickets: $50 general, $100 premium
Doors at 4:30PM | Show starts at 5pm | Free parking on site
General admission includes a hosted glass of wine
Premium admission includes front-rows seating and hosted tapas
Beverages available for purchase
25% discount for post-show dinner reservations at the onsite restaurant, Farmer and the Seahorse
No Refunds, no exceptions. All Ages Event.