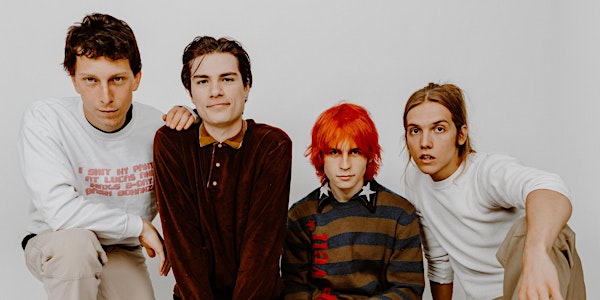 Event Information
Performers
Location
DC9 Nightclub
1940 9th St NW
Washington, DC 20001
About this event
Proof of Vaccination REQUIRED
DC9 will require proof of vaccination for entry. Physical card or digital photo will be accepted. Proof of vaccination must match name on photo ID and will be checked at the door.
You can find more information HERE.
Things change quickly and we are all in the same boat trying to navigate and do our best to keep our concerts and communities safe. We appreciate your patience and understanding with our staff as we navigate this together. Thank you for your cooperation & continued support!
This is an ever changing situation and we reserve the right to change these policies at any time.
Greer

<P><A HREF="https://greertheband.com/" REL="nofollow noopener noreferrer">WEBSITE</A> | <A HREF="https://www.facebook.com/greertheband" REL="nofollow noopener noreferrer">FACEBOOK</A> | <A HREF="https://www.instagram.com/greertheband/?hl=en" REL="nofollow noopener noreferrer">INSTAGRAM</A> | <A HREF="https://twitter.com/greerthebandd" REL="nofollow noopener noreferrer">TWITTER</A> | <A HREF="https://open.spotify.com/artist/39v5154nNeWJGatKDkLGu9?si=38c88c6877d34316" REL="nofollow noopener noreferrer">SPOTIFY</A> </P><P>Since forming in fall 2018, Southern California-bred alt-rock band Greer have moved forward with incredible momentum, fueled by their immaculate songwriting and unguarded sincerity. Originally joining forces for a one-off gig at a high school homecoming dance, Greer played their first official show at L.A.'s iconic D.I.Y. venue The Smell a month later, then quickly self-released their magnetic debut single "Song for Me." As "Song for Me" and follow-up single "Bittersweet" earned the band a devoted fanbase, Greer soon landed a deal with Epitaph Records and set to work on their debut EP Lullaby for You—a five-song project that transforms moments of profound heartache and romantic angst into massively catchy pop songs. </P><P>Produced by Rob Schnapf (Elliott Smith, Kurt Vile, Beck), Lullaby for You showcased the pure sensitivity at the heart of Greer's music, each song brightened by their summery melodies and charismatic energy. All in their late teens, the band bring their sophisticated musicality to tracks like "Aeroplane": a tender reflection on longing and regret that slowly unfolds as a string-accented epic. On "Bye Bye Baby," Greer prove the depth of their musical knowledge, drawing inspiration from '60s doo-wop and delivering a breakup anthem both heavy-hearted and infectious. And on "Understand," Greer reveal their gift for dreaming up complex yet commanding guitar parts, the track's hypnotic riffs infinitely amplifying its moody urgency. </P><P>Based in Costa Mesa, CA, Greer linked up through the local music scene, where Seth and Corbin's previous band had played in local clubs for several years. After Lucas turned up backstage at one of their shows, he and Seth began writing songs together. Once they'd brought Josiah into the fold, the trio accepted an offer to perform at a homecoming dance just weeks away. Quickly looping in Corbin, the band felt an immediate chemistry and wrote a complete setlist in two weeks' time. "The first time we ever played with Corbin it all just clicked. The guitars and harmonies and everything just fell into place," says Josiah. </P><P>Having nearly sold out all of their forthcoming 2020 North American tour—on the strength of only two released songs—Greer like most touring bands felt the impact of COVID-19 by having to cancel their tour, but rather than dwell on it, they remained creative and took their energy back into the studio to record two additional songs: "All That's Left Behind" and "Lullaby For You," released at the beginning of 2021 and thus closing the Lullaby For You chapter and directing the bands attention to their next one. </P><P>Recently out of the studio from recording new material for release later this year and continuing to write music for a future album (coming in 2022), Greer are excited to take all their new music on the road and finally be able to play it live again for their fans.</P><P></P>

Disq

"Sophisticated beyond their years." —The Isthmus "What grabbed me so powerfully was that with this album, Disq arrives fully formed, as if they were already seasoned professionals." —Savagejukebox They may be teenagers, but don't call them a teen band. Disq founders/songwriters Isaac deBroux-Slone and Raina Bock have been gigging with Madison music pros nearly triple their ages since elementary school, and wowing the faculty during summers spent at the Berklee College of Music. They've shared stages with Whitney, Twin Peaks, Jay Som, Hippo Campus, Quilt and many others. Their first full length album Disq 1 was released on July 7, 2016, and is available on itunes, bandcamp, spotify, Tidal. Influences: The Beatles, Tame Impala, Todd Rundgren, Weezer.
Performers
Date and time
Location
DC9 Nightclub
1940 9th St NW
Washington, DC 20001
Refund policy