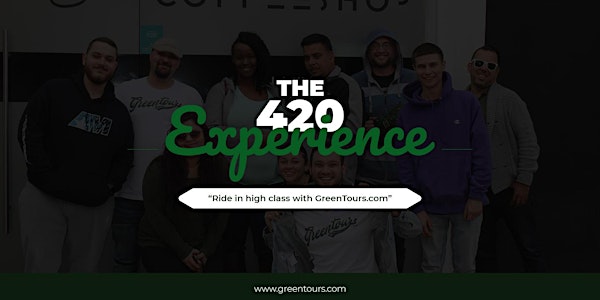 GreenTours.com - 420 Experience LA
GreenTours.com is here to show you LA cannabis in style! "420 Experience" tour you'll never forget!
When and where
Location
3901 Lankershim Blvd 3901 Lankershim Boulevard Los Angeles, CA 91604
Refund Policy
Contact the organizer to request a refund.
Eventbrite's fee is nonrefundable.
About this event
Full description
Are you ready for a 420 experience like no other? Looking to spark up some of the finest herb in California? If so, then get ready for a trip of a lifetime with GreenTours.com!
GreenTours.com is leading the way in cannabis tourism. If you're looking for a 420 experience like no other, you've come to the right place. We offer tours of the best cannabis hotspots in Los Angeles. From industry-leading dispensaries and grow facilities to glass distributors and food spots, this is a tour you won't soon forget. And don't worry—each experience includes a bake session, so you'll get to toke it up with your friends!
Whether you're looking to learn more about legal marijuana or you want VIP access to top-notch manufacturing facilities, GreenTours.com shows you cannabis as you've never seen it before.
Here's more information about the original "420 Experience tour" in Los Angeles:
Our journey begins at Universal Studios Hollywood. After meeting your group and preparing for the adventure, you'll hop aboard our comfortable chartered buses. You'll then get introduced to our friendly and knowledgeable tour guides, who will serve as your gurus of ganja for the trip. They'll educate you on the history of weed and share some amazing stories, talk about the best weed in LA, and explain more about the largest legal cannabis industry in the world. Our guides are cannabis-loving, easy-going people—and they'll be ready to get the party started! Once we're all full and ready for the show, we'll head over to our first stop.
MMD
The 420 Experience kicks off at MMD North Hollywood, year over year rated a top 5 dispensary by Thrillist magazine. Here you'll see their massive selection of marijuana products. MMD is a local favorite in Los Angeles, offering top-of-the-line flower, edibles, concentrates, CBD, and anything else you have in mind at very reasonable prices and with that mom and pop service!
The dispensary has four convenient locations throughout Southern California. Founded in 2006, MMD was actually the very first legal dispensary in Hollywood. Today, they cater to anyone 21 years of age and older.
As you're shopping around on your tour, you'll get a 1/2 off tax break (discount applied to taxes only) on all purchases! Make sure to stock up for the upcoming smoke sesh!
AMG Glass Warehouse
Have you owned an AMG (American Made Glass) bong? If so, well now you can see where all of those incredible pieces are made. Our tour travels to the AMG Glass Warehouse, The largest glass distributor on the west coast. The business isn't open to the public, but GreenTours.com brings you VIP access! Whether you like bongs, pipes, steam rollers, or anything in between, AMG shows you how every product is made. As a tour guest, you'll get a firsthand look at the glass-making process! AMG also gives tour guests 50% off any items made in-house!
Now to the moment you've been waiting for—the 420 Smokeout sesh! After stocking up on the goodies at MMD Dispensary and AMG, now's your chance to sample the product, spark it up! That's right— you can toke up any cannabis you purchased or brought along.
after a nice bake, we here on the west coast want to make sure munchies are covered and your taste buds are satisfied!
Fab Hot Dogs
After enjoying some of the finest weed in California, the group heads over Fab Hot Dogs. This place is known for its world-famous hot dog creations, including the Fab Fries, burgers, and the "Cheesesteak sub." There are over 50 menu items, so you'll be sure to find something to chow down!
Includes
Guided tour from an industry expert
Key info about the local cannabis scene
Comfortable transportation in our spacious bus
Exclusive discounts
Gifts, goodies, and swag
Prepare for the activity
Meeting Point
3901 Lankershim Blvd, Studio City, CA 91604
Important information
Passport or ID card
Know before you go
A valid state-issued photo ID or valid passport is required for the tour. Valid passports are required for all international visitors.
In accordance with state and local laws, cannabis products cannot be included in the cost of the tour. However, there will be opportunities to purchase and legally consume products in a controlled environment.
All participants must be at least 21 years old to attend. California residents 18 years and older may participate with a medical card.
Some locations don't accept credit cards.