Location
The Lot at Broadway Stages
211 Meserole Avenue
Brooklyn, NY 11222
Refund policy
Refunds up to 30 days before event
Eventbrite's fee is nonrefundable.
A SPECIAL GREENPOINT DRIVE-IN MOVIE
About this event
SATURDAY, SEPTEMBER 19, 2020, 6:30 PM
Broadway Stages and Town Square present a special drive-in movie night in Greenpoint, featuring Toy Story 4. Woody, Buzz Lightyear and the rest of the gang embark on a road trip with Bonnie and a new toy named Forky. The adventurous journey turns into an unexpected reunion as Woody's slight detour leads him to his long-lost friend Bo Peep.
Doors open at 6:30 PM
Movie starts at sunset (around 7:30 PM)
There are only 30 parking spots and 6 seating pods. The tickets are $35 for a car/seating pod. Concessions will be available for purchase at extra cost. Masks and social distancing are required outside of your vehicle. Due to the limited number of spots, we expect tickets to sell out.  So do get yours quickly!  
Proceeds will help support Town Square, a local non-profit organization, and local scout units.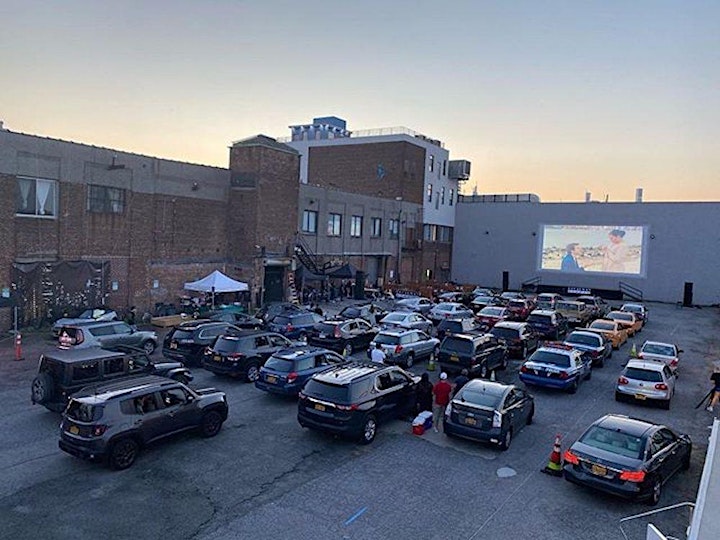 (photo credit: Greenpoint Film Festival)
FAQs
Do I need a ticket?   ANSWER: YES. Tickets are $35 per car/seating pod, and there is a maximum of 30 car tickets and 6 seating pods tickets.  
How many people can I bring? ANSWER:  Up to 6 individuals for each car or seating pod.
Are there any vehicle rules? ANSWER: YES.  There is a maximum of 6 individuals for each car/seating pod. Each vehicle will be assigned ONE (1) parking space, on a first come first serve basis with smaller cars in the front and larger cars in the back. NO vans, cars with trailer attachments, buses, RVs, campers, motorhomes, semis and other commercial vehicles. The SPEED LIMIT on the lot is ALWAYS 5 MPH !!! PLEASE watch for children
Can I play my car stereo? ANSWER: YES. BUT stereo levels MUST be kept to a reasonable level for the sake of everyone around you.
What if my battery dies if I run my stereo? ANSWER: Most vehicles will not have a problem. If you are concerned, we recommend turning your car on a few times during the movie. In the rare event your battery dies, we offer a complimentary jump-start that will quickly get you on your way. To prevent a dead battery, avoid using your lights, heating, or air conditioning for the duration of the screening.
Can I turn on my car engine? ANSWER: NO. Car engines MUST be turned off as they can be loud and emit noxious fumes. But if you're pulling power from your car, we understand if you might briefly turn on your car from time to time in order to keep your car battery from dying (see above).
I don't have a car. Can I get a ticket? ANSWER: YES, we have 6 seating pods, that will seat 6 people a pod. Tickets are $35 per seating pod.  
Can I transfer my parking or pod ticket or pod the ticket to someone else? ANSWER: YES, you can make the request and we will facilitate the transfer to another party until 6 PM on the day before the event.  
Will there be concessions at the movie night?   ANSWER: YES, there'll be refreshments at extra charge. 
Can I bring my pet? ANSWER: NO.  Please leave your poor pet at home.
Will I be allowed to smoke? ANSWER: NO.  
What time will doors open? ANSWER: Doors will open at 6:30 PM. The movie will start as soon as it gets dark, around 7:30 PM.
Can I get a refund?  ANSWER: NO. All sales are final. The event is rain or shine.
What happens if it rains?  ANSWER: The event is rain or shine.
COVID-19 Measures. Everyone is REQUIRED to wear a mask when moving outside your vehicle for any reason. You may remove masks while sitting inside or outside a vehicle as long as 6 feet of social distancing is maintained between your vehicle group/pod group and other individuals. Temperatures will be taken at the front gate. If any individual in your vehicle or pod has a temperature, no one in your vehicle or pod will be allowed to enter and you will forfeit your ticket. We are confident that you agree and appreciate our care during these trying times.
PRIMARY SPONSOR:
Broadway Stages is one of New York's largest growing full-service film, television production company that has been an integral part of New York City for over 30 years. Broadway Stages and its clients have employed thousands of people and have created hundreds of local jobs. Located across the 5 boroughs, Broadway Stages strives to be a good neighbor and create a wonderful living and working environment for all.