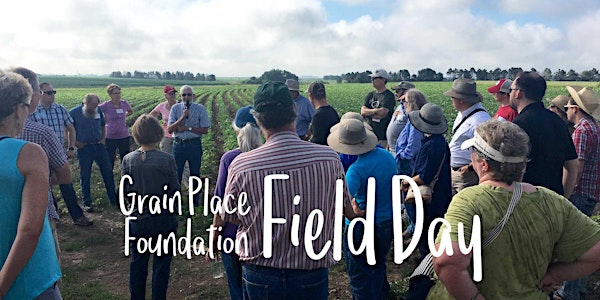 Grain Place Foundation Field Day
When and where
Location
The Grain Place Farm 1904 N Hwy 14 Marquette, NE 68854
Description
You are invited to join us for our annual Grain Place Foundation Field Day on Saturday, July 13 at the Grain Place Farm near Marquette, Nebraska.
In the morning of our annual farm tour, we will give you an up-close view of our 280-acre organic farm, which has been pioneering organic, regenerative agriculture in central Nebraska for decades. Walk the fields with us, and see some of what we have learned. The tour will also include a chance to tour Grain Place Foods, the organic grain processing facility on site.
We will offer a lunch on the farm, made with organic food from the Grain Place, as well as other local sources. Tickets are required for the lunch--they are available online in advance of the tour day for $17. (Tickets will be $20 on the day of the event, as available.)
After lunch, we will feature our keynote presentation by Bob Quinn, organic farmer, businessman and author of the upcoming book Grain by Grain: A Quest to Revive Ancient Wheat, Rural Jobs, and Healthy Food.
Bob Quinn is an organic farmer near Big Sandy, Montana, and a leading green businessman. He served on the first National Organic Standards Board, and has been recognized with the Montana Organic Association Lifetime of Service Award, The Organic Trade Association Organic Leadership Award, and Rodale Institute's Organic Pioneer Award. His enterprises include the ancient grain business Kamut International and Montana's first wind farm.
When Bob Quinn was growing up on a Montana wheat and cattle ranch in the 1950's, he'd never heard the term organic. Earning a PhD at UC Davis only reinforced his belief in better farming through chemistry. But through a series of chance encounters and a willingness to experiment, Quinn became a proponent of organics, eventually founding the multimillion dollar heirloom grain company, Kamut International.
In Grain by Grain, Quinn and Liz Carlisle, author of Lentil Underground, show how his story can become the future of American agriculture. Quinn not only created successful, sustainable farming businesses, he demonstrated that healthy food depends on healthy soil – and healthy seeds. With more and more people complaining of gluten sensitivity, scientists have found that while cheap modern wheat increases inflammation in the human body, ancient varieties like the one Quinn produces actually lower it.
When Quinn stopped growing food on the cheap, he discovered a whole new kind of value. By combining age-old practices like cover cropping and crop rotation with modern science, he was able to return health to his land, customers, and even to his hometown through local jobs. Quinn shows us that we don't have to accept stagnating rural communities, degraded soil, or poor health. By following his example, we can grow a healthy future, grain by grain.
Grain by Grain co-author Liz Carlisle will be with us as well. Liz Carlisle is a Lecturer in the School of Earth, Energy, and Environmental Sciences at Stanford University. Her first book, Lentil Underground, won the Montana Book Award and the Green Prize for Sustainable Literature.
If you cannot make it for the whole day, you are welcome to join us for a part!
More information is available on our Grain Place Foundation website.
There are tentative plans for a local screening of the film Dreaming of a Vetter World on the afternoon of Sunday, July 14, the day after our Field Day. As plans are made, we'll share more details here and with anyone who's registered, but wanted to give you a tip-off in hopes you might make travel plans so you can be there!