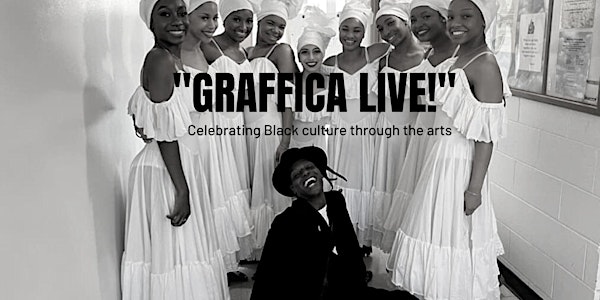 "GRAFFICA LIVE!" 2023
Centered around the award-winning documentary, "GRAFFICA" by YOGI DADA, enjoy African drumming, dance, poetry and more! All are welcome!
Date and time
Saturday, April 22 · 4 - 6pm CDT
Location
St John A.M.E. Church Downtown 708 15th Street North Birmingham, AL 35203
About this event
DOORS OPEN AT 3PM!
SHOW STARTS AT 4PM!
To secure your seat, ticketed Guests must arrive before 3:45 p.m.
General admission seating for non-ticketed Guests will open after 3:45 p.m.
(Ages 10 and up)
Thank you for your cooperation!
GEAR UP FOR "GRAFFICA LIVE!"
Enter the world of "GRAFFICA" in Dadas, a
t-shirt, or our new light weight Spring hoodie!
Visit YOGIDADA.COM and order yours today!
"GRAFFICA LIVE!"
A transformative experience in Black culture for all people! Witness an amazing line-up of Birmingham Artists, including Student Artists from local schools.
Alabama's premiere African drum and dance group
Director/Choreographer Germaul Barnes and the Alabama School of Fine Arts Dancers
Alabama Poet Laureate, Magic City Poetry Festival Executive Director, Instructor at the Alabama School of Fine Arts
Gentle meditation moment with Adi Devta Kaur
POET JENOA "TMBUKTU" SMITH
Poet extraordinaire and our host for the evening
Presentation of the film and a performance by the Artist, YOGI DADA
"GRAFFICA"
a film an experience a story
YOGI DADA's journey through spritiual connectivity to Africa and the influence of urban graffiti.
(Produced and funded in part with the Dorothy Jemison Day Theater of Alabama)
WE ARE ACCEPTING SPONSORS!
Check out the impact from last year and see why!
Our 2023 Sponsors
Magic City Poetry Festival
Melanie McNary
Dr. & Mrs. Ronald D. Sterling
Email: Yogidadallc@gmail.com for further information
FROM YOGI DADA
"Thank you for your support! I am excited to once again share an evening of incredible artistry celebrating the beauty of Black culture for the benefit of all people! Not quite sure what I will share on that night, maybe some poetry? Maybe some cello or singing? I might even share a selection of American Sign Language to music like last year. But whatever I do, it will be nestled in the midst of other amazing Artists as we share our love for our craft, our community, and our people. I am blessed and honored to share with you! Much love!"
- YOGI DADA
About the organizer
Yogi Dada is an Artist of the Human Condition, "I create beautiful things for humans." A well known Poet, Vocalist, Public Speaker, and Author, she is popular for her brand of canvas and wearable art. As an entrepreneur she has developed an easy to understand approach about business basics and getting started, she is passionate about helping others build a strong foundation. Yogi Dada is available for gallery showscases, performances and speaking engagements. You can see her incredible designs at YOGIDADALLC.COM. Contact Info: Yogidadallc@gmail.com.