Learn why SPAC is fashionable
About this event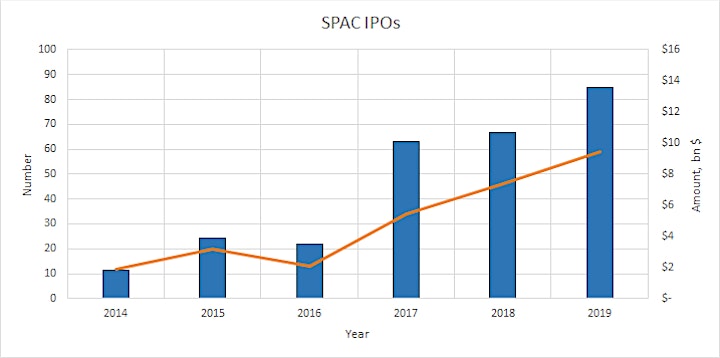 Join the meeting at:
https://zoom.us/j/95157477102?pwd=U3lsMHZRa3dBOHdxcCtVZDhzU1J5QT09
The merger with a special purpose acquisition company, or SPAC, to go public was once an obscure and prohibited pathway. But now, as the graph above shows, it has become an increasingly popular alternative route to the public markets. The Use of SPACs, particularly by Healthcare and bioscience companies, has recently accelerated.
The success of well-known companies-- such as 23andMe - in going public through the SPAC route by combining with Richard Branson's Virgin Group is enticing many others to do the same thing, i.e., finding and merging with SPACs to go public while avoiding the tedious and time-consuming process of doing a traditional IPO. The list of healthcare SPAC suitors is long and includes proteomics company SomaLogic, which is chasing a $1.2 billion public valuation through a SPAC deal, and sensor maker Rockley Photonics, which is planning to go public in another $1.2 billion SPAC deal.
Join us for this event to learn why SPACs are now fashionable, what it takes to execute a successful SPAC deal, and how it differs from the reverse merger pathway to public markets.
Agenda
1:00 Introductions
1:15 The Legal Perspective by Thomas Stromberg, Partner, Perkins Coie
1:35 The Banking/Accounting Perspective by Trent Brown, Partner, Deloitte
2:05 "The View from the Trenches: CloudBreak's SPAC Experience" by Jamey Edwards, CEO Co-Founder, CloudBreak Health
2:25 Discussion
3:00 Meeting Adjourns
Date and time
Location
Refund policy