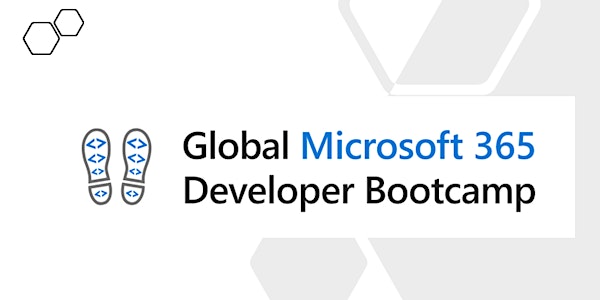 Global Microsoft 365 Developer Bootcamp Austria 2020
We are excited to kick off the virtual Global Microsoft 365 Developer Bootcamp Austria 2020!
About this event
The Microsoft MVPs and community leaders invite you to attend this bootcamp to learn the latest on Microsoft 365 platform such as Microsoft Graph, SharePoint Framework, Microsoft Teams, the Power Platform, Bots, AI and more. Learn how to apply the latest technologies to your future projects.
We'll have a number of interesting topics that are relevant to any Microsoft 365 developer. We will have 2 tracks, mixed with sessions and hand-on labs to join if you like. We will have 13 sessions and speakers on Friday, 13th - this fits perfectly. ;)
Agenda
All sessions will be heavily demo focused. The sessions are organized in 3 groups: "Group 1" will start in the morning, while "Group 2" and "Group 3" will start at 12 o' clock. Every session will have a link to join. You can take part in the sessions as you wish. All sessions will be held in English. All participants will receive an email to their registration address in the next week, to join with in a Microsoft Teams meeting.
Group 1, 9:00 - 12:00
09:00 Martina Grom, M365 development for the real world. Use cases from a customer and from a developer perspective.
09:30 Roman Schacherl, Adaptive Cards in Action. Have you tried out Adaptive Cards (https://adaptivecards.io) yet? Little snippets of UI, written in JSON, rendered to different platforms - and a modern way of communicating with your users. No matter if you are developing a web app, a chatbot or a Power Automate Flow - Adaptive Cards can lift your UI to the next level. Roman will explain some basic concepts and show many live demos in this session!
10:00 Christian Nagel, Using Azure App Configuration with .NET. Where do you store the configuration of your applications and services? Having a central place for multiple services in old days I've created a central service that was called by multiple services and applications. Now we have such a service offered by Microsoft Azure: *Azure App Configuration*. In this session I'm showing how Azure App Configuration can be used from .NET applications, both from the development environment as well as how it's used in production, how to map different configurations for production and staging environments, and how to use great features such as feature flags.
11:00 Toni Pohl, Monitor your M365 tenant and the Power Platform. Handle IT-governance with Microsoft Graph and Azure Functions, and use PowerShell and Azure Automation Accounts and some Power BI.
11:30 Peter Hödl, Azure Cognitive Search in Action! Build a basic Azure Cognitive Search skill set and index and expand it with custom entity recognition. and integrate it into your own solutions.
Group 2, 12:00 -17:00
12:00 Patrick Lamber, Intro to the Microsoft 365 CLI. Using CLI for Microsoft 365, you can manage your Microsoft 365 tenant and SharePoint Framework projects on any platform. No matter if you are on Windows, macOS or Linux, using Bash, Cmder or PowerShell, using CLI for Microsoft 365 you can configure Microsoft 365, manage SharePoint Framework projects and build automation scripts. In this session I am going to show you how you can use the CLI in different scenarios, starting from the integration with PowerShell on your local machine or the integration of the CLI in Azure services.
13:00 Andreas Pollak, C# Journey to Teams. Embark us on the crazy journey of a backend C# developer trying to craft a MS-Teams frontend application.
14:00 Wolfgang Strasser, PowerPlatform Dataflows - PowerQuery (and more) in the Cloud. With PowerPlatform dataflows, users can bring PowerQuery functionality to a cloud-only life. Created in the cloud, processed in the cloud and storing results in the cloud, dataflows can be seen as cloud native part of the ETL within the PowerPlatform. After their initial start in the Power BI universe, they now reached out into other parts of the PowerPlatform and be one of the future options of ETL pipelines to transfer data into data lakes. In addition to data transformation, dataflows can be enriched with AI functionality to bring more ML power into your ETL processes. Join this session if you want to learn more about the current feature set available and see what is new and possible with data preparation in the cloud with PowerPlatform dataflows.
15:00 Martin A. Ullrich, Make your C# applications completely serverless with Blazor, Azure Static WebApps and Azure Functions. I'll show you how to architect a C# application using .NET 5 and Blazor to create a static website that runs as in Azure Static WebApps and to run your back-end logic worry-free in the cloud using Azure Functions.
Group 3, 12:00 - 18:00
12:00 Stefan Bauer, Goodbye IE - Welcome to the future. Microsoft 365 soon drops the official support for Internet Explorer 11 and Microsoft Edge (pre Chromium). Now it is the right time to prepare your solutions for the future. This session provides an insight on CSS Grid, Flexbox, CSS variable and hot new technologies about to come. Helping you to performance optimise and to bring your solutions for longevity support. It also help you to improve your design and development workflow.
13:00 Stephan Bisser, Bot Framework Composer - Zero to Hero. Building bots nowadays is more or less a developer's task, as it means writing actual code before the bot deployment can take place. Microsoft currently announced a new tool called ""Bot Framework Composer"" which should help you build your bots and model your dialogs with a visual interface instead of writing code. Therefore the aim of this session will get a look into new and easy ways for building sophisticated bots using the Bot Framework tool belt without actually writing code. During this session we will build a virtual assistant capable of doing restaurant booking management and much more using BF Composer!
14:00 Thomy Gölles, Teams as a platform - an introduction. This session walks through the current possible extension points and the current set of APIs and how to use them in different examples. Bots, Tabs, Message Actions, Search Extensions, Meeting Extensions to name a few. In addition, we look at the Microsoft Graph API and how to use PowerShell or the Microsoft365 CLI to interact with Teams. Teams as a platform - Getting started. This workshop starts with creating and deploying and SPFx webpart to SharePoint and Teams. After that we will have a look at a custom Tab inside of Teams and our different options for authentication. The examples will show you how to get started and are focused on the architecture behind the different extensions. We will talk about bots and their capabilities, but for details on bots please visit the other workshop focusing on bots.
16:00 Peter Paul Kirschner, Mastering SPFx Projects with Azure Devops CI/CD. I will start with a quick functionality overview of Azure DevOps and how I use it in projects. A short introduction to Boards and Backlog and why I do it in this way. Some words about repo settings and why I use a build pipeline and if possible a release pipeline for each project.
Save the date and register now!