Event Information
Location
Organization of American States, Hall of the Americas
200 17th Street NW
Washington, DC 20006
Description
Registration is now closed. You can watch the event live beginning at 12:30 PM ET on Tuesday, Oct. 3 via this link: https://staysafeonline.org/ncsam/csam-launch-live/
For the first time, on Tuesday, Oct. 3 – in honor of Cyber Security Awareness Month (CSAM) – internationally renowned government and industry experts will explore major cybersecurity issues during a daylong event. Hosted by the Organization of American States and the National Cyber Security Alliance, this event will highlight a variety of topics, including how to keep all global digital citizens safer and more secure online and how governments and the private sector can work together on a more secure and trusted internet, and look ahead to the benefits of a globally secure internet. The event will spotlight CSAM's international adoption.
11:00 – 11:30 General Registration
11:30 - 12:30 Networking Lunch
12:30 – 13:00 Opening Remarks
Speakers:
Luis Almagro, Secretary General, Organization of American States

Jeanette Manfra, Assistant Secretary, Office of Cybersecurity and Communications, U.S. Department of Homeland Security


William O'Connell, Chief Business Security Officer, ADP, and Chairman, NCSA Board of Directors
13:00 – 14:15 Creating a Culture of Cybersecurity to Keep All Global Citizens Safer and More Secure Online
CSAM's first week is dedicated to reaching and impacting every internet user with online safety and security information. There are more than 3 billion digital citizens worldwide*. We rely heavily on the individual user as a key defense in cybersecurity. Everyone needs to employ basic steps to protect themselves, their families and their communities from cybercrime and attacks. How can we work together globally to educate this large and growing number of internet users? What efforts that are currently underway should be expanded? What areas should be the focus of behavior change? What more should we be doing? What are the new challenges (i.e., IoT, smart cities, autonomous cars), and how can we use lessons learned to speed up adoption? How do we measure success?
Introductory Remarks: Beatriz Soto, Chief of Staff, Spanish National Cybersecurity Institute (INCIBE)
Moderator: Belisario Contreras, Cybersecurity Program Manager Inter-American Committee against Terrorism Secretariat for Multidimensional Security Organization of American States
Speakers:
Ed Cabrera, Chief Cybersecurity Officer, Trendmicro

Juanita Rodríguez, Director of Digital Transformation, Ministry of ICT of Colombia

Michael Kaiser, Executive Director, National Cyber Security Alliance
14:15 – 15:30 Working Together Globally
The internet has been a great accelerator of community, commerce, education and communication. It has redefined the way individuals, business, governments and academia interact internationally. In many ways, the internet has redefined the idea of physical borders as the internet is borderless and has its own challenges and opportunities. How have these challenges been addressed in law enforcement, business, education and civil society? Even with the progress to date, more needs to be done. What issues have been particularly persistent and difficult, and what are the opportunities for success? How will we know if we are making progress?
Moderator: Matthew S. Holland, President, Utah Valley University
Speakers:
Chris Boyer, Assistant Vice President, Public Policy, AT&T, and NCSA Board Member

Gabriel Juarez, Vice Minister of Interior of Guatemala

Neil Jenkins is the Director for Enterprise Performance Management Office, Office of Cybersecurity & Communications, Department of Homeland Security (invited)
15:30 – 15:45 Coffee Break


15:45 – 17:00 A Look Toward the Future
Transformational technology is being deployed at a revolutionary pace. From the PC to the smartphone and now to IoT for businesses and consumers, cities and critical infrastructure are built on the backbone of the internet. As our use of technology grows, so does our interdependence on the integrity of others' data ‒ think private cars communicating with municipal traffic systems ‒ and a growing surface of devices where an attack or technology failure could have global consequences and impact our financial systems, electricity, transportation or other similar entities. Going forward, what are the new issues we face from standards and laws to a global shortage of skilled workforce? How do we share the responsibility for building tomorrow's internet?
Introductory Remarks: Josh Steinman, Special Assistant to the President and Senior Director for Cybersecurity, White House
Moderator: Ari Schwartz, Managing Director of Cybersecurity Services, Venable, LLP and former Special Assistant to the President and Senior Director for Cybersecurity, White House National Security Council

Speakers:
Anthony Grieco, Trust Strategy Officer, Cisco, and NCSA Board Member

Shannon Kellogg, Director of Public Policy, Amazon Web Services

Tom McDermott, Deputy Assistant Secretary, U.S. Department of Homeland Security

Jean-Luc Vez, Head, Global Cyber Centre, Member of the Executive Committee, World Economic Forum


17:00 – 17:20 Closing Round Robin-Style Panel
This discussion will focus on the event's key learnings, how to get involved in CSAM and the future of cybersecurity.
Speakers:
Michael Kaiser, Executive Director, NCSA

Jose Clastornik, Executive Director, AGESIC


17:20 – 18:00 Closing Remarks
Michael Daniel, former Obama White House Cybersecurity Coordinator to the President and current President of the Global Cyber Threat Alliance


18:00 - 19:00 Reception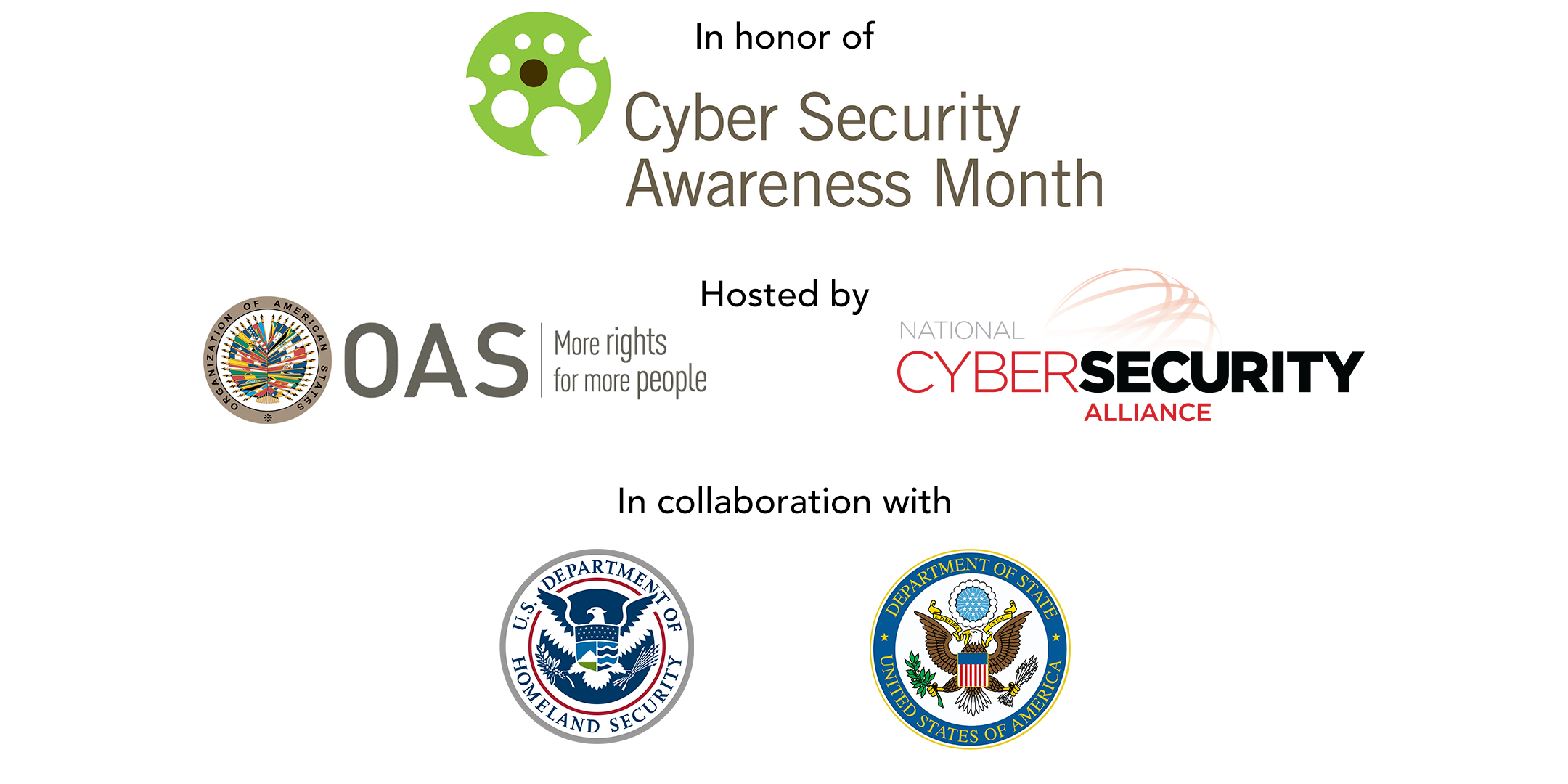 Date and time
Location
Organization of American States, Hall of the Americas
200 17th Street NW
Washington, DC 20006