Location
National Churchill Library and Center (NCLC)
2122 H Street Northwest
(German Library 101)
Washington, DC 20052
Description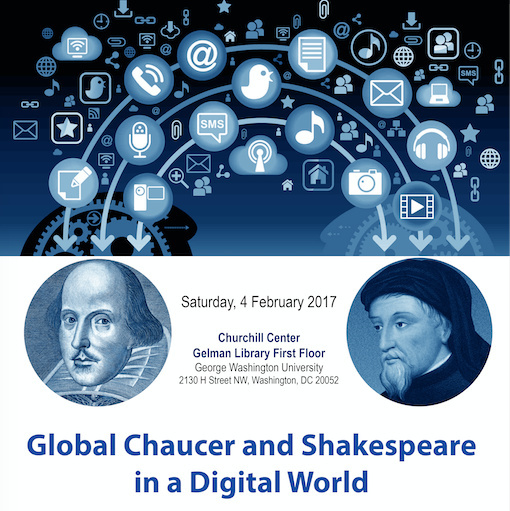 FREE and open to the public!

Event website: gwdhi.org/conferences/
Twitter hashtag: #gwdh17
Accessibility inquiries: jhsy@gwu.edu
Chaucer and Shakespeare, the global literary icons, play a major role in the digital world. This cross-disciplinary symposium puts the legacies of Chaucer and Shakespeare in conversation with each other. Speakers will explore the intersections and connections between the afterlives of Chaucer and Shakespeare in world cultures.
Featured Speaker: José Francisco Botelho, award-winning translator and poet (Universidade Federal do Rio Grande do Sul, Brazil)
Other participants: Candace Barrington (Central Connecticut State), Jill Bradbury (Gallaudet), Laura Estill (Texas A&M), Alexa Huang (George Washington), Jonathan Hsy (George Washington), Carol Robinson (Kent State at Trumball), Michael Saenger (Southwestern), Mercedes de la Torre and Carlos Drocchi (Fundación Shakespeare Argentina), Eve Salisbury (Western Michigan), Katherine Schaap Williams (NYU Abu Dhabi)
With an intermission show "Snape vs Branagh" by Michael Saenger
Organized and sponsored by the GW Digital Humanities Institute
NOTE: Paper tickets are not required for this event, but please register by clicking the button on this page. In addition, please bring ID to the Symposium, as you will need it to get in to our venue (GW's Gelman Library).