Global Azure BootCamp 2018 - Reston, VA, April 21, 2018

Saturday, April 21, 2018 from 8:00 AM to 5:30 PM (EDT)
Event Details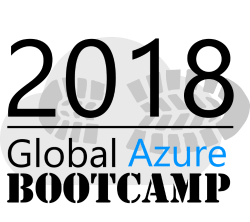 The Global Azure Bootcamp will be held on Saturday, April 21, 2018, 8:00AM to 5:30PM at the Microsoft Training Center at 12012 Sunset Hills Road, Suite 300 Reston, Virginia 20190.  This event is co-hosted by the NOVA SQL User Group, Microsoft Cloud User Group - DC, and IT Pro Camp.
Stay tuned for speaker/schedule/event updates. You may also register for a half-day lab on Azure Intelligent Analytics (please see the ticket section below....if you want to attend the lab, please register for Global Azure Bootcamp and the Global Azure Bootcamp Lab). There are only 30 to 45 seats available in the lab, and it should run from 1PM to 5PM.
The overall event timing will be:
8:00AM to 9:00AM Check-in/Breakfast
9:00AM to 1:00PM  General Session
1:15 to 4:45 Lab and Breakout Sessions (5 tracks, 3 sessions per track)
Here are the awesome sessions submitted so far:
Defining data-centric security controls in Azure
Azure Data Stack and SQL Server Security.
Getting Started with the Azure Bot Service
Azure Databases, Data & Analytics
Monitoring + Management
Microsoft Azure Stack
Dynamics 365 and Cognitive Services AI Better Together
Introduction to AI and Cognitive Services for O365 Devs
ARMed for Azure
Managing Windows 10 with Microsoft Intune
Azure SQL Database for the Production DBA
Emterprise Integration made easy by Azure
Keeping pace with the Cloud - Managing and optimizing as you scale
Can identity really become the security boundary in a BYOD world?
Data Lake Analytics: Big Data Processing Without the Overhead
Secure Your Apps with Azure Active Directory
Instrument Your Apps with Application Insights
Architecting a Data Solution on Azure
Here is the info for Global Azure Bootcamps:  http://global.azurebootcamp.net/
Here is the info for Microsoft Cloud User Group: http://www.meetup.com/mcug-dc
Here is the info for the Northern Viginia SQL Server User Group: http://www.meetup.com/novasql
If you have questions, you can reach us at washdc@itprocamp.com
@MFCF_DC  #GlobalAzure @novalsql
Save This Event
When & Where

Microsoft Training Center
12012 Sunset Hills Road
3rd Floor, Rooms 3056/3058/3062
Reston, VA 20190


Saturday, April 21, 2018 from 8:00 AM to 5:30 PM (EDT)
Add to my calendar
Organizer
Northern Virginia SQL Server Users Group
The Northern Virginia SQL Server Users Group was started in early 2005 by members of the Microsoft SQL Server community who were interested in sharing experiences and disseminating knowledge to other members in the Northern VA/DC/Central MD area. NOVASQL is also a chapter of the Professional Association of SQL Server ( www.sqlpass.org), an international Microsoft SQL Server training and advocacy organization (membership is free).  As data platform roles and responsibilities have evolved, we have broadened our scope to include Microsoft Azure Advanced Analytics, Big Data, and general Azure topics.  The goal of the leadership of NOVASQL is to provide a comfortable environment where members can participate in multi-disciplinary discussions of Microsoft data platform related issues.
Benefits to NOVASQL Attendees include:
• We host at least two full-day technology conferences a year (e.g., Global Azure Bootcamp, Azure DataFest)  ◾Networking with local data platform professionals  ◾The latest and greatest Microsoft SQL Server news ◾Microsoft SQL Server and Azure Advanced Analytics and Big Data questions answered by Microsoft insiders ◾Valuable information for career development ◾Free food, drinks, and giveaways
Global Azure BootCamp 2018 - Reston, VA, April 21, 2018