Location
Talent Garden Poste Italiane Roma
9 Via Giuseppe Andreoli
00195 Roma
Italy
Description
Le Global Hackathon Series sono eventi che vedono protagoniste le comunità di programmatori. É gestito da organizzatori locali e Roma è una delle 15 città che parteciperà a questa prima serie di hackathon mondiale.
Il tema di questo primo evento è l'IA e le sue applicazioni. Ti invitiamo a partecipare e collaborare con gli innovatori e le comunità di programmatori locali indipendentemente dal tuo livello di conoscenza sull'argomento.
L'obiettivo? Sviluppare prototipi innovativi e trovare soluzioni a problematiche concrete e attuali che stanno rallentando lo sviluppo del mondo.
Il contenuto della competizione verrá annunciato all'inizio dell'evento; i partecipanti potranno scegliere una delle prove e affrontarla individualmente o in gruppo. Dopo 48h di hacking e sviluppo del prototipo, i vari gruppi potranno sottoporre i propri risultati alla giuria.
I 3 vincitori (uno per tema) riceveranno un premio. Cosa stai aspettando? Unisciti alla tua comunità di programmatori e vieni a divertirti con noi!
Per maggiori informazioni visita il sito ai.hackathon.com
---
PROGRAMMA
---
Venerdì 23 Giugno
19:00 Kickoff Global AI Hackathon Rome
- Saluto di benvenuto, introduzione challenge, tecnologie, giuria e mentor.
- Introduzione Partner
- Descrizione dello svolgimento dell'Hackathon: schedule, programma e regolamento.
20:00 Attendee Idea Pitch
- Presentazione delle idee e dei team ( 1 minuto per idea)
20:30 Aperitivo e creazione team
21:30 Tech Workshop
24:00 Tutti a casa!
Sabato 24 Giugno
09:00 Apertura e Breakfast
09.30 Coding Begins
13:00 Lunch
16:00 Pitch Training
20:00 Dinner
21:00 Coding continues all night long
Domenica 25 Giugno
09:00 Apertura e Breakfast
09.30 Coding Begins
13:00 Lunch
16:00 Stop al coding e consegna progetti
17:00 Pitch dei progetti
18:00 Riunione della giuria e premiazione vincitori
19:00 Brindisi finale

---
LOCAL AWARDS
---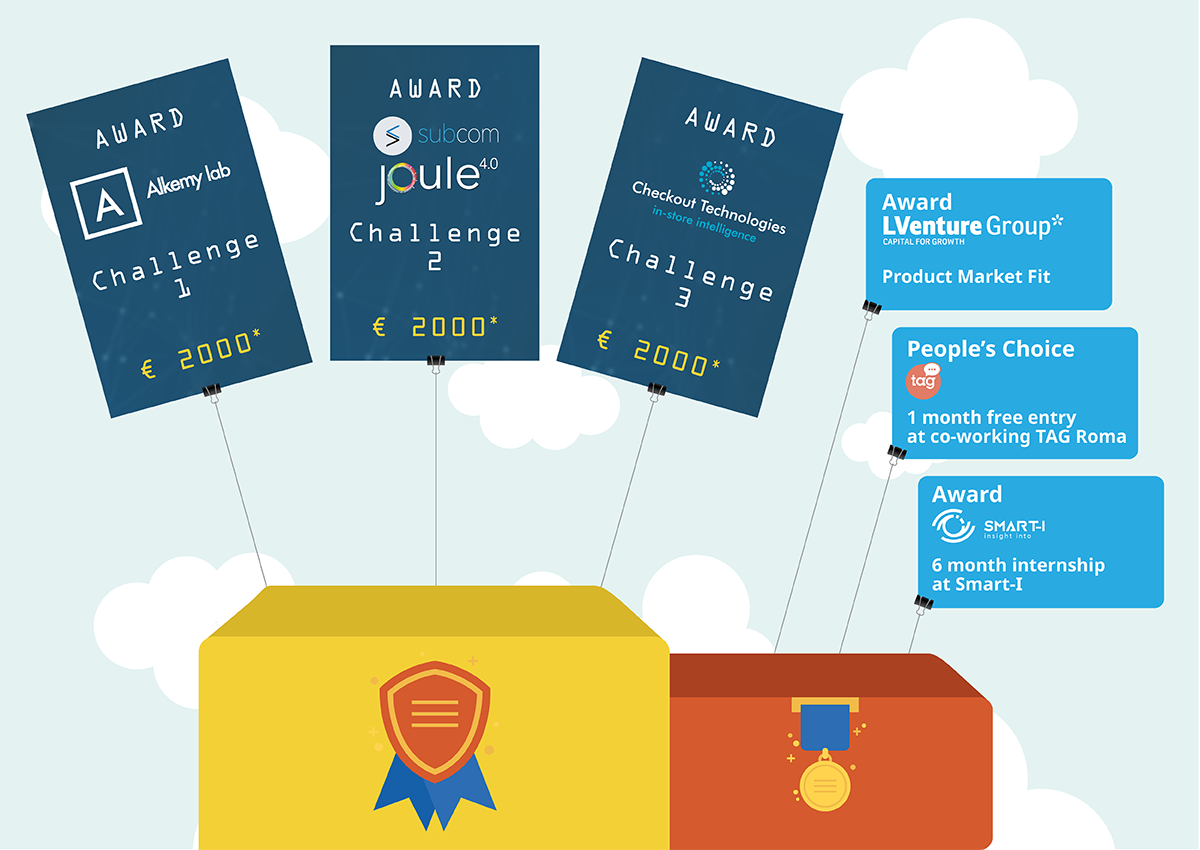 *a lordo degli oneri fiscali.
A norma dell'art. 6 lettera a) del D.P.R. n. 430/2001 l'Hackathon non costituisce una manifestazione a premi in quanto ha ad oggetto "la presentazione di progetti o studi in ambito commerciale o industriale nel quale il conferimento del premio all'autore dell'opera prescelta ha carattere di corrispettivo di prestazione d'opera o rappresenta il riconoscimento del merito personale o un titolo d'incoraggiamento nell'interesse della collettività".
---
Finalmente le Challenges sono state pubblicate!
Consultate il link : bit.ly/aichallenges
---
The Global Hackathon series is a community-centered event. It is run by local event organizers around the world. Rome is one of the 15 cities to participate in the first season of the hackathon series.
The first ever Global Hackathon series is kicking off with Artificial Intelligence. Whether you are an expert or a newbie in AI, we welcome you to join this event and work with your local innovator community to prototype and find solutions to real-world problems.
Challenges will be announced globally during the kick off of the event, and attendees can pick one of the challenges to work on either by themselves or with a team. After two days of hacking and prototyping, teams have the option to showcase their projects on stage.
Come and join your community and have fun!
For more details, visit ai.hackathon.com.
---
Info & Sponsorship Aldo Pergjergji : info@aperj.com
Facebook Event Page - Telegram Channel