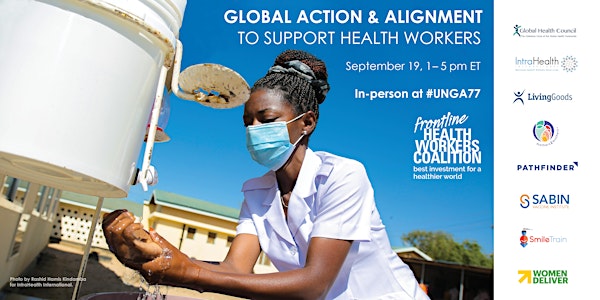 Global Action and Alignment to Support Health Workers
A half-day in-person #UNGA77 event hosted by FHWC members to spark a global movement to better protect & support health workers.
When and where
Location
Convene 75 Rockefeller Plaza New York, NY 10019
About this event
*This event is in-person only. We kindly request all attendees be fully vaccinated and wear a face covering when not eating or drinking. Some parts of the program will be recorded and shared after the event.*
Health workers are the backbone of health systems everywhere. They are critical for global health security, emergency response, and providing access to essential health services in every community.
But to do their jobs effectively, health workers must be protected and supported.
Join us September 19 as we spark a global movement to better protect and support health workers everywhere. Sponsored by the Frontline Health Workers Coalition and several of its members during the 77th United Nations General Assembly, this half-day event will bring together government leaders, donors, advocates, implementing organizations, and frontline health workers. Together we will act for greater alignment among national, regional, and global efforts to address health workforce concerns.
Coalition members and special guests will highlight new health workforce initiatives and funding mechanisms, and discuss how they can work in tandem to improve education, recruitment, pay, retention, protection, community engagement, career advancement, and gender equity. We'll close with a reception at 4:00 pm where you can network, build new partnerships, and celebrate with us as we mark ten years of advocacy by the Frontline Health Workers Coalition.
The COVID-19 pandemic has exacerbated existing challenges for the global health workforce, including severe staffing shortages, safety risks, and a lack of fair and timely compensation. Despite the unprecedented spotlight the pandemic has shone on health workers, the need for continued collaboration and commitment to strengthening the global health workforce remains urgent. Join us as we find new ways to support and protect health workers, both during emergencies and every day.
Speakers and Program to Spark Action:
Emcee:

David Bryden, Director, Frontline Health Workers Coalition
Welcome:

Crystal Lander, Chief Strategic Engagement Officer, Pathfinder
Keynote:

Dr. Ayoade Alakija, Chair, Africa Union African Vaccine Delivery Alliance; Co-Chair, Access to COVID Tools Accelerator; WHO Special Envoy to Access to COVID Tools Accelerator

Roundtable 1: Fund & Operationalize

Dr. Vanessa Kerry, Cofounder and CEO, Seed Global Health (moderator)
Priya Basu, Head of Secretariat for the Pandemic Prevention, Preparedness and Response Fund and Head of Covid-19 Taskforce, World Bank
Dr. Atul Gawande, Assistant Administrator for Global Health, USAID
Dr. Ahmed Ogwell Ouma, Acting Director, Africa Centres for Disease Control and Prevention
Dr. Monique Vledder, Head of Secretariat for The Global Financing Facility for Women, Children and Adolescent Health
Roundtable 2: Listen & Support

Esther Nakkazi, Health and Science Reporter and Media Trainer in Uganda (moderator)
Dr. Anant Bhan, Medical Doctor and Mentor, Principal Investigator, Project Lead, and Site-Principal Investigator at Sangath Bhopal Hub
Daren Katigbak, Women Deliver Young Leader, Nurse, and Public Health Professional in the Philippines
Rashid Mang'anda, Public Sector Nurse & MNCH Coordinator Phalombe District Hospital, Malawi
Bupe Sinkala, Mentor Mother and Team Lead in Lusaka, Zambia; mothers2mothers
Amy Staley, Charge Nurse, Preceptor, Clinical Staffing Committee Member, and Co-Chair of the Nursing Communications Committee, NewYork-Presbyterian/Weill Cornell Medical Center
Roundtable 3: Partner for Impact

Dr. Roopa Dhatt, Executive Director, Women in Global Health (moderator)
Emma France, Global Development and Strategic Engagement Director, mothers2mothers
Dr. Ummy A. Mwalimu (Mb), Minister of Health, Tanzania,
Lauren Moore, Vice President, Global Community Impact, Johnson & Johnson
Thomas Opiyo Onyango, Kenya Country Director, Living Goods
Close/Call to Action:

Polly Dunford, President and CEO, IntraHealth International

Reception: Celebrate & Inspire

Vince Blaser, Director, Advocacy and Outreach, Vaccine Acceptance & Demand, Sabin Vaccine Institute
Mandy Folse, Director of Global Advocacy, Living Goods
Mary Beth Powers, CEO, Catholic Medical Mission Board
This event is hosted by the Frontline Health Workers Coalition, Global Health Council, IntraHealth International, Living Goods, mothers2mothers, Pathfinder, Sabin Vaccine Institute, Smile Train, and Women Deliver, with support from Chemonics International, Community Health Impact Coalition, Johnson & Johnson, Last Mile Health, and Women in Global Health.