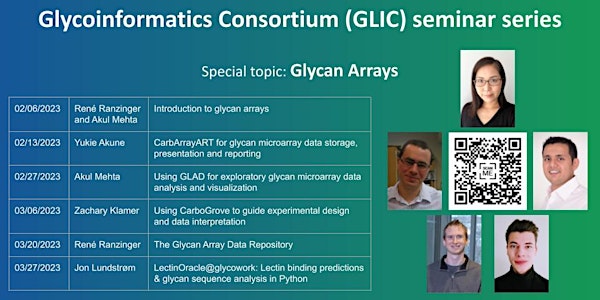 GLIC Seminar Series - Glycan Arrays
The webinar series on the special topic of glycan arrays will focus on bioinformatic tools for assay workflows by experts in the field.
About this event
The GLIC webinar series on the special topic of glycan arrays will focus on tools and databases for processing, interpreting and storing glycan array data. The seminar series will start with an introduction into glycan arrays and how they can be used to study the interaction between glycans and other biological components, such as proteins, bio-fluids, lectins or micro-organism. In the following webinars individual groups will present their software tools and databases and demonstrate their access and usage.
All webinars will start at 10am ET.
Schedule
02/06/2023 René Ranzinger and Akul Mehta - Introduction to glycan arrays
02/13/2023 Yukie Akune - CarbArrayART for glycan microarray data storage, presentation and reporting
02/27/2023 Akul Mehta - Using GLAD for exploratory glycan microarray data analysis and visualization
03/06/2023 Zachary Klamer - Using CarboGrove to guide experimental design and data interpretation
03/20/2023 René Ranzinger - The Glycan Array Data Repository
03/27/2023 Jon Lundstrøm - LectinOracle@glycowork: Lectin binding predictions & glycan sequence analysis in Python
For more information visit the GLIC seminar series webpage.