Description
Code Camp
The Git Code Camp is a whole day seminar and workshop that aims to build up development skills in using Git and Unix. It targets to cater students in any IT/CS/other related courses.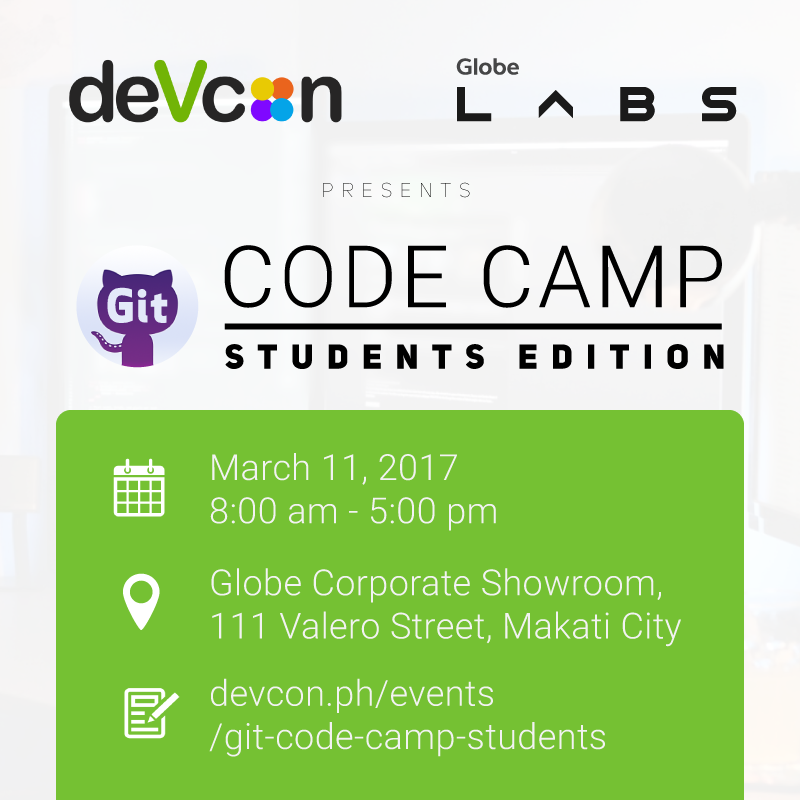 Schedule
8:00 AM – 8:30 AM Registration
(Registration closes at 9:00AM)
8:30 AM – 8:40 AM Intro to DevCon
8:40 AM – 8:50 AM Partner Talks
8:50 AM – 12:00 NN Workshop Proper
12:00 PM – 1:00 PMLunch Break
1:00 PM – 4:00 PMWorkshop Proper
4:00 PM – 5:00 PM Mini-hackathon
Rules
REQUIREMENTS
Attendee must be an student in any IT/CS student or of related course
Bring your own laptops
Bring your own extension cords esp. if you have multiple devices
Dress Code
No Rubber Sandals, Slip-ons/Slippers, shorts, revealing shorts, revealing tops/shirts
Certificates
While the DevCon team loves to conduct workshops that would help you learn new technologies as a community initiative, heads up! There will be no certificates provided for this camp.