Sales Have Ended
Ticket sales have ended
Advanced ticket sales have ended for this event either because the event has started or because tickets are sold out. A limited number of tickets may be released on day of show via the waitlist.
Sales Have Ended
Ticket sales have ended
Advanced ticket sales have ended for this event either because the event has started or because tickets are sold out. A limited number of tickets may be released on day of show via the waitlist.
PNW rock group formed by former Nirvana bassist Krist Novoselic
About this event
$12
DOORS 7:30PM / SHOW 8:30PM
THIS EVENT IS 21+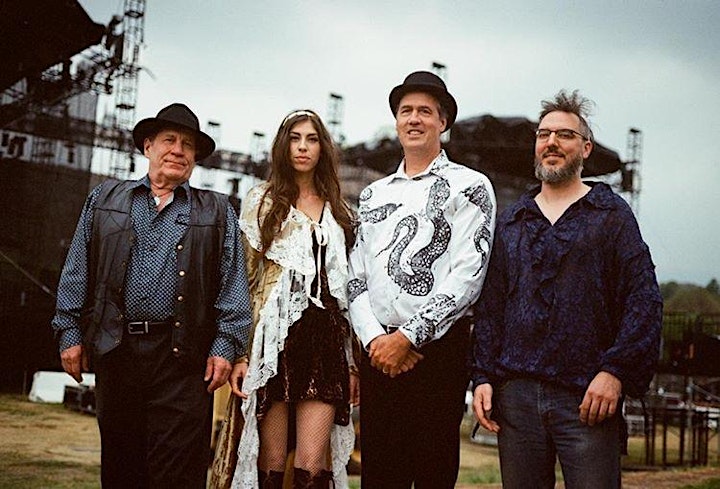 Instagram | Twitter | Facebook
Giants in the Trees are Jillian Raye, Erik Friend, Ray Prestegard and Krist Novoselić, a new band from Washington State. However, they are not a Seattle band. The group is from Wahkiakum County - which, on the north shore of the Lower Columbia River, is closer to Portland Oregon than Seattle. That said, they do not consider themselves a Portland band either.
This is a band's bio and not a lesson on geography so let's take at look at who makes the music in Giants in the Trees.
Krist Novoselić plays bass and accordion in the group. A founding member of the band Nirvana, Novoselić helped change the face of music in 1991 with the release of Nevermind. Novoselić's strong and melodic bass helped make that one of the best known Rock records of all time. The success of Nirvana allowed Novoselić to move to his home in Wahkiakum County in 1992. Krist loves the environment and culture of the Lower Columbia River.
Novoselić has played in a few bands since Nirvana, but Giants in the Trees is his first real local musical project. How did these locals come together? They all met at the Skamokawa Grange and, after an impromptu acoustic jam, made a call for another, albeit louder, session.
Having the hall to themselves, Novoselić joined musicians Ray Prestegard, Jillian Raye and Erik Friend in wasting no time. This group of players wrote two songs in the first two days of playing, Sasquatch and Center of the Earth.
Feeling they were at home with each other, a new Rock band came together. Giants in the Trees started playing live in the area. Their first show was a benefit for the old Grange hall.
Ray Prestegard was born and raised on the Lower Columbia. He brings accomplished musicianship to the band with electric guitar, lap slide and box guitar.
Jillian Raye does vocals, banjo and guitar for Giants in the Trees. Originally from California, Raye brings a keen sense of vocal phrasing to her strong singing style. She also created and performed all of the rich harmony vocals on the album.
Erik Friend is also a former Californian. Moving to Seattle to work for Microsoft, Friend is a true techie. He too found his home, off the grid, in Wahkiakum. His musical talents go beyond percussion to include mandolin and other acoustic string instruments. He also recorded the band's album at the Murky Slough studio.
It took a year of playing, experimenting, and fun times for Giants in the Trees to compile their twelve-song record. There is definitely an Americana sound - it's fair to hear some classic Country with the banjo, slide and accordion. The band is not offended by the word schmaltz because with their recordings and live performances, the goal is to have as much fun as possible.
There was no idea behind forming the band's sound. Rather, it comes together through the various musical skills individual members bring into the work. Novoselić rocks the accordion and bass. Prestegard brings mastery of six and four string instruments. Raye plays six string banjo, does bass guitar duty, and drives the sound with top vocal chops. Friend loves to lay down a groove. It all comes together for an original sound.
That is just the sound. The group really is a song band. Every tune on the record has its own personality. There are different sounds and rhythms, producing a real mixed bag of songs. One tune can have a waltz accordion and slide, while the next a heavy fuzz bass under a deep Electronica groove. There is melody from start to finish. This is just this writer trying to make an observation, however, there is nothing like listening to the music yourself.
Giants in the Trees have built a sound around old-school Pop music. They follow musical traditions, while at the same time, have their feet firmly rooting in today. Again, the band is fun. There are so many melodies to really stomp your feet to. All the while, you can still sit back and just listen, and you really should!
Performers
Date and time
Location
Organizer of Giants In The Trees
Doug Fir Lounge is an intimate Music Venue located underground below the full service Doug Fir Restaurant and Bar. We are just a few blocks east of the Burnside Bridge on the corner of 9th and East Burnside in Portland, Oregon. Join us from 7am until 2am everyday for food and drinks. Come in for breakfast or lunch, dinner before a show, or just to enjoy a drink in the bar or on our patio.