Description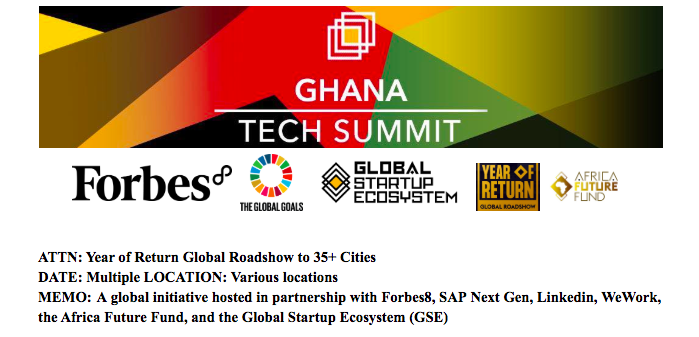 To Invited Delegates:
It is with great pleasure that we invite you to attend our Year of Return Global Roadshow reception. The Year of the Return Global Roadshow is a tour to 35+ cities around the world to galvanize people of African descent and stakeholders of Africa to reconnect back to the continent.
These gatherings are as small as 25 member roundtables to as large as 500 participants. Each city will feature a curated network of investors, entrepreneurs, corporate leaders and government officials. The tour is sponsored by the Africa Future Fund and is free for all participants. Recap videos of the Silicon Valley and New York City roadshow are available for view.
Ghana's President Nana Akufo-Addo declared the "Year of Return, Ghana 2019" as a major spiritual and birth-right journey inviting the Global African family, home and abroad, to mark 400 years of the arrival of the first enslaved Africans. "The Year of Return, Ghana 2019" celebrates the cumulative resilience of all the victims of the Trans Atlantic Slave Trade who were scattered and displaced throughout the world in North America, South America, the Caribbean, Europe and Asia. The Year of Return serves as an "Akwaaba AKA Welcome Back" initiative for African diaspora to come back to Africa.
The global roadshow also serves as a countdown to the iconic Ghana Tech Summit to be hosted on December 13, 2019. Ghana Tech Summit brings together hundreds of entrepreneurs, investors, digital marketers and creatives under one roof together to address humanity's greatest challenges via technology and entrepreneurship.The summit launched in 2018 with 100 speakers and 1000 attendees featuring pioneers from leading companies such as Google, Facebook, Uber, Twitter, IBM, Microsoft. The 2019 summit returns with the same line up of top tier companies with the new theme: "Year of Return- Redefining the Future of Africa". We look forward to welcoming you to our program and to position Ghana as the future hub of innovation for Africa and the world.
Sincerely,
Ghana Tech Summit Team (E) info@ghanatechsummit.com (W) www.ghanatechsummit.com
Year of return Roadshow Silicon Valley featuring Einstein Ntim (Partner at Africa Future Fund) https://www.youtube.com/watch?v=qzBcWQdTTMw
Year of return Roadshow NYC featuring Ndaba Mandela:
https://www.youtube.com/watch?v=qY3U45S2oIA
Ghana Tech Summit 2018 Akwaaba Welcome: