Learn about UX and service design research at this special UX Research & Strategy + Service Design Network partner event with Erika Hall!
About this Event
Good UX and Service Design research is about asking the right questions, and thinking critically about the answers. Done well, it will save your design team time and money by reducing unknowns and creating a solid foundation to build the right thing, in the most effective way.
Erika Hall will discuss her rich knowledge of trusted research methods you can implement right away, no matter what size team you're on, time constraints, user or stakeholder accessibility or budget you're working with. You will learn how to discover your competitive advantages, spot your own blind spots and biases, understand and harness your findings, and why you should never, ever hold a focus group! You'll start doing good research faster and start building the right solutions faster.
Agenda
12:00-12:10 p.m. (Central time, similar to Chicago and Dallas, USA) - Introduction and announcements for UX Research and Strategy + Service Design Network
12:10-1:00 p.m. (Central time) - Discussion + Q&A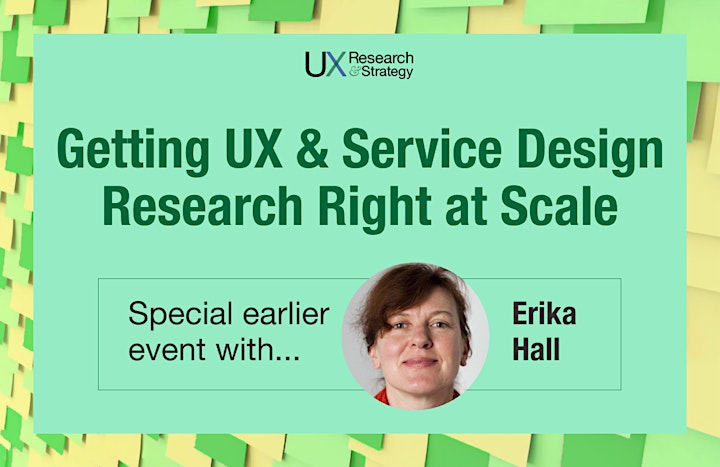 Speaker
Erika Hall has been a design consultant since the late twentieth century. She is the cofounder of Mule Design Studio and specializes in helping clients ask the hard questions and work better together to find the answers. Erika speaks and writes about topics that challenge the conventional wisdom of the field to encourage designers to think more deeply about the implications of their work. She is the author of Just Enough Research and Conversational Design. She can be found far too often on Twitter as @mulegirl and cohosts the podcast Voice of Design. Erika likes dogs and bicycles.
This event is limited to the first 1,000 who enter the Zoom meeting.
We know this speaker is going to be awesome and high demand. So please consider whether you will actually be able to attend to make room for those who are eager to be there.
** Please Consider Donating **
A Donation Ticket to this webinar is the same as a regular admission ticket to the event. Plus, you are helping keep this event FREE for attendees around the world. Please consider getting a donation ticket as your admission ticket to help UX Research and Strategy provide events like this to the UX community.
Host: UX Research and Strategy
UX Research and Strategy is a registered 501c3 group devoted to teaching and exploring topics related to User Experience Research and Strategy. Started by three very talented ladies, Jen Blatz, Lorie Whitaker and Lauren Singer, who saw the need to address the gap in these topics in the local UX community. The hope for this group is to enrich and complement the UX Design community through knowledge sharing and partnership.
Whether you are a researcher, designer, product owner, strategist, content creator, project manager, developer, technologist, marketer, customer experience pro or any other discipline, please join us.
For more information:
Please note that by attending our events, you are granting us permission to potentially use a photograph including you on our social media channels and website. Don't worry, we will try our best to make you look good.
For online events, and for your privacy, if you do not want your name or image potentially appearing on a Zoom screen, please anonymize your name in Zoom and hide your video.
Please note, we are unable to refund donations.
A Zoom link to the webinar will be provided in your confirmation ticket. Scroll down through the email and you will see the zoom link to join.
UXRS a code of conduct. But getting a free or donation ticket to our events, you agree to read and abide by the conditions of this code of conduct. Failing to do so will result in immediate removal from our events and any social media channels. We expect you to be respectful of everyone on our UXRS community.
Thank you for your support!