Getting the Big Picture Right: Mixed Income Development and TOD
Description
GETTING THE BIG PICTURE RIGHT: 4 Community Forums on Housing + Transit
Join us for the upcoming forum:
Mixed-Income Development and TOD
How do we create and sustain mixed-income communities? What are the key elements that reinforce purposeful and inclusive communities that welcome people of all income levels? Mixed-income housing has been identified as a desirable strategy for both strong and soft market areas, but is often challenging to do. Through inclusionary housing policies and other incentives, cities and developers are working to define viable ways to achieve mixed-income multi-family housing, despite the challenges of merging affordable and market rate finance systems. Join us to learn about some great examples of mixed income projects, and how mixed-income communities along transit corridors contribute to a more equitable urban and suburban landscape.
Local and regional partners are encouraged to attend.
Hosted by the Big Picture Project members, and Twin Cities LISC
With funding from the Central Corridor Funders Collaborative
For more information, contact Gretchen Nicholls, Twin Cities LISC at gnicholls@lisc.org


Mark Your Calendars:
1 More Upcoming Community Forums on Housing + Transit:
JUNE 1, 2017
Reflections for Moving Forward
1 - 3 pm, Wilder Conference Center
---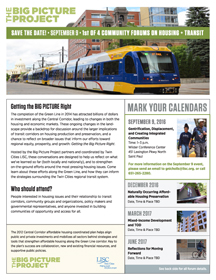 Click to Download a Detailed PDF for All Upcoming Events
About Getting the BIG PICTURE Right
The completion of the Green Line in 2014 has attracted billions of dollars in investment along the Central Corridor, leading to changes in both the housing and economic markets. These ongoing changes in the landscape provide a backdrop for discussion around the larger implications of transit corridors on housing production and preservation, and a chance to reflect on broader issues that inform our efforts toward regional equity, prosperity, and growth: Getting the BIG PICTURE right.
Hosted by the Big Picture Project partners and coordinated by Twin Cities LISC, these conversations are designed to help us reflect on what we've learned so far (both locally and nationally), and to strengthen on-the-ground efforts around the most pressing housing issues. Come learn about these efforts along the Green Line, and how they can inform the strategies surrounding the Twin Cities regional transit system.