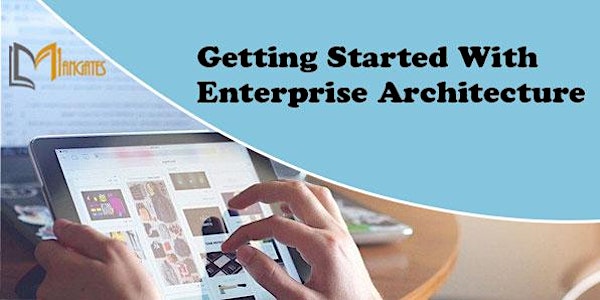 Getting Started With Enterprise Architecture 3 Days Training in Winnipeg
Our classroom training provides you the opportunity to interact with instructors and benefit from face-to-face instruction.
When and where
Location
Regus - Manitoba, Winnipeg - 201 Portage Avenue 201 Portage Avenue - 18th Floor Winnipeg, MB R3B 3K6 Canada
Refund Policy
Refunds up to 7 days before event
About this event
Course Overview:
This practical course shows the delegates what is needed to establish a functioning and integrated Enterprise Architecture Practice using TOGAF. The course provides the delegates with many opportunities to undertake the activities required, to define, identify and measure the outputs they create.
This is a three-day course with extensive delegate interaction and exercises designed to provide takeaways that will provide the basis of setting up a function EA Practice.
The course will integrate the activities through the use of an industry best-practice Open Group accredited tool to support the in-class activities.
Target Audience:
Newly-appointed EA Managers
Chief architects (experienced EA practitioners)
Lead architects
Project and programme managers.
Learning Objectives:
Individuals certified at this level will have demonstrated their understanding of:
Recognise and remember TOGAF v9.1
Understand the Preliminary Phase
Recognise the need for an Enterprise Architecture Practice (EAP)
Benefits of Taking This Course:
On completion of the course you will be able to embark on a substantive piece of Enterprise Architecture with confidence and aplomb. On Day 1, you will know about the necessary team, how to set up the processes, the relative worth of each of the academic aspects vis a vis the on-the-ground pragmatics.
Appreciation of who are the likely sources of useful information, beyond the 'have-to-speak-to' people will be sharpened up, leading to more efficient use of resource. Some enhancement of political awareness and people-problem solving will underpin the confidence levels.
There will be a better understanding of the necessary role played by tooling and an understanding of the importance of EA/Design process interfaces between the protagonists in large and complex processes such as JIT supply/receipt, outsourcing, regulatory weight etc. and in general the intersections of multiple interested business functions.
Prerequisites:
Essential
TOGAF Level 2 Certification (highly recommended as many of its best practices are incorporated in this practical course)
Experience as an architect, preferably as a chief architect or have been a lead architect on one or more projects
Delegates are expected to be able to model and understand modelling techniques and some organisational design
Desirable
Some experience in the practical application of TOGAF
Management and project/programme management experience
Follow-on Courses:
EA 101
Professional Cloud Solutions Architect
Course Materials:
Students will receive a course manual with presentation slides and reference materials.
Examination:
There is no exam for this course.
Technical Requirements:
For eBooks:
Internet for downloading the eBook
Laptop, tablet, Smartphone, eReader (No Kindle)
Adobe DRM supported software (e.g. Digital Editions, Bluefire Reader)
eBook download and activation instructions
Agenda:
Day - 1
Overview of the TOGAF V9.1 framework (specifically the Preliminary Phase) - Linking business and architecture
The Enterprise Architecture Practice (EAP) - How to use the TOGAF™ framework to assist in the EAP Practice setup
EAP - Implementation vs Integration Approach - Setup vs. integration as a process for establishing the EA Practice (SDLC, project/programme management, operations management)
Day - 2
EA Practice - Demand and Supply - Understand the EA Practice requirements in terms of demand (who and why), supply (what and where) and execution (how and when)
EA Practice - Interaction of Strategy, Architecture and Delivery - Understand the interaction of strategy (motivation), architecture (composition) and delivery (realisation)
EA Practice - Operating and Engagement Models - Understand engagements models (with stakeholders, projects/programmes, and organisational units)
Capability Assessment - Assessing the EA Practice capability (for objective setting and sustaining the activities)
Governance - Answering the questions
What standards, principles, services, capabilities and tools do we need?
Day - 3
Services, Capabilities and Tools
Communications Strategy and Execution
EA Charter
EA Handbook creation including
1) EA practice operating mode
2) EA content creation overview and management
3) EA governance processes
4) EA Practice metrics and benefits management
5) EA communications plan