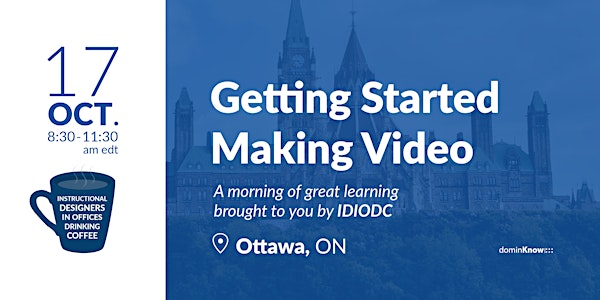 Getting Started Making Video
Just starting to use video? Want to get better at the basics? Join your Ottawa peers and learn to make better video for your eLearning!
When and where
Location
dominKnow Learning Systems 183 Michael Cowpland Drive Ottawa, ON K2M 1P6 Canada
About this event
Video is such a powerful tool for learning experiences and our smartphones make it easier than ever to capture video. But those videos don't always work out quite as well as we expect.
Getting savvy with the basics goes a long way to helping your videos look better and, more importantly, communicate better.
This half-day event will help you come up to speed on some of the basics of working with video, from the terminology used to basic techniques for sound, lighting and recording. You'll even have chance to learn the basics of green screen (chroma key) effects.
Featuring IDIODC co-host Brent Schlenker joining virtually as well as live workstations for video recording and production, here's the session agenda:
8:30-9:00 Registration opens, coffee and light breakfast
9:00- 9:55 Video Grammar - A Primer for Working with Video Pros: Brent Schlenker will walk through many of the terms and concepts that help filmmakers communicate with each other and with their audiences.
9:55-10:05 - Break
10:05-11:30 Workstations: Participants will split their time between the video production station featuring the BiteSite team and the green screen station with Jac Hutchinson.
Come be IDIODC with us!
Hosted by dominKnow's podcast program, Instructional Designers in Offices Drinking Coffee (#IDIODC), this event is NOT product specific - it is not focused on dominKnow's own tool set.
Want to learn more about IDIODC?
Brent Schlenker is dominKnow's Community Manager and cohost with Chris Van Wingerden of dominKnow's interactive video and podcast Instructional Designers in Offices Drinking Coffee. Brent's career in the corporate learning world started in instructional video before branching into eLearning.
BiteSite is an Ottawa-based Custom Software and Video Production Firm that has been operating since 2012. They produce everything from testimonial videos, to promo videos, to training videos in both live-action and animated formats. Casey Li, Tim Clark, and Jason Connell, three of BiteSite's filmmakers will be joining the meetup to share their knowledge and best practices in video production from pre-production all the way to delivery.
Jacqueline Hutchinson has been teaching, training, designing and developing corporate learning for the past 25 years. She is CEO of e-Learning Pros Instructional Design Inc., a Caledon, Ontario based instructional design and development firm offering outsourced elearning instructional design, development and LMS administration. Jac is passionate about sharing information and is the host of "The Lounge Podcast" which provides information about learning, development and employee performance improvement.