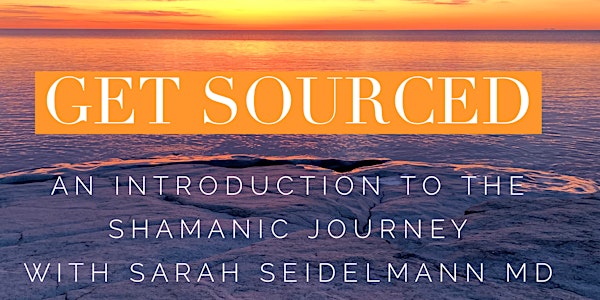 Get Sourced: An Intro to The Shamanic Journey with Sarah Seidelmann MD
A basic introduction (or refresher course) to a powerful shamanic methodology to empower and bring clarity into your life.
Refund Policy
Contact the organizer to request a refund.
About this event
Get SOURCED: A Guided Introduction to the Shamanic Journey.
I wanted to share with you a simple (and incredibly powerful) tool that has changed my life—The Shamanic Journey.
So, what exactly is a shamanic journey?
A shamanic journey is a specialized meditation of sorts—a guided/structured visit to the spirit worlds. It is where the clearing of negative energy happens, and your soul is uplifted and empowered. It is also a method for seeking guidance and assistance. It is a method for having a direct revelation or connection with the divine/the Universe/God/Spirit/The Creator. This work has been used for millennia, both personal work, and as a method to provide healing to others. Throughout history, Shamans have gone on journeys to act as a conduit to restore individuals (and communities) to balance and wholeness.
Having an experienced guide helps enormously. I remember being curious about taking my first Shamanic journey but hesitated. I longed for a guide, someone to literally, or least energetically, hold my hand through the process. I have created this 90-minute class so you can feel safe and understand a bit about what shamanism is and test out the methods for yourself, with careful and thoughtful guidance.
Shamanism is a set of tools and a way of viewing the world, not a religion. It's something that must be experienced and not learned by listening to a lecture. This beneficial practice has helped me to live my life with courage and enthusiasm.
Journeying is a valuable tool that is ancient and powerful. It is a unique methodology for connecting to benevolent and compassionate spirits for support, healing, insight, and guidance. Many of the people and clients with whom I share this work to find it's something they return to again and again.
SOUND INTERESTING?
Get SOURCED: A Guided Introduction to the Shamanic Journey is for you if:
• You are exhausted from trying to make life work on your own.
• You are part honey badger :).
• You have attempted meditation but feel too jazzed to sit still for very long.
• You have heard about shamanic journeying and are curious, but don't know where to begin.
• You are a rule-breaker, and maverick, and tend to see things differently.
• You find that you FEEL GOOD when in nature and would like to feel that way more often?
• You want more mind-body-spirit connection but are not sure how to get it.
• You have journeyed before and would like to continue to explore with a guide.
• If you balk at the idea of sitting quietly and listening to a lecture- you learn by "doing."
• You often get the feeling that you do not fit in or don't belong.
• If you are a seeker and feel like something is missing– you want to have a personal relationship with spirit. Still, nothing else thus far has gotten you there.
• You desire guidance from a higher source on a more regular basis.
• You read my book What the Walrus Knows and cannot figure out what your Core Beastie (or power animal) is.
• You have a love of adventure.
• You are Jewish, Catholic, Buddhist, Lutheran, or Hindu–this practice can complement your religion, but this is not a religion.
OR you'd like an opportunity to journey in a group and get a refresher course on shamanic journeying.
I'M IN! NOW WHAT?
What you will need to complete this course:
• An open heart/mind.
• A quiet and comfy place to sit undisturbed for 90 minutes.
• A scarf or bandana.
• A headset (or speakerphone)- so you can listen (hands-free) to the drumming.
• A journal or notebook to record your discoveries.
Warning: You may find it so delicious and uplifting that you will be curious to know more!
I cannot wait to be your guide and drum for you.
—Sarah