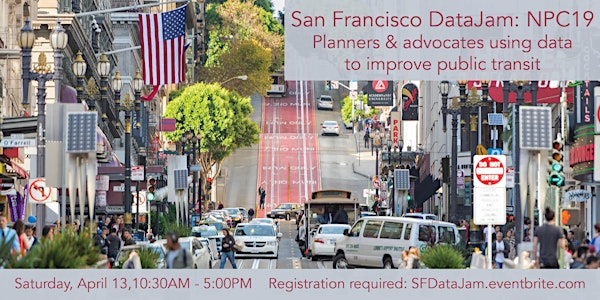 Get SF Transit Moving: Data Jam NPC19
When and where
Location
Code for America 972 Mission Street San Francisco, CA 94103
Description
Please join the waitlist. We may be able to release more spots soon.
Come together with planners, transit advocates, and civic tech thinkers to examine San Francisco's transit woes. Join the National Planning Conference 2019, San Franciso Transit Riders, Code For America, and Code for San Francisco to explore data sets and tools that can be used to help solve them.
San Francisco and the Bay Area is experiencing year over year record traffic congestion. More people have to travel farther distances. Too often our buses and trains are caught in the congestion, making other modes more competitive. In San Francisco, about 50% of our traffic congestion increase from 2010 to 2016 can be attributed to Uber and Lyft, according to the San Francisco County Transportation Authority (the other 50% can be attributed to job and population growth).
With the increasing density of the city and the Bay Area, these problems won't solve themselves. Let's explore what can be achieved with data-driven transit planning!
What transit route upgrades could improve service? Do transit routes effectively connect communities, jobs, and with other transit? What street improvements could be applied relatively quickly and easily that could increase ridership? In San Francisco, what routes could travel end to end in 30 minutes? What treatments, stop spacing, or other upgrades would be needed?
Agenda:
10:30: Gather
11:00: Introduction, tool sets, data sets, challenges
11:30: Break-out groups
12:00: Lunch, break-out groups
12:45: Report back
1:30: Data Jam
4:00: Closing presentations
Similar to a hackathon, a Data Jam is a workshop where people use open data to explore challenges.
For civic hackers in San Francisco, the event is a unique opportunity to connect with planners and explore planning-related challenges around transportation data. For planners, the event provides an opportunity to learn about civic tech and pick up ideas to take back to your community.
Space is limited, advance registration is required.
Light breakfast and lunch will be served.
Join us Thursday, April 11, 5:30-7:30pm for a Preview Happy Hour!
San Francisco Transit Riders is a member-supported non-profit advocating for excellent transit in San Francisco. This event is part of our campaign for a Rapid Rider Network, a rider-defined network of rapid routes that truly ties the city together. Learn more and become a member to support our work!