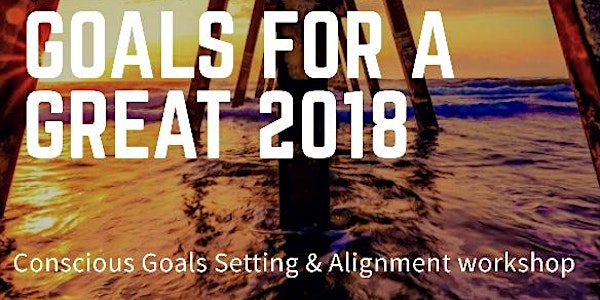 Get into alignment with your goals for a great 2018
When and where
Location
Healthy & Happy Cafe 3180 Southwest 22nd Terrace ##3C Miami, FL 33145
Description
Join us Saturday, January 13th, 2 - 4 pm at Healthy and Happy Cafe in Coral Gables to discover how to set conscious intentions and goals, get in alignment with them, and achieve what you want most in life!
Start 2018 with clarity and ease and come into alignment with your intentions and goals.
Becoming clear about our intentions and the kind of experiences that we want to have is key to living a happy, exciting, and fulfilling life.
By refining your intentions, setting clear goals, and prioritizing what is most meaningful to you, you can accelerate towards your goals, transcend procrastination, and achieve the kind of success that you've been looking for.
The beginning of the year is an excellent time to refocus, reprioritize, and bring ourselves into alignment with the experiences we want to create in our lives going forward.
Join us at this event to make 2018 the year of creativity, manifestation, and fulfillment that you've been looking for.
In this workshop, you'll discover how to more effectively:
Become clear about your intentions and goals and how to achieve them

Discover what could be limiting you to achieve your intentions and goals

Release internal blockages and limiting beliefs and fears

Learn how to prioritize and come into alignment with your deepest intentions

Accelerate towards your intentions and goals and find more fulfillment in all areas of life

Set conscious intentions that will bring you the results you want in your life
This event will be a fun, interactive, and enlightening, 2-hour discussion led by Personal Development and Life Coaches, Mindfulness Advocates, and Healers Dexter and Alessandrina. We'll sit and discuss how you can use mindfulness to achieve the goals listed above. We'll also lead you through a few short practices where you can get hands-on experiences applying what you learn.
RSVP for this event in advance. Space is limited.