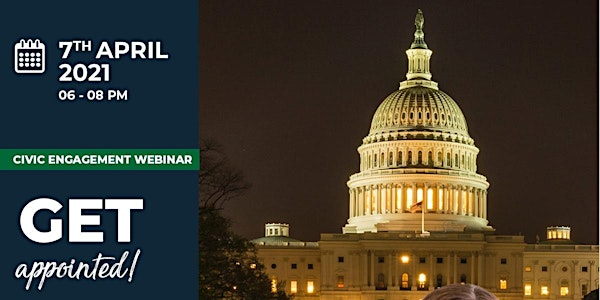 Get Appointed: Workshop on how to apply and be appointed to State seats
Service on a board or commission is a great way to contribute to the state and your community. Learn how to get appointed onto a state board
Date and time
Wednesday, April 7, 2021 · 6 - 8pm PDT
About this event
Agenda
1) Welcome to Get Appointed: by Co-Hosts Joe Salas and Wedad Schlotte
2) Sharing their personal stories of successfully navigating the appointment process with Governor's Gavin Newsom office
Dr. Angelo Farooq .Governor appointee as Chair of the California Workforce Development Board
Dr. Faisal Qazi ,Commissioner, California Commissioner on Aging
3) The Appointment and Application Process with Secretary Cathryn Rivera-Hernandez, Appointments Secretary, Office of Governor Gavin Newsom
4) Special Guest, State Controller Betty Yee, State of California
5) Questions and Answers from the audience
About Cathryn:
Cathryn Rivera-Hernandez was appointed by Governor Newsom in June 2019 to serve as Appointments Secretary.
Prior to her appointment, Ms. Rivera-Hernandez served three administrations as a Board Member on the Agricultural Labor Relations Board beginning with her appointment by Governor Davis in November 2002. Prior to joining the ALRB, Ms. Rivera-Hernandez served as the Chief Deputy Cabinet Secretary for Governor Gray Davis. As Chief Deputy, Ms. Rivera-Hernandez served as the Governor's liaison to various state agencies, departments and boards including the Health and Human Services Agency, the Department of Corrections and Rehabilitation, Office of Emergency Services and Department of Food and Agriculture. As a member of the Cabinet office, Ms. Rivera-Hernandez was responsible for overseeing the development and implementation of administration policy and legislative initiatives within the agencies. Ms. Rivera-Hernandez also served as special legal counsel, working closely with the Legal Affairs Secretary on significant legal matters arising within the agencies and departments.
Ms. Rivera-Hernandez received a B.S. in Business Management from Arizona State University and obtained her law degree from Boalt Hall at the University of California, Berkeley where she was co-editor-in-chief of the La Raza Law Journal.
About Betty
A native of San Francisco and a proud product of its public schools, Betty was born to immigrant parents who built a laundry and dry cleaning business from scratch in the Parkside District of the city.
The second oldest of six children, Betty grew up speaking no English in the home. After school, she worked the counter of her parents' small business, handling financial transactions with vendors, customers, banks, and government agencies. With the help of her family, community, public schools, and teachers who went the extra mile, Betty rose up from minding the books of the family business to minding the books of the 5th largest economy in the world.
As California's chief financial officer, Betty believes the state's sustained economic health rests on the financial health of every Californian. It is unacceptable that California, a prominent global economy, is home to high rates of poverty.
About the organizer
This event was organized with the sponsorship and support from:
Shia Muslim Council of Southern California
Muslim Public Affairs Council
Council of Islamic American Relations
Islamic Shura Council of Southern California
Northern California Islamic Council
Central Valley Islamic Council
Muslim Bar Association of Southern California
Muslim Delegates and Allies
American Muslim Bar Association