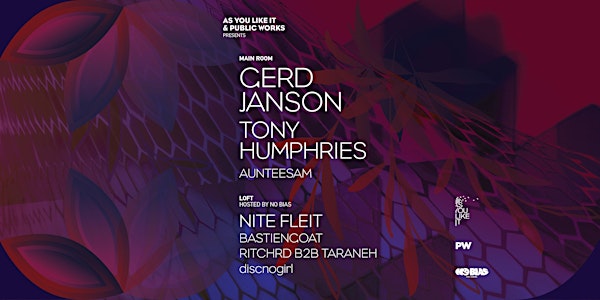 Gerd Janson, Tony Humphries, and Nite Fleit presented by AYLI and PW
Gerd Janson, Tony Humphries, Nite Fleit, Bastiengoat + more presented by As You Like It & Public Works
Date and time
June 9 · 9pm - June 10 · 3am PDT.
Location
Public Works 161 Erie Street San Francisco, CA 94103
Performers
Headliners
More Performers
Tony Humphries
AUNTEESAM
Nite Fleit
Bastiengoat
Ritchrd
discnogirl
About this event
6 hours

Ages 21+

Mobile eTicket
Friday, June 9th, 9pm - 3am
Full Space / 21+ / Limited Capacity
Tickets will be available at the door night of.
LINEUP:
Main Room
➩ Gerd Janson
➩ Tony Humphries
➩ AUNTEESAM
In the Loft
➩ Nite Fleit
➩ Bastiengoat
➩ RITCHRD
➩ discnogirl
━━━━━━━━━▲━━━━━━━━━
GERD JANSON BIO:
Gerd Janson is one of the most highly respected DJs in the world of house and techno. Quite often, "highly respected" goes hand-in-hand with "underrated" but over the past few years, audiences around the world have also found out what insider types already knew: Janson is a DJ that reconfigures the classics you already knew in an unexpected way – and introduce you to new classics, a few months (or years) before you'll hear them played everywhere else.
Raised just outside of Frankfurt, Janson came to dance music at a young age. He was introduced to techno via a scout leader, who lent him a tape in the early '90s made by German techno legend Sven Väth. The region – at that time – was Germany's most vibrant outpost for the stuff, and he soon fell in love. A few years later – once he got old enough to credibly sneak into clubs – he found himself traveling around the country to see heroes both local and international Masters at Work. Moodymann. Robert Hood. Techno. House. The style didn't matter. He was hooked.
This genre-free philosophy been a theme throughout Janson's career. House and techno have been an underlying theme, but listening to his DJ sets, you'll often hear different types of things filtering through: UK funky, synth pop, industrial. It's a cliché, to be sure, but he's the type of DJ that digs so that you don't have to. Janson is one of the most modest DJs you'll find, and he'll very often point toward his frequent DJ partner Thomas Hammann as a reason for this versatility. Together with Hammann, Janson has held down a residency at Frankfurt's Robert-Johnson club since 2000. They've brought artists like Theo Parrish, Kenny Dixon Jr. and Maurice Fulton to the club, and through their curatorial choices have helped to ensure that the club remains one of the world's finest (in 2012, the venue was voted #3 in Groove Magazine's Best Clubs list).
In 2010, Janson and Hammann produced a CD for the club's mix CD series, and earned accolades from media around the world, eventually garnering a spot in Resident Advisor's Top compilations of the year. The success accorded to the mix CD has led to more and more DJ gigs. In 2013 alone, Janson played in Australia, Brazil, Israel, Japan and Singapore, as well as an invitation to become a resident at Berlin's Panorama Bar – a former power plant that is universally regarded as one of the world's best clubs. In 2013, he was named de:bug's #2 DJ of the year, as well as being high on the Resident Advisor Top 100 DJ List and #8 in Groove Magazine.
This is also due in no small part to his work as the brain behind the Running Back label, an imprint that has been a home to numerous artists over the years. It's testament to Janson's curatorial instinct that music both popular – Tensnake, Todd Terje – and cult – Maurice Fulton, Theo Parrish – feel right at home. There are few labels that have put out an EP that contains two tracks that made it on Resident Advisor's end-of-year list and a 12-inch that boasts "Professional Sound Effects."
In addition to his work helming Running Back, Janson has also teamed up with Philip Lauer under the Tuff City Kids alias. Originally taken on as a remix project, the partnership has quickly evolved to include original productions that have seen release on Unterton and Delsin. Their work together is classic-leaning – unpretentious and hugely effective on the dance floor. It is similar in many ways to Janson's work as both a DJ and a label boss – it's the type of stuff that sneaks up on you. Quality, without being flashy. Wonderful, without announcing itself as such. In short, Gerd Janson is one of the increasingly worst kept secrets in the world of dance music. A DJ versatile enough to rock just about any dance floor. A DJ who cares about the profession of DJ. A DJ worth hearing.
TONY HUMPHRIES BIO:
When thinking about Tony Humphries, you might be minded of his epic stint at KISS FM as one of its greatest Mastermixers; or of his residency at one of the greatest US clubs, The Zanzibar; or, even, the walls that are lined with gold discs, from Indeep to Janet Jackson; or even his legendary eclecticism. Tony is all of those things and more. But then, there's the Tony of today, restless, questing, searching for new challenges. Which is pretty much how Tony has always been. Few people realize just how deeply steeped in performing Tony Humphries' family is. His father, Rene Grand, an émigré from Colombia in the 1950s, was a prominent bandleader in New York, alongside peers like Tito Puente and Eddie Palmieri. Plus he has a raft of cousins, uncles and aunts who have forged a career in the performing arts. Tony was born to it.
Tony Humphries has been DJing nearly 35 years, an incredible achievement that in any other industry would have been rewarded with a carriage clock or service medal. His big break came through a chance meeting with Mastermixer Shep Pettibone at the offices of Prelude Records. Tony handed the maestro a tape and the rest is history. Humphries' star rose as his KISS FM show (and later HOT 97) lasted for decades. sound, labelled the Jersey sound, but with Tony's hands at the tiller it was a vastly more varied menu than that suggests. "It wasn't like going to a house club, everything was intertwined," explains Tony. "The hours were long, so obviously you didn't want to hear ten hours of straight house music. If you're going to pay $15-20 to hear this guy, you want to hear the whole damn spectrum. You had to come with everything possible. Talking Heads and The B-52s don't sound like Zanzibar/Garage records, but they were. I think that's what the Zanzibar's appeal was."
Although Tony is often seen more as a DJ than a remixer, his forays into the studio have always been productive. His remix of Mtume's 'Juicy Fruit' has been sampled on several big hip hop and R&B hits and Fresh Band's 'Come Back Lover' is rightly regarded as one of the best disco songs of the 1980s. He has gone on to remix scores of artists from Soul II Soul to Janet Jackson (which earned him a gold disc). Poignantly, Tony was enticed back into the studio in 2013 by Frankie Knuckles who asked Tony to do a swap mix for a track he'd been working on. As Frankie told Tony, "You're a great remixer. I just thought folks needed to be reminded."
His reputation in Europe, established via illegally copied tapes of his KISS shows, grew hugely after successful jaunts to influential parties like Danny Rampling's Shoom & Norman Jay's High On Hope in London. He was coaxed back to Europe in the early '90s for residencies at both Ministry of Sound in London and Echoes in Rimini on the Italian Riviera. Tony's first label venture Yellorange was launched in 1998 and ran the gamut of styles, from the soulful vocals of Mel'isa Morgan, Miguel Plansencia's Afro-Cuban flavors, through to Soweto Funk's Italo-grooves. His latest venture, Tony Records is, "showcasing younger artists and producers doing soulful music in a modern form." Check Tony's own recent release Housework EP, which fuses blues, gospel and worksongs into a brilliantly contemporary setting (or even his new mix compilation with DJ Spen, Quintessentials, demonstrating his expansive style).
In 2009, Body & Soul promoter John Davis brought Tony together with 'Little' Louie Vega and David Morales for a ten-hour session at New York's Webster Hall that was appropriately dubbed the Kings of House. Little did any of them anticipate the success that this would be, turning into a worldwide phenomenon that has straddled continents and cities, as well as regular trips to the likes of Pacha Ibiza.
What strikes anyone when meeting Tony Humphries is not what he's done or where he's been, but where he's going. ""Growing up in Boston, our biggest influence was the New York house scene and no one embodies this spirit more than Tony Humphries," explains Soul Clap's Eli Goldstein. "For us, the gospel, deep, tribal sound he created at his Zanzibar residency reached us through the many remixes and tracks named after the legendary club. We finally had the honor of opening for Tony this year and we were blown away by his ability to represent the old, while pushing a unique, modern house sound. There is clearly only one Tony Humphries!" Amen to that.
━━━━━━━━━▲━━━━━━━━━
When you purchase tickets to this event you'll automatically be signed up for LOCAL 161, Public Works' SMS community where you'll get special invites + guestlist + other perks as a thank you for your support. You'll receive about 4 messages per month, message and data rates may apply, and you can text STOP to cancel at any time.