GEOSTRATA Extra: Building Codes with Michael Paquette and Marc Gallagher
Join us for the December/January GEOSTRATA Extra!
About this event
Join us for GEOSTRATA Extra - where you get an in-depth conversation with a GEOSTRATA author from the magazine's current issue!
The December/January Extra will be a conversation between Editor Chris Woods and authors Michael Paquette and Marc Gallagher about their piece "Building on Hudson Yards — Can a Megaproject be Big Enough to Change a Building Code?" Read the article at https://bit.ly/3Dld1Ll
Want to learn more about the Geo-Institute? We're a technical society with about 12,000 members - mostly geotechnical engineers and geologists. Visit geoinstitute.org to get to know us!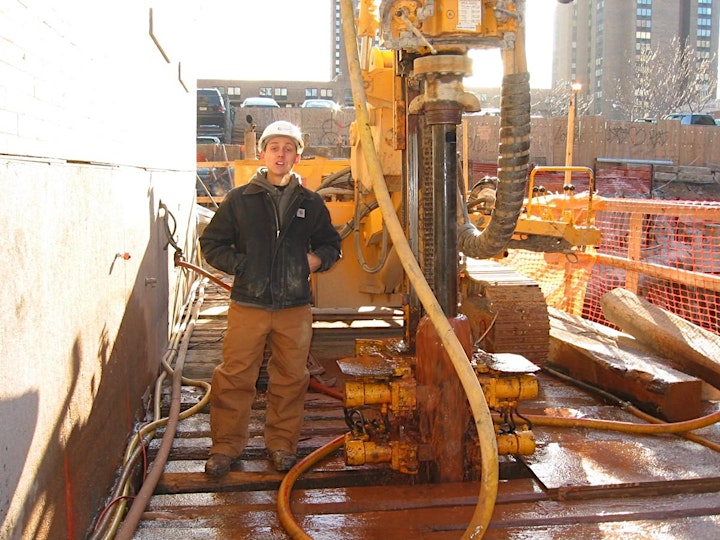 Michael Paquette, PE
Michael started his career as a geotechnical consultant with Langan in 2003, right after receiving his MS from Virginia Tech. One of his first major projects was the proposed Jets Stadium in Manhattan, which is the site of what is now Hudson Yards. He spent his first few years working on pile design, and planning and overseeing the subsurface exploration for the stadium (the stadium was never built); however, after three cold months of night shift into the winter near the Hudson River, the lure of sunny California called! Michael spent the next 3 years working for Fugro in their Oakland, CA office, and enjoyed fieldwork in the sunshine and dealing with Bay mud, earthquakes and mudslides. Moving back to join Langan's Lehigh Valley PA office in 2008, Michael found himself working with numerous Langan offices and groups, across multiple states, and even in the Middle East working on the next tallest building in the world, Kingdom Tower. More than a decade later, after three states, several apartments and houses, getting married, adopting two cats, and playing in a punk band around eastern PA, he found himself working again on the NYC property that started it all – this time as mega-project Hudson Yards instead of the stadium. Michael oversaw the exploration, design and construction of the foundations for the platform over the rail yard and towers. Recently, he moved to Philadelphia and is excited to help grow Langan's geotechnical practice and is looking forward to his next mega project.
Marc Gallagher, P.E., LEED
Marc Gallagher is a Senior Principal in Langan's New York City office. He has 22 years of geotechnical engineering experience in the US and abroad; including the largest real estate project in the country – Hudson Yards. In 2011 he was named among the "Top 20 Under 40" by Engineering News Record (ENR) New York. His ability to "see the big picture" and incorporate a holistic view on large projects brands him as a valued resource to his clients.
As an adjunct professor at Columbia University, Gallagher teaches a graduate course focused on deep foundations for SuperTall buildings. As a member of SEAoNY's Scholarship Committee, he assists with the annual golf outing, the Committee's largest fundraising event.