General Series - Build, Program and Take Home a "Talking Skull" for Halloween! (two night workshop)

Thursday, October 26, 2017 from 5:30 PM to 8:30 PM (EDT)
Event Details
General Series - Build, Program and Take Home a "Talking Skull" for Halloween! (two night workshop)
By Tweeks
Thur 5:30-8:30pm +
Fri 5:30-8:30pm
Venue Host - CRC Business Park
Pizza Sponsor - TEKsystems of Roanoke
Hey Kids and Grown Ups too!
Want to really spook the trick-or-treaters with your very own motion sensing, animated talking skull that is programmed with YOUR own voice and scary sounds?  Come to this first-ever, two night, LCBB arduino Workshop to build your very own motion activated, animated talking skull and take it home!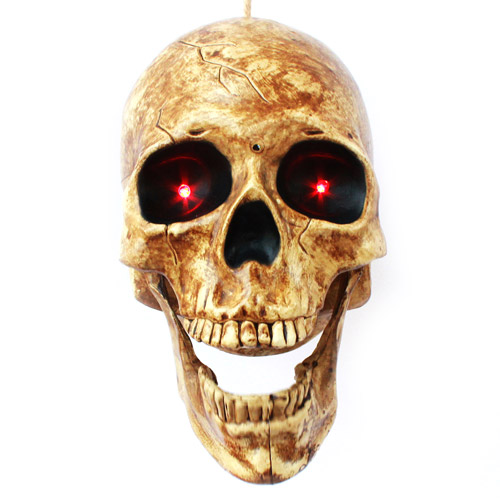 While this workshop is targeted more at the intermediate level arduino user, a first timer (recommend no younger than 9-10yrs old) should at least be able to get the skull moving and sounds playing by the end of this 3hr/night, two night workshop!

The $37 arduino kit we've put together from our China suppliers includes:
A 5-6" skull with articulated jaw
A "Fundruino" sensor friendly microcontroller w/USB cable
A small prototyping breadboard
A serial controlled MP3 player (w/4G microSD memory card for sounds)
Ten really cool scary skull screams, laughs and groans (preloaded on SD card)
An ultrasonic range finder (to detect people walking up, of course!)
Interconnect wires
Resistors/capacitors (if needed)
Red LED eyes (if you have time to integrate them)
9v Alkaline battery and arduino connector
We're supplying and managing the plastic cutters and hot glue and tools. All you need to bring is your laptop, power supply, and have the arduino software and related programs preinstalled (see requirements below) and you'll get to take it all home with you and set it up on the porch!.. or keep hacking on it by adding moving eyeballs, animation for peeking out from behind curtains, etc! You're only limited by your own imagination (and the pinouts of the arduino ;) !
NOTE: For minors under 16, we require at least one parent stay for the
duration of the workshop. We will not take minor "drop offs". 
This is a GREAT parent/kid "quality time" workshop.  While at least one RSVP ticket is needed to reserve the main participant's take-home kit, parents and siblings welcome to stay and help out or share and use the same kit (no ticket needed). ONE TICKET PER FAMILY ONLY PLEASE.

Workshop Requirements:
MUST Bring a Laptop!! **

  Windows*, Mac or Linux Laptop (*Windows requires full admin access)

Laptop Power supply (you can't power an arduino for 3hrs without one!)

Pre-installed with the arduino software from here
For creating your own custom sound/MP3s, we recommend installing the Audacity software and bringing a microphone/headset

One $37 RSVP ticket for each take-home talking skull kit (+ eventbrite registration fee)

Minors under 16 can not stay without a parent present for event duration.
**Note: If you do not have a laptop, contact us ahead of time and we
       may be able to provide one for you for the class (no guarantees).
Instructor Info:
Tweeks (Thomas Weeks) holds a BS-EET from Texas A&M, worked at Rackspace for 17 and is now an IT Director at Virginia Tech, who still encourages him to keep teaching STEM technology courses with Let's Code as he as been since 2012.  Tweeks sits on the region's RBTC STEM and CyberSecurity committees and is very active in the NRV STEM education community. He uses Arduinos to everything from control robots, blink lights, to launching large high power rockets and monitor water problems in his basement. Tweeks is a big advocate of Linux, Open Source and Open Standards/Hardware systems, likes playing with high power rockets, electronics and loves teaching kids how to peek behind the curtain of modern technology.
Venue Host & PIzza Sponsor:
Our generous community sponsors consist of the CRC Business Park, who was kind enough to host this potentially messy event, and TEKsystems has jumped in and is buying the pizza and refreshments for both nights!  A big thanks to them for supporting this scary STEM educational event!
Have questions about General Series - Build, Program and Take Home a "Talking Skull" for Halloween! (two night workshop)?
Contact Let's Code Blacksburg!
Save This Event
When & Where

CRC Business Park, "Concept Conference Room"
1880 Pratt Dr.
suite# 2018
Blacksburg, VA 24060


Thursday, October 26, 2017 from 5:30 PM to 8:30 PM (EDT)
Add to my calendar
Organizer
Let's Code Blacksburg!
Let's Code Blacksburg! has a two-fold purpose. First, we provide the opportunity for local residents to learn different programming languages and technologies at different levels (from beginner to advanced). Secondly, Let's Code! gives people who have expertise in a particular tech field the opportunity to share their knowledge to build experience and become recognized as experts in the community.
General Series - Build, Program and Take Home a "Talking Skull" for Halloween! (two night workshop)