Description
Welcome to GM's "Makers Hustle Harder" Tour, hosted by Artisan's Asylum! As a participant in the "Makers Hustle Harder" Hackathon, you will receive exclusive access to GM's Next Generation Infotainment SDK to build and test your own connected car experience.
The kick-off for the event will be Tuesday, September 26th, 2017 from 6 to 9 PM; this session will cover the essentials, give you a chance to form teams (unless you already have one), and get you rolling with the SDK. You and your team will then have all week to put together your project and pitch.
Saturday, September 30th, we'll have a full day hackathon onsite where your team can test and refine your application and polish your pitch. GM will be providing vehicles onsite for testing.
Presentations will begin at 4pm and prizes will be announced directly after. This is the official registration to participate on a team and compete for prizes. All team members must register here to be eligible for prizes.
Schedule of Events
Tuesday, September 26th - 6pm-9pm
Wednesday, September 27th – Friday, September 29th
Remote Hacking

Live support from the GM team available from 6pm-9pm each day
Saturday, September 30th - 9am-6pm
Hack Day & Presentations at Artisans Asylum

9am - Check-in & Breakfast

10am - Welcome & Hacking

1pm - Lunch

4pm - Final Pitches

Celebrations & Libations to follow!
Rules
Each participant must create an account at https://developer.gm.com in order to download the SDK and sign GM's Developer Agreement

The SDK must be used to develop all projects

All teams must be finalized by the end of the kick-off session

A representative from each team must be present at the kick-off meeting on Tuesday, September 26th

Teams must be comprised of 2-4 participants

All participants must be present for the final hack day and presentations on Saturday, September 30th

All code, design, assets, etc. must be created during the duration of the hackathon. You are free to make plans, create wireframes, and brainstorm prior to the event.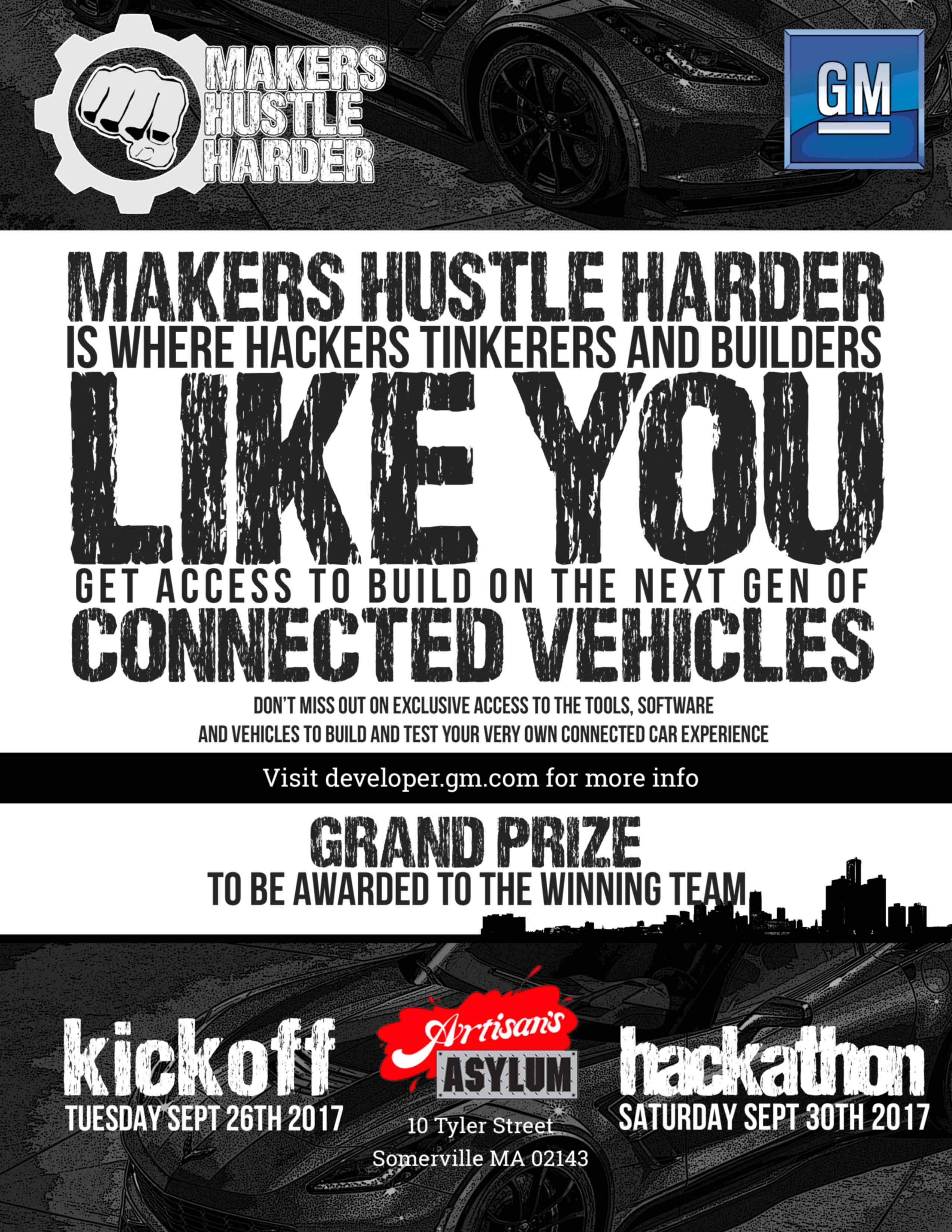 Registration Details
All participants must separately register with Artisan's Asylum to participate in the hackathon. Either register when you arrive at the event or register ahead of time to save time and chose the "I am here for a class or tool training" registration type.

Final projects will be submitted on Devpost; one member from each team must register on Devpost to submit their final submissions.