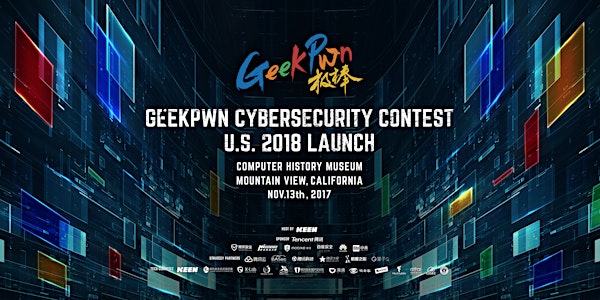 GeekPwn International Security Geek Contest 2017 Silicon Valley
When and where
Location
Computer History Museum 1401 North Shoreline Boulevard Mountain View, CA 94043
Description
GeekPwn is held by the top security team KEEN, since 2014. It's an international contest platform for security geeks to show their potential and passion.

At GeekPwn event, contestants submit security issues to GeekPwn and publicly demonstrate the issue impact on event day to win bonus award. GeekPwn has successfully held 6 events in different cities including Beijing, Shanghai, Macau, Hong Kong and Silicon Valley, responsibly disclosed hundreds of critical security vulnerabilities to related vendors, and awarded bonus over 1 million USD to contestants.

The projects at GeekPwn are of no limitation. In past GeekPwn events, different kinds of smart devices and systems like Drone, Robot, fingerprint recognition, smart home, SSL/TLS protocol etc. have all been PWN'ed successfully. More examples of GeekPwn highlights are available at GeekPwn Hall of Fame.

In 2017, GeekPwn sets AI Security Challenge as the key project, including AI PWN and PWN AI submissions, which help find the potential risk of AI and finally security people's life in the AI Age. GeekPwn will be held on October 24 in Shanghai and November 13 in Silicon Valley this year after Mid-year contest held in May 13th, Hong Kong.

Details

Date: November 13, 2017
Time: 9:30AM-05:30PM
Address: Computer History Museum, 401 N Shoreline Blvd, Mountain View, CA
Organizer: KEEN
Speakers and contestants of the Silicon Valley session will present the latest research result about security of smart devices, Internet of Things, Network, as well as AI, topics including:
09:35AM Opening Talk with Daniel Wang & Dawn Song
09:50AM 2018 May 12th Kick-off Ceremony
10:00AM [Show] "Behind the PWN of the TrustZone" by Nick Stephen from UC Danta Barbara
10:30AM [Pwn] "Cracking Google reCAPTCHA with Deep Learning" by Wei Li and Li Shen from Fortune 500
11:00AM [Speech] "The Recent Advancement of Adversarial Machine Learning" by Alex Kurakin from Google
11:30AM [Speech] "Robust Physical-World Attacks on Machine Learning Models" by Bo Li from UC Berkeley
Lunch Time
01:00PM Opening
01:05PM [Show] GeekPwn Mania
01:25PM [Speech] "Learning to Attack" by Ian Fischer from Google
01:55PM [Pwn] "A new TCP hijack released at GeekPwn" by Weiteng Chen and Zhiyun Qian from UC Riverside
02:25PM [Show] "When TCP Meets Side Channel" by Zhiyun Qian from UC Riverside
02:55PM [Show] "'Resident Evil' of SmartPhones--Wombie Attack" by Huiming Liu from Tencent Xuanwu Lab
03:25PM Tea Break
03:40PM [Show] "Attacks on Biometric Authentication at GeekPwn" by Haibing Wang from GeekPwn Lab
04:10PM Award Ceremony
For more about GeekPwn, you may visit GeekPwn Offical Site, and you can find more briefings in our BLOG.