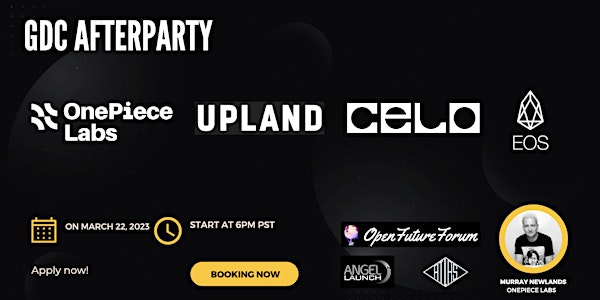 GDC AfterParty by OnePiece Labs and Upland
GDC AfterParty by OnePiece Labs and Upland
Date and time
Wednesday, March 22 · 6 - 9pm PDT
Location
celo 500 Treat Ave San Francisco, CA 94110
About this event
ALSO join us for
Developer Day - During GDC
https://www.eventbrite.com/e/developer-day-during-gdc-tickets-570857087917
Event Information
​Join us for the BEST GDC Afterparty
​What connections are you looking for during GDC? Investors, Co-founders, Startups, Builders, Market Makers, Community Leaders, or Someone Else? Well, whoever you are looking for, you can find them at this party.
​About OnePiece Labs
OnePiece Labs is a one-stop Web3 incubator based in Silicon Valley. We had 22 amazing startups in our previous cohort and our speakers came from MultiCoin, Pantera, Figment, Kraken, Coinbase, etc. 6 out of these 22 startups raised $20M right after our cohort. We'll have 4 batches in 2023 including Metaverse, ZK, Move and Web3 Games. If you are interested in learning more about our programs, please apply HERE.
ABOUT UPLANDME, INC.
Upland (https://upland.me/) is an open web3 platform for the metaverse mapped to the real world. The company's mission is to build one of the leading and most dynamic maker-communities through a strong entrepreneur economy that allows players, creators, developers, and brands to manufacture goods and experiences, monetize assets, and provide utility and fun to other players.
​About OnePiece Labs Afterparty
OPL aims to build a bonded and helpful Web3 community and you can see us in each of the big Web3 conferences. We hosted an afterparty during DCMiami 2022 and totally 500+PPL showed up. This year we'll host afterparties during ETHDenver, Consensus, Permissionless and DCMiami. If you'd like to follow our events, please fill this FORM.
​Event Details​​​​
📆 Date: Mar 22, 2023
🕔 Time: 6-9 PM MST
🍺 Food&Beverage: Drinks and snacks
​​​Event Hosts
OnePieceLabs, "A Web3-focused incubator working with founders to build amazing companies."
UPLANDME, INC.
​​​Join Our Telegram For Future Events
Join the Open Future Forum https://discord.gg/6reV6kVB6a
Join the Open Future Forum telegram group https://t.me/+UAt1Y7uM8X5lMGNh
The Celo Foundation Code of Conduct
The following behaviors are expected of all Celo Foundation (the "Foundation") employees, contractors, board members, interns, affiliates, all guests and entities using the Foundation office(s) (including but not limited to San Francisco, New York, Berlin, etc.) or when hosting event(s) at the Foundation office(s) (hereinafter referred to "Foundation office") or attending Foundation events offsite:
Exercise consideration and respect in your speech and actions. Use welcoming and inclusive language at all times.
Attempt collaboration before conflict.
Refrain from demeaning, discriminatory, or harassing behavior, speech or writings.
Be mindful of your surroundings and of your fellow participants. Alert others if you notice a dangerous situation, someone in distress, or violations of this Policy or the Celo Foundation Code of Conduct, even if it seems inconsequential.
Remember that the Foundation offices and event venues may be shared and open to members of the public; please be respectful to all organizers and patrons of these locations; please also ensure any visitors to Foundation offices are respectful and adhere to the Code of Conduct while at the Foundation offices.
We believe in an inclusive workplace even during events hosted at the Foundation offices or events that you attend on behalf of the Foundation.. As with our Code of Conduct, we expect that everyone attending the Foundation office will act in an appropriate manner, including harassment and violence free. Such conduct will not be tolerated and is unacceptable in the Foundation office.
The following behaviors are considered harassment and are unacceptable within our Foundation, the Foundation office and community. Please note that this is not a comprehensive list, and in general, anything which could reasonably be considered inappropriate in a professional setting is unacceptable.
Violence, threats of violence or violent language directed against another person.
Sexist, racist, homophobic, transphobic, ableist or otherwise discriminatory jokes and language.
Posting or displaying sexually explicit or violent material.
Posting or threatening to post other people's personally identifying information ("doxing").
Personal insults, including those related to gender, sexual orientation, race, religion, or disability.
Inappropriate photography or recording, including any use of such photography or recording posted online (including social media).
Inappropriate physical contact. You should always have someone's consent before touching them.
Sexual attention, including sexualized comments or jokes; inappropriate touching, groping, and unwelcome sexual advances.
Deliberate intimidation, stalking or following (online or in person).
Advocating for, or encouraging, any of the above behavior.
Sustained disruption of events, including receptions, talks and presentations.
Sustained disruption of outside events, where you represent the Foundation or the community, including receptions, dinners, meetings, talks and presentations.
Actions that you know may violate any State, Federal or local laws.